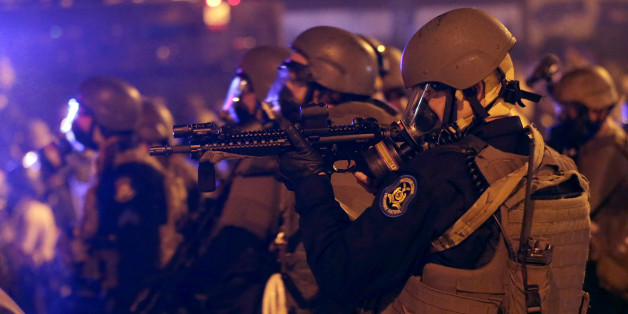 The Department of Justice on Wednesday released the much-anticipated report of its investigation into the Ferguson, Missouri, police department. While the DOJ did not charge former police Officer Darren Wilson in connection with the death of Michael Brown, the unarmed black teenager who was shot dead in August, its separate, 102-page report reveals some shocking insights into racial tension between the department's majority white cops and the community's black residents.
Some experts said the costs of correcting the damage may cause the city to consider eliminating its small police department, and contracting with another law enforcement agency.
Here are some of the worst offenses detailed in the report:
Ferguson officials routinely sent racist emails:
A rundown of racist emails sent by current #Ferguson officials. Read the full report here: http://t.co/BbkjYN0lcb pic.twitter.com/iJqdk2cbqM

— Ryan J. Reilly (@ryanjreilly) March 4, 2015
There's a double standard within Ferguson officials who see blacks as lacking "personal responsibility," yet it was common for officials to write off tickets for their own friends:
#Ferguson officials think black residents lack responsibility, but get friends' tickets tossed http://t.co/Go4UZJlbab pic.twitter.com/xW0Q6uRKyp

— Ryan J. Reilly (@ryanjreilly) March 4, 2015
Department of Justice's conclusion on the role of "personal responsibility" in Ferguson. pic.twitter.com/FmFLRz3kTI

— Adam Serwer (@AdamSerwer) March 4, 2015
Here's one example in which a Ferguson prosecutor dismissed a red light ticket for a judge:
Ferguson prosecutor —who serves as a prosecutor in a neighboring town — dismissed a ticket for Ferguson's judge. pic.twitter.com/g7EdwEAvLh

— Ryan J. Reilly (@ryanjreilly) March 4, 2015
A woman once called Ferguson police to report a domestic violence incident, but the police ended up arresting her instead:
Woman calls #Ferguson police on boyfriend, gets arrested for an occupancy violation. pic.twitter.com/VVfW0J8Bq3

— Madeline Marshall (@Maddie_Marshall) March 4, 2015
Officials questioned the policy of fining the city's poor residents for infractions, saying: "How can you get blood from a turnip?"
"How can you get blood from a turnip?" - One #Ferguson officer on collecting fines from people who can't afford them pic.twitter.com/wCaafTrlrc

— STL Public Radio (@stlpublicradio) March 4, 2015
Yet the city encouraged ways to increase revenues and find new ways to fine residents:
Ferguson municipal court judge was hailed for figuring out new ways to gouge residents for cash pic.twitter.com/KXpM2DdrDj

— Adam Serwer (@AdamSerwer) March 4, 2015
Officials used racial slurs against residents:
"N****r, I can find something to lock you up on." pic.twitter.com/pBbN419vrg

— Adam Serwer (@AdamSerwer) March 4, 2015
The DOJ investigation shows that Ferguson officials' bad actions have significant, life-altering, consequences for residents:
How "routine misconduct" by Ferguson police can ruin someone's life. pic.twitter.com/B8ixH2oGgL

— Adam Serwer (@AdamSerwer) March 4, 2015
Officials routinely deployed canines against black Ferguson residents:
DOJ on #Ferguson police and the use of dogs: http://t.co/UBq9nCftBl pic.twitter.com/hju5FR0vTj

— Chris Geidner (@chrisgeidner) March 4, 2015
Read more about the DOJ investigation here and the full report below:
BEFORE YOU GO
PHOTO GALLERY
Politicians React To Ferguson