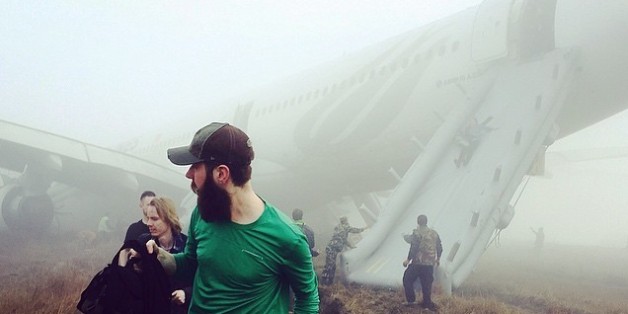 A Turkish Airlines plane carrying 224 people skidded off the runway Wednesday and crash-landed in Kathmandu's Tribhuvan International Airport.
The plane's front landing gear also snapped during the touchdown, causing the body of the aircraft to careen into the ground, according to The Telegraph. The Turkish Airlines flight was making its second attempt at flying into the Nepalese airport, its earlier effort stymied by the lack of visibility, CNN reported.
No passengers were reported injured in the incident, which occurred during a thick fog that blanketed the air above the runway. Some travelers who evacuated the plane quickly shared proof of their ordeal on social media, where the same fog that could have contributed to their deaths also gave their images a ghostly look.
These two videos of the crash aftermath were captured by user Peter Lubeck, who describes himself on Instagram as a "Vagrant Swede."