Making "mom jeans" cool was once considered an impossible mission, at least until NYDJ launched in 2003.
The Los Angeles-based company successfully created a collection of denim and clothes complete with slimming technology for women (whether you're a mom or not) that look and feel fabulous. Now, NYDJ has pulled together a group of fashion insiders, who are being referred to as the company's "creative board," to take the brand to a new level of awesomeness.
The creative board consists of "Blue Bloods" star and the face of NYDJ, Bridget Moynahan, along with Fiona Stiles, a celebrity makeup artist who has worked with Gabrielle Union, Natalie Portman and Anna Faris. Celebrity stylists Cristina Ehrlich and Jeanann Williams are also on the board. Ehrlich has worked with Elizabeth Banks, Margot Robbie, Tina Fey and Anna Kendrick, while Williams works with Naomi Watts.
That's certainly an impressive group of women and NYDJ plans to use their insights on product development, marketing strategies and building relationships with the brand's most loyal fans.
"To deepen our connection with the customers that we serve, we compiled this group of talented and passionate female leaders who share our appreciation for women and can creatively contribute to the brand and help us speak to women in new and relevant ways," Kate Foster, VP of Marketing at NYDJ, told HuffPost Style.
We got to chat with the ladies of NYDJ's new creative board about their new gig and how they plan on making our favorite jeans even better. Check it out below!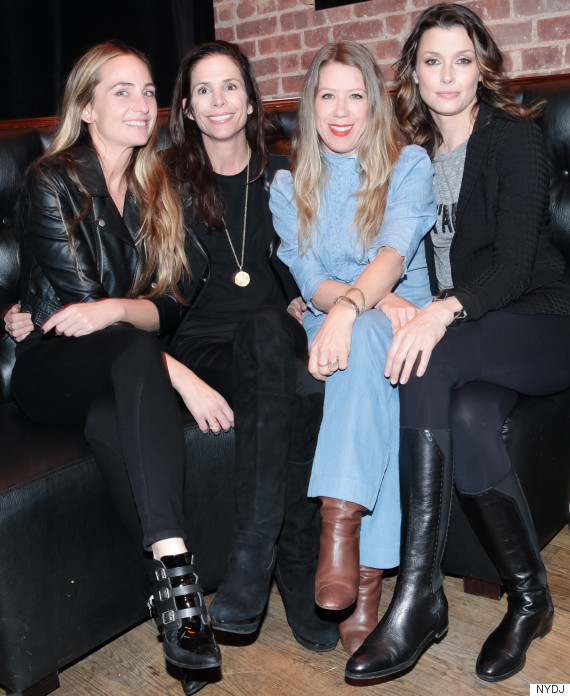 From left to right: Jeanann Williams, Cristina Ehrlich, Fiona Stiles and Bridget Moynahan
HuffPost Style: What is it about NYDJ that attracted you to the board?
Bridget Moynahan: NYDJ is a brand that really fits my lifestyle. They offer fit, comfort and style in their collections which is what I and many other women are looking for on a daily basis. I am excited that they are now able to offer their slimming technology in a line of tops, dresses, and ath-leisure wear. They were the first to offer jeans with such technology that was not only slimming but super comfortable. It's an innovative brand that I'm proud to be a part of.
HPS: Are you a skinny jeans or a boyfriend jeans type of girl? And why?
BM: I am both and everything in between. I mean, I am thrilled they are helping to bring back the flare! How you dress for the day tells so much about how you are feeling. It's nice to have so many options in one brand to not only tell that story but to feel great while I am doing it.
HPS: What are some ideas/initiatives you will launch to make the brand all (or more) inclusive?
Cristina Ehrlich: I think we have a great opportunity to build social awareness around this amazing product that the brand offers. NYDJ is a brand built by women for women. They understand the importance of fit, which is so important, without having to sacrifice style and comfort. With the new campaign, Live In Slim, I'm really looking forward to driving awareness of what building a wardrobe with key styles from NYDJ can do for women. We'll be engaging women on our social channels with the #LiveInSlim; encouraging them to show us how they wear the brand, which will ultimately help engage new customers.
HPS: Are you hoping the brand will appeal to a younger audience? If so, how does that change the mission of a brand that literally sells not-young-people's jeans?
Fiona Stiles: NYDJ is not for stick-skinny teens. There are a lots of brands targeted for girls and young women. NYDJ is about making women of all ages and all body types feel good and look cute. When you look at magazines all of the clothes are modeled by young girls. It's great that there's a brand looking out for the rest of the women out there!
HPS: Is your mission to help customers invest in better quality in clothing rather than fast fashion?
Jeanann Williams: This movement does contribute to better quality of clothing, but also contributes to encouraging women to shop for clothing that not only looks great but also fits well. Fit is so important and when you find your fit, you should always shop within those parameters to avoid pitfalls when trying new trends, which tends to come from shopping fast fashion.
These interviews have been edited and condensed for clarity.
BEFORE YOU GO
PHOTO GALLERY
Celebrities In Jeans