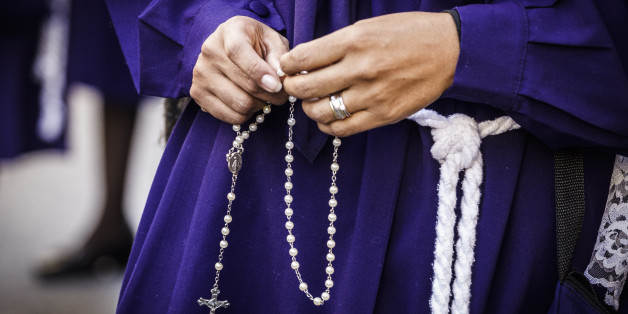 Four leading U.S. Catholic publications cast aside sectarian differences Thursday, publishing a joint editorial that calls for ending the death penalty.
"We, the editors of four Catholic journals -- America, National Catholic Register, National Catholic Reporter and Our Sunday Visitor -- urge the readers of our diverse publications and the whole U.S. Catholic community and all people of faith to stand with us and say, 'Capital punishment must end,'" the editorial reads.
The editorial was published online Thursday in all four publications. It was translated into Italian and will be published in the March 6 edition of Vatican newspaper L'Osservatore Romano, reports Catholic-interest site Crux Now.
Crux called the joint editorial is a "rare show of unity" by the publications that represent a cross-section of progressive and traditional Catholic media.
Stan Chu Ilo, assistant professor of Catholic Studies at DePaul University, told The Huffington Post that attitudes about the death penalty in the Catholic church have been shifting for decades, hitting a turning point in the early '60s.

"It was after the second Vatican Council that there began to be a fundamental shift in terms of what is the value of human life," Ilo said. "Some say the death of one person is not nullified by the killing of the murderer; one act of violence doesn't justify another act of violence -- even if one is driven by wicked motivation and the other by law."
Pope Francis in October called for abolition of the death penalty "in all its forms, whether it be legal or illegal."
Ilia Delio, director of the Catholic Studies Program at Georgetown University, said "there's a strain or a segment in the church that still think evil acts should be punished." But that view, he said, is "becoming more the minority."
According to a 2013 Pew Research Center survey, 55 percent of all U.S. adults said they favor the death penalty for convicted murderers. That figure was 59 percent for white Catholics and 37 percent for Hispanic Catholics.
The editorial comes as the U.S. Supreme Court scheduled oral arguments in an Oklahoma killer's appeal. Inmate Richard Glossip contends the state's lethal injection protocol as cruel and unusual. After the Supreme Court postponed Glossip's scheduled execution in January to consider his appeal, Sister Helen Prejean, a Roman Catholic nun and anti-death penalty advocate, told The Huffington Post, "I'm hoping this victory for Richard shows how horribly broken the system is and that it takes death off the table as an option that government can exercise over its citizens."
The joint editorial expresses a similar view.
"The court will likely issue a ruling by June," the publications write. "Our hope is that it will hasten the end of the death penalty in the United States."
BEFORE YOU GO
PHOTO GALLERY
Most And Least Catholic States In The U.S.