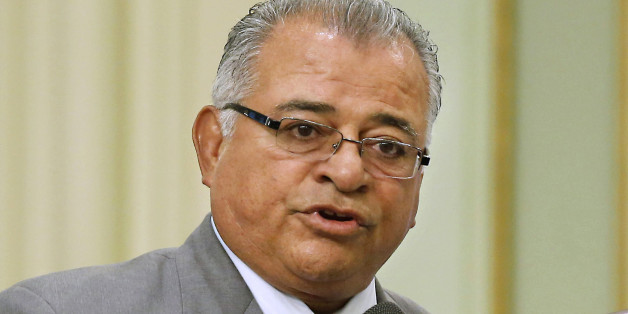 California Assemblyman Rocky Chavez (R-Calif.) announced Thursday that he plans to run for the U.S. Senate seat that will open up when Democrat Barbara Boxer retires.
Chavez's plans could help Republicans boost their appeal among Hispanics during an election season in which the contentious issue of immigration will likely loom large. But he will face a tough race in a decidedly blue state where Democrats currently monopolize statewide offices.
In an interview with The Huffington Post, Chavez said he aimed to win over California voters with a campaign focused on improving public schools and using the state's system of colleges and universities to play a leading role in generating job growth. He pointed to his own life story to illustrate the importance of education.
"I worked my way through college working in the fields and in the packing plants," said Chavez, who served as a U.S. Marine for 28 years. "My son graduated from UC Davis and then he went off to UPenn Medical and he's a doctor. That's called the American dream."
California Attorney General Kamala Harris, a Democrat, has already announced that she will run for Boxer's seat. U.S. Reps. Xavier Becerra, Adam Schiff and Loretta Sanchez are also considering a run. Chavez is the first major Republican to launch a bid for the seat.
The Republican National Committee beefed up its Hispanic outreach in California after President Barack Obama trounced GOP opponent Mitt Romney among Hispanics in the 2012 election. The RNC hired a state director and 11 staffers in 2013 to ensure the party had a year-round canvassing presence in California.
While the vast majority of Latinos elected to state legislatures and the U.S. House of Representatives are Democrats, the GOP has managed to get Latinos elected governor in New Mexico and Nevada, and two Hispanic Republicans currently serve in the U.S. Senate.
Chavez represents a moderate, pragmatic strain of conservatism that he hopes will resonate with voters in his largely liberal and heavily Hispanic state. He favors immigration reform, supports gay marriage and says he wouldn't vote to repeal Obamacare.
He called the recent gridlock over Republican-orchestrated attempts to defund Obama's executive actions on immigration, which nearly resulted in a shutdown of the Department of Homeland Security, a "travesty."
"I'm not going to be influenced by people who have a closed-minded agenda," Chavez said. "I love debate, but I see the value of compromise."
BEFORE YOU GO
PHOTO GALLERY
19 Reasons Latin Americans Leave Their Countries