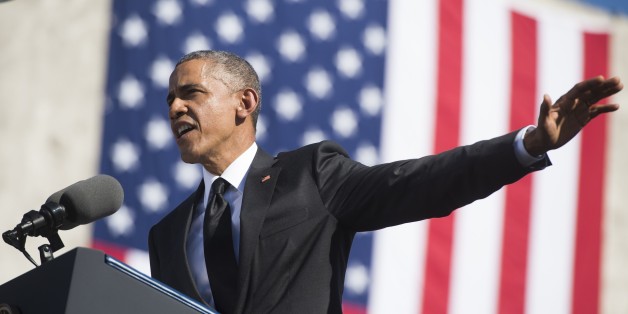 President Barack Obama delivered a speech on Saturday honoring the 50th anniversary of the historic march in Selma, Alabama, which many are describing as a "powerful and poignant" delivery.
His words drew praise from users on Twitter who shared positive reactions to his remarks and applauded his address on the historic civil rights moment and its present day significance.
His speech was part of a commemoration ceremony honoring 50 years since "Bloody Sunday," when demonstrators marching for voting rights were met with a barrage of beatings and tear gas issued by police officers who tried to subdue the protest.
"What they did here will reverberate through the ages," Obama said. "Not because the change they won was preordained, not because their victory was complete, but because they proved that nonviolent change is possible; that love and hope can conquer hate."
We asked our users on Twitter to share their responses to Obama's speech in Selma, and here's what they told us:
What are your thoughts on President Obama's speech in Selma? We want to know! #BVTellUs #Selma50

— HuffPost BlackVoices (@blackvoices) March 7, 2015
@blackvoices His greatest speech ever. He was inspiring, had soul and conviction. In essence, he PREACHED that word! #Selma50 #Obama

— TeeTee (@teeNYMD50) March 7, 2015
@blackvoices It's a speech that will be remembered for a LONG LONG TIME. It was THAT GREAT.

— Ernie (@ecl326) March 7, 2015
@blackvoices This speech is what America needed to hear. Now it needs to be acted upon.

— Torraine Walker (@TorraineWalker) March 7, 2015
President Obama's speech...standing ovation! If I could vote for him again I would! @blackvoices #BVTellUs #Selma50

— Shanna Woods (@luvnikii) March 7, 2015
@blackvoices Now that #FergusonReport is out he can say what he really thinks. And he did. Love the #giuliani shade thrown. Great speech.

— E_Joyce (@E_Joyce) March 7, 2015
@blackvoices ABSOLUTELY historic and on point!

— Pam Baker (@MaBake61) March 7, 2015
@blackvoices A powerful&inclusive speech telling us that the movement is still alive WE must continue the fight &so does the next generation

— Yardly Kavanagh (@Kavyard) March 7, 2015
@blackvoices I loved it. He weaved the issues of today with our common history to inspire change for the future.

— Dee (@Phridee) March 7, 2015
@blackvoices I loved it but we have to put in the work. We have to vote and put in the work like those before is did. Vote in every election

— LLS (@powwowasu) March 7, 2015
@blackvoices poignant & powerful!! #BVTellUs #Selma50

— Bic Mitchum (@C_O_D_) March 7, 2015
@blackvoices most certainly his best. But he's a great orator so I expect him to always deliver

— ♎Lauren♎ (@IamLaurenGill) March 7, 2015
@blackvoices i'm glad he was able to really speak to the black community w/o sounding biased. a call back to action.

— enzo. (@_spiffyspencer) March 7, 2015
@blackvoices #BVTellUs #Selma50 powerful - watching from South Africa

— sammytlhapi (@sammytlhapi) March 7, 2015
@blackvoices Great speech. I feel inspired to run at so many levels, - all the way from #Nigeria. #Selma50

— Omagbemi G. Kakayor (@GeorgeKakayor) March 7, 2015
BEFORE YOU GO
PHOTO GALLERY
President Obama Honors 50th Selma Anniversary