Brandon Marshall was traded to the New York Jets, and Dez Bryant and Demaryius Thomas were slapped with franchise tags. But there's still another group of terrific wide receiver free agents commanding top dollar. Some have already made their moves, but let's take a look at each player's best bets for the next season.
1. Randall Cobb -- Stay in Green Bay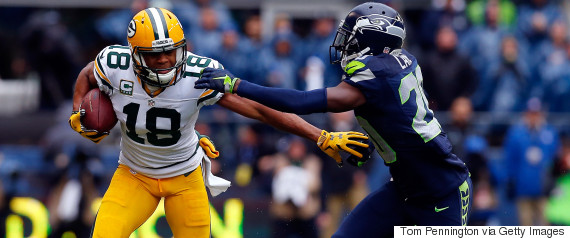 Throw out the fact that the deal -- four years, $40 million -- was already announced. I was writing this anyway: It does not matter that Cobb is merely a slot receiver and that all 12 of his touchdowns came via the slot last season, per Pro Football Focus. Nor does it matter that no player ran more routes from the slot than Cobb's 501. Cobb still possesses tremendous versatility and playmaking ability. The Pack -- with the trio of Cobb, Jordy Nelson, and last year's standout rookie Davante Adams -- made the correct choice to retain him. If Cobb, still just 24, should continue his unmatched production operating in the slot, he'll once again find himself commanding top dollar at 28 or 29, when his next contract expires. By remaining a Packer and taking less money now, he creates more longterm value while amassing excellent numbers as he gets closer to his his prime.
2. Jeremy Maclin -- Re-sign with the Philadelphia Eagles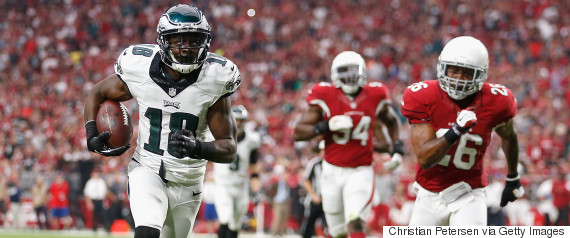 Maclin should have just stayed put with the Eagles, but instead he's heading to Kansas City, where a wide receiver did not catch a touchdown pass all year. Despite the season-ending injury to Nick Foles, Maclin, 26, still managed to put up decent numbers with the less effective Mark Sanchez under center. Earning his first Pro Bowl selection, the six-year pro totaled 10 touchdowns while proving to be a reliable deep threat and splendid third-down option. Parts are shifting in Philly, most notably with All-Pro running back LeSean McCoy being dealt to Buffalo. Head coach Chip Kelly loves speed, but as the McCoy move and DeSean Jackson move have showed us, he also believes that his system can make the player. And to be fair, Maclin and Jackson each posted career years in back-to-back seasons as receivers in Kelly's offense. Whether or not the trust between Maclin and the organization was severed, Maclin becoming a Chief doesn't make a whole lot of sense, though he did play at nearby Missouri and is from there as well. The Eagles came in with a strong offer and, while KC gave him a little more money, his numbers will surely suffer.
3. Torrey Smith -- Sign with the Carolina Panthers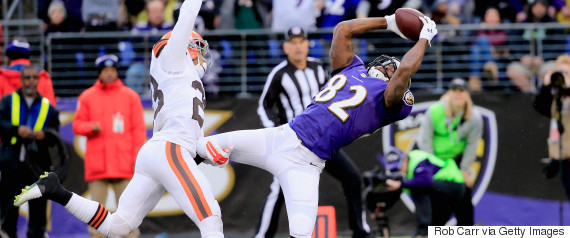 The 26-year-old turned it on late for Baltimore, but has generally been viewed as a No. 2 and not a true ace receiver. One also wonders what kind of numbers he could put up with a higher-octane offense focused less on ball control and more on big plays. After all, Smith had a career-worst 767 yards receiving last season -- though he ranked first in catch percentage touchdown, per ESPN Stats & Info for all receivers. Carolina, meanwhile, has an emerging star at wideout in Kelvin Benjamin, who eclipsed the 1,000-yard mark and nabbed nine TDs during a very impressive rookie campaign. Cam Newton really missed the presence of Steve Smith and would love a guy like Torrey Smith, a burner who can make plays after the catch as well. Smith may not be ideal, but as this is a rather bare receiving market -- sorry, Michael Crabtree and Hakeem Nicks -- the Panthers can probably get him at a discount. Cleveland, Houston, Washington and San Francisco could be in the stakes here as well.
4. Andre Johnson -- Sign with the Seattle Seahawks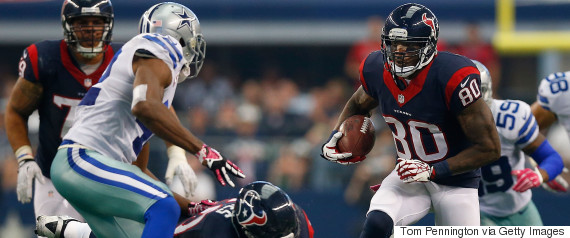 Johnson may be a star by name only at this point. But at 33 years old, Optimus Prime's services are still useful for teams like Seattle, which remains in desperate need of a playmaker on the perimeter. The beauty of Johnson has always been his wondrous route-running and reliable hands. His imposing size (6-foot-3 and 230 lbs.) and his toughness would suit him well with the Seahawks, whose best returning receiver is Doug Baldwin. Johnson, coming off what could be considered a woeful season by his standards, still amassed 85 catches and 936 yards, both of which would be highs in Seattle. And he did it with guys like Ryan Fitzpatrick, Ryan Mallett and Case Keenum under center. We can all but expect the Hawks to lock up Russell Wilson longterm, and adding a future Hall of Famer in Johnson would make a ton of sense -- for both parties.
Email me at jordan.schultz@huffingtonpost.com or ask me questions about anything sports-related at @Schultz_Report, and follow me on Instagram @Schultz_Report. Also, be sure to catch my NBC Sports Radio show "Kup and Schultz," which airs Sunday mornings from 9 to 12 EST, right here.