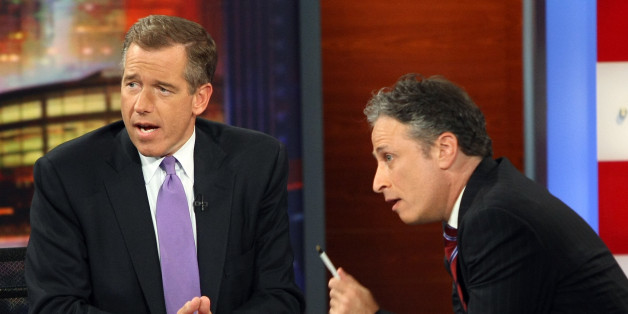 More voters than not want Brian Williams back at NBC News. Republicans divide over Jeb Bush. And there is more than one way to assess Scott Walker's electability. This is HuffPollster for Monday, March 9, 2015.
QUINNIPIAC POLLS ON WILLIAMS, O'REILLY AND STEWART'S REPLACEMENT - Quinnipiac University: "Brian Williams should be allowed to come back as NBC Nightly News anchor, voters say 42 - 35 percent." FOX News' Bill O'Reilly should be fired over allegations of inaccuracies in past reporting, 12 percent of voters say, as 11 percent say he should be suspended, 23 percent say he should stay and 51 percent haven't heard enough about this to form an opinion... For 19 percent of voters, Tina Fey is the top choice to replace Jon Stewart, with 16 percent for Dennis Miller, 8 percent for John Oliver, 7 percent each for Brian Williams and Craig Ferguson and 5 percent for Chelsea Handler." [Quinnipiac]
How much do Americans trust network news networks? More from Quinnipiac: "FOX News offers the most trusted network and cable news coverage, 29 percent of American voters say, when asked to compare the major TV news outlets… In the comparison rankings, CNN gets 22 percent, with NBC News and CBS News at 10 percent each, 8 percent for ABC News and 7 percent for MSNBC." A closer look at whether or not voters trust each network produces a different ranking, putting Fox News in second to last place. Fifty-five percent of voters say they trust the journalistic coverage of Fox News "somewhat" to a "great deal." Comparatively, ABC and CBS News are trusted by 64 percent of voters. Local news comes out on top of the major networks with 71 percent of voters expressing trust.
REPUBLICANS DIVIDED OVER JEB BUSH - Mark Murray: "Republican voters are divided in their support for Jeb Bush in the upcoming 2016 presidential race, according to results from a brand-new NBC News/Wall Street Journal poll. Forty-nine percent of potential GOP primary voters say they could see themselves supporting Bush, the former Florida governor whose father and brother served as president, versus 42 percent who say they could not back him. But that's a better score than some other possible Republican candidates received in the poll: Only 32 percent of Republican voters said they could see themselves supporting New Jersey Gov. Chris Christie, versus 57 percent who could not (-25)." [NBC News]
CLINTON'S GENERAL ELECTION SUPPORT DOWN SLIGHTLY, BUT.. - David Lightman: "Hillary Clinton's...potential Republican presidential rivals have inched closer to her in 2016 matchups, a new McClatchy-Marist poll found Friday. The former secretary of state fell below the crucial 50 percent level of support in one-on-one matchups against Jeb Bush, Marco Rubio and Scott Walker, and she was barely above that benchmark against Rand Paul, Rick Perry and Ted Cruz....The survey found that Democrats continue to give Clinton strong support. Sixty percent of Democrats or Democratic-leaning independents named her as their pick for president. Vice President Joe Biden, with 13 percent, and Sen. Elizabeth Warren of Massachusetts, at 12 percent, were far behind. Warren has said she's not interested in running." Sixty-two percent of Democrats supported Clinton in a previous McClatchy-Marist poll conducted in December. [McClatchy, h/t @SeanTrende]
SCOTT WALKER AND ELECTABILITY, PART II - Friday's HuffPollster included an argument by the New York Time's Nate Cohn that Gov. Scott Walker's electoral performances in Wisconsin were "about average for a Republican running for governor in 2010 and 2014." Later that day, FiveThirtyEight's Harry Enten published a rejoinder: "Some conservatives have argued, however, that merely looking at Walker's margin of victory misses a key point: Walker is really conservative. He implemented conservative policies in a purple state, and he was still re-elected by the margin you'd expect of an average Republican. I tend to agree...Walker was the second-most-conservative GOP governor running for re-election in 2014. According to an ideological scoring system created by Adam Bonica, an assistant professor of political science at Stanford University, Walker is more than one standard deviation more conservative than the average Republican governor who ran in 2014. That's impressive, given that there is some relationship (although a weak one for Republican governors) between the 2012 presidential vote and the ideology of incumbent governors running for re-election in 2014. [538]
Ideology versus Romney vote - Enten illustrated Walker's conservatism with a graphic, reproduced below, "in which we use Bonica's candidate scores, which are based on fundraising, for each gubernatorial incumbent running in 2014 and compare them with the 2012 presidential vote in each state. Negative values further away from zero indicate a more liberal ideology, while positive values further away from zero indicate a more conservative ideology. Of all the Republican governors running for re-election in 2014, Walker is the most conservative compared with the type of governor you'd expect was elected based on the 2012 presidential vote."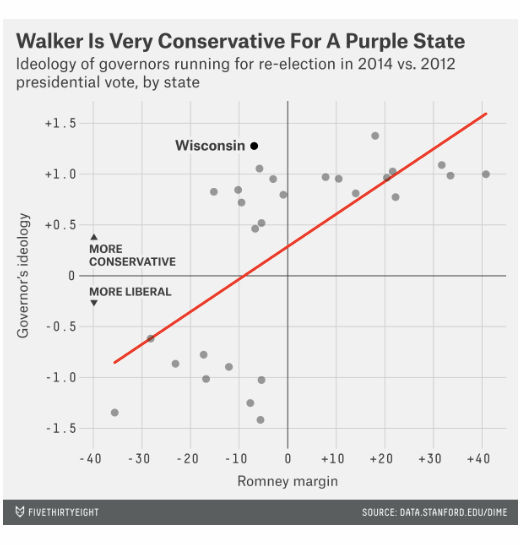 Another look - As is evident in the graphic, a straight line is not the best representation of the relationship between Bonica's ideology scores and the 2014 electoral performance of the governors. The points on the chart form two distinct patterns, with the more conservative Republican governors clustering mostly in the upper right and the more liberal Democrats in the lower left. As Enten noted, the relationship between ideology and Romney's performance is weaker among the Republican governors alone. A second plot focusing only on the Republican governors, created for HuffPollster by Huffington Post data scientist Natalie Jackson, illustrates the weaker overall relationship between ideology and electoral performance, although Walker's position still stands out.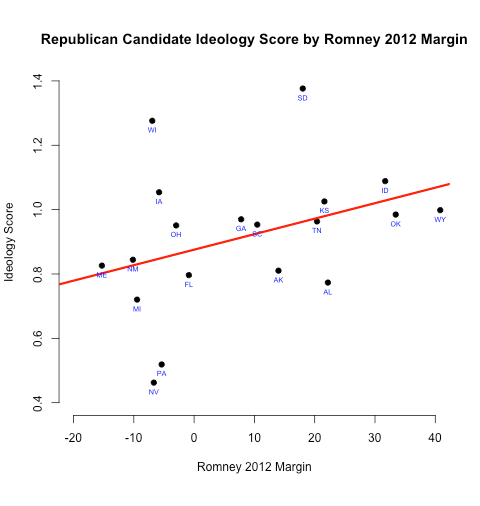 More... - Cohn and Enten agree they don't really disagree. [@Nate_Cohn]
BLACK AND WHITE SHARE LACK OF CONFIDENCE IN CRIMINAL SYSTEM, JURIES - The Roper Center's Kathleen Weldon reviews more than twenty years of data on race and the jury system: "While high-profile, racially-controversial cases tend to reveal differences in black and white attitudes, overall both groups share many of the same concerns about the process of justice. For the last twenty years, the proportion of all Americans saying they have a great deal or quite a lot of confidence in the criminal justice system overall has only once reached a third. In 2013, the proportion of blacks and white giving positive ratings were the same (26% and 27%)....One of the major concerns in the OJ Simpson case [in the mid-1990s] was the possibility that police planted evidence. In a CBS News poll at the time, about twice as many whites (65%) as blacks (32%) said it was a bad idea to punish police for lying or tampering with evidence by acquitting the defendant in such cases. Whites also expressed a high level of confidence in police overall in 1995, much higher than blacks at the time, and higher than either group has shown since." [HuffPost]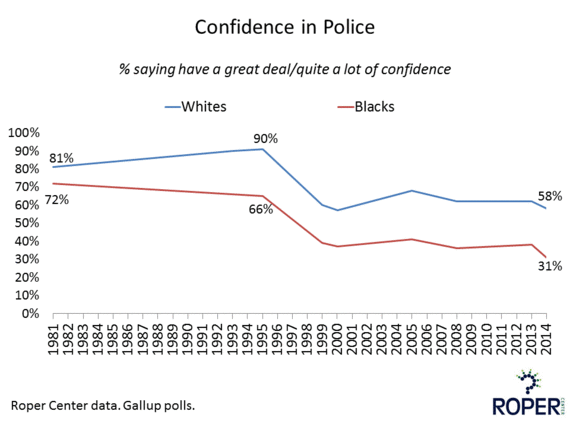 HUFFPOLLSTER VIA EMAIL! - You can receive this daily update every weekday morning via email! Just click here, enter your email address, and click "sign up." That's all there is to it (and you can unsubscribe anytime).
MONDAY'S 'OUTLIERS' - Links to the best of news at the intersection of polling, politics and political data:
-Americans say they continue to pray, even though their religious practices have withered. [WashPost]
-Fifty-eight percent of Americans continue to view foreign trade as an opportunity rather than an economic threat. [Gallup]
-Thirty-nine percent of Americans feel that race relations have worsened under Obama presidency. [CNN]
-Americans are less likely to say childhood vaccines are "extremely important" than they were in 2001. [Gallup]
-Americans are still divided on why people are gay. [Pew]
-Chicago Mayor Rahm Emanuel remains only slightly ahead of challenger Jesus "Chuy" Garcia. [Sun Times]
-Charlie Cook lays down the early betting lines on 2016. [National Journal]
-No one mentions email in a Frank Luntz/CBS focus group on Hillary Clinton. NewsBusters sees liberal bias. [NewsBusters]

BEFORE YOU GO
PHOTO GALLERY
Brian Williams Through The Years