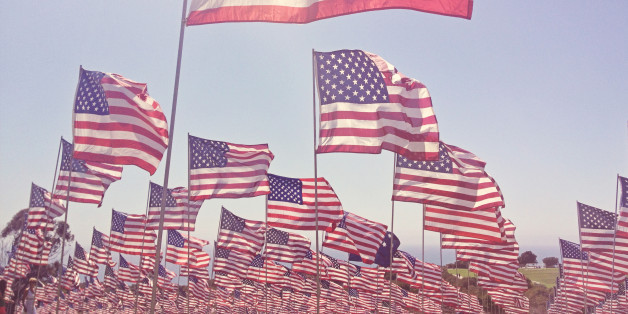 Republican California lawmakers outraged over an American flag ban at a University of California campus that was quickly overturned this weekend announced legislation Monday to outlaw such bans.
State Sen. Janet Nguyen (R-Garden Grove), joined by Senate Republican Leader Bob Huff, Assembly Republican Leader Kristin Olsen and other GOP lawmakers, said they will introduce a Senate constitutional amendment on Wednesday prohibiting state-funded colleges and universities from banning the American flag on school property.
"I came to this country as an immigrant searching for freedom and democracy and I would not be here today if it were not for the American flag," Nguyen said in a press release. "The veterans that are with us here today and the thousands of servicemen and women fighting throughout the world deserve for us to make every effort to ensure that the American flag is proudly displayed at public universities and colleges throughout California."
The legislation was prompted by the University of California, Irvine, student legislative council voting on Thursday to ban any national flag from hanging in the student government office common area. The resolution, which the student council said was aimed at making the space more inclusive, cites the American flag as an example of flags that have been "flown in instances of colonialism and imperialism" and "serve as symbols of patriotism or weapons for nationalism."
On Saturday, the executive cabinet overseeing the student government vetoed the ban. Republican state lawmakers said it's still important to move forward with this legislation.
"Like so many across our state and country, I was deeply troubled by the decision made to remove the American flag from the lobby of the student government offices at UC Irvine," state Sen. Mike Morrell (R-Rancho Cucamonga) said in a press release from Nguyen's office. "I commend the executive cabinet for vetoing this action, but last week's series of events is still discouraging."
BEFORE YOU GO
PHOTO GALLERY
U.S. State Capitol Buildings