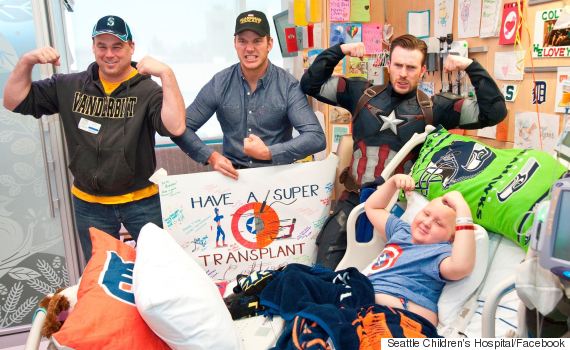 It was a super Saturday at the Seattle Children's Hospital on March 7.
Actors Chris Pratt and Chris Evans -- the latter dressed in his "Captain America" costume -- visited families at the hospital to complete the last part of their Super Bowl bet, #TwitterBowl. The friendly feud between Evans and Pratt, which began in January before Super Bowl XLIX, generated more than $27,000 for the Seattle Children's Hospital and Christopher's Haven in Boston.
The visit comes a month after the pair paid a visit to the Boston home for children with cancer. During their time at Christopher's Haven, Pratt held up his end of the bet by dressing as his "Guardians of the Galaxy" character Star-Lord. After their trip, Evans hinted on his Twitter that Seattle Children's would be the duo's next stop, but he didn't give a date.
Oskar Beechum, 7, who is currently being treated for epilepsy, was among the surprised patients at Seattle's Children's Hospital when Pratt, joined by a fully costumed Evans, showed up at his room.
"Meeting them was a nice reprieve for us," Oskar's mother, Kelli, told the Seattle Children's Hospital's blog On the Pulse. "So many of our visitors are doctors, and the conversations are medical. I can't wait to watch the Captain America movie with Oskar. It will be like he knows him personally now."
When the Seattle Seahawks and the New England Patriots faced off for the championship game, Evans and Pratt took sides to make the conditions of the bet. Pratt is a Seahawks fan and Evans is a Patriots fan. If the Seahawks won, Evans would have to visit the Seattle Children's Hospital dressed as Captain America. If the Patriots took home the trophy, Pratt would have to visit Christopher's Haven Star-Lord.
In true superhero fashion, the actors fulfilled visits to both organizations, regardless of the Super Bowl's outcome.
After the visit, Evans tweeted that he'd "met some TRUE super heroes!"
See more photos from the visit on the Seattle Children's Hospital Facebook page.
BEFORE YOU GO
PHOTO GALLERY
The Most Charitable Stars