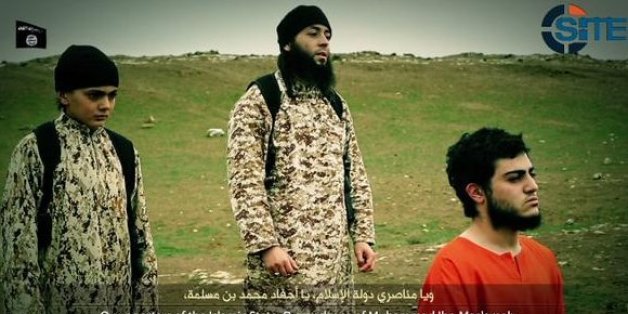 A highly stylized propaganda video released by Islamic State extremists on Tuesday purports to show the killing of a Palestinian hostage by a young boy.
The Islamic State group identifies the hostage as Muhammad Musallam, a 20-year-old Israeli citizen.
The 13-minute-long video was released by the group's media outlet Furqan and is similar to other releases by the group. The footage begins with an all-black background and title cards that are similar to those used by the group in previous videos. This text is followed by a sequence with special effects akin to a spy film or video game, which claims to show information about agents of the Israeli intelligence agency Mossad.
The video then cuts to Musallam, a resident of East Jerusalem. Musallam is shown speaking to the camera while wearing an orange jumpsuit. He details his alleged recruitment by Israeli intelligence and journey to Syria to report on the Islamic State group. At times his account is shown in a flashback through a black-and-white re-enactment of events.
The next scenes appear to show Musallam kneeling in front of two members of the militant group, one a bearded man in camouflage who speaks in French. The other is a young boy, who appears to shoot the hostage in the head with a handgun.
Footage of the alleged killing is shown in slow motion, and the child is depicted shooting Musallam repeatedly after the initial shot. The video then freezes on a frame showing the boy, which is imposed over the skyline of Jerusalem. The video ends with the same computerized effects showing alleged Mossad agent files as seen earlier in the clip.
Breaking: #ISIS limitless immorality released a vid shows a child executing alleged Israeli spy Mohammad Ismail. pic.twitter.com/NXwoOtkQPV

— Rita Katz (@Rita_Katz) March 10, 2015
The Islamic State's propaganda magazine revealed that the group was holding Musallam captive in an interview published in February in which the hostage purportedly describes how he became a spy with the support of his Palestinian family. The magazine claims Musallam was ordered by the Israeli intelligence service to infiltrate the militant group in Syria, but was found out because he didn't act like the other recruits.
Musallam's father, Said, denies his son was ever a spy. Said Musallam told the Israeli newspaper Haaretz in February that his son disappeared from his home in Jerusalem in late 2014 after he was recruited by Islamic State extremists over the Internet. An Israeli security official also told Reuters that Musallam traveled to Turkey on Oct. 24 to fight for the Islamic State "on his own initiative." Musallam's family said he later changed his mind and tried to escape IS-controlled territory, but was captured and held by the group in Syria.
"They did not want to let him leave because if he comes back, he might be caught by the Israelis and tell them what he had seen. So they wanted to get rid of him," Said Musallam told The Associated Press on Tuesday. Musallam's brother Ahmad told Israeli news site Ynet that Muhammad "did not care for religion or politics." The Islamic State militants "used him and tricked him," Ahmad Musallam said.
The Islamic State group is known for using children in its fight for control over Iraq and Syria. This is not the first video released by IS which purports to show the use of a child soldier in propaganda, nor is it the first to show a child allegedly killing a hostage. Other releases have shown a young boy killing two hostages, and images have been distributed of children holding severed heads, The Guardian reported.
More from The WorldPost on the Islamic State group:

- Former Child Soldier: "Don't Join ISIS"
- Despite Kobani's Liberation From ISIS, Many Syrians See Little To Celebrate
- Jordan Has A Huge Foreign Fighter Problem
- 15,000 Foreign Fighters Have Joined Extremist Groups In Iraq And Syria. Here's Why They Went
- How ISIS Uses OIl To Fund Terror
- What's Happening In Jordan Today Shows How The Arab World's Strengths Are Also Its Weaknesses
BEFORE YOU GO
PHOTO GALLERY
Syria War In March