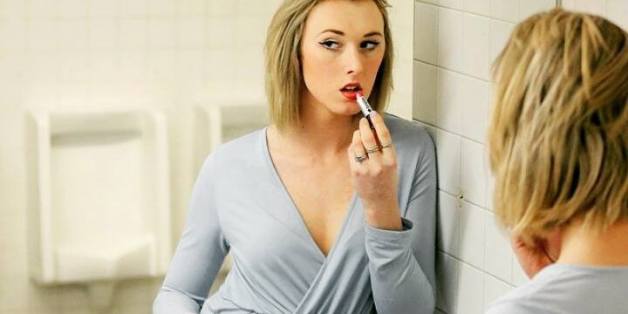 While mainstream transgender visibility may be at an all-time high, there is still a long way to go before individuals identifying across the transgender spectrum are treated as full citizens in America.
One of the most troubling issues on the forefront of cultural consciousness at the moment is access for transgender individuals to bathrooms that correspond with their gender identity. While bills impacting the transgender community's access to restrooms are not new, legislation that would reward students for reporting on classmates using what have ridiculously been termed "incorrect" bathrooms at their schools has cropped up in recent weeks.
In response to this, transgender people across the U.S. and Canada are sharing selfies on social media taken in single-sex bathrooms as an act of protest.
The #WeJustNeedToPee hashtag has been around for some time in an effort to raise awareness about how a binary bathroom system functions as a form of regulation. More recently, 23-year-old Canadian Brae Carnes started the hashtag #PlettPutMeHere in response to Senator Don Plett. Plett, according to Towleroad, "introduced legislation in Canada exempting public washrooms from a bill that would fight hate crimes against trans individuals by adding gender identity provisions to both the Criminal Code and the Canadian Human Rights Act."
"I'm trying to give the conservatives what they want, and in doing so highlight their error in judgement," Carnes told The Huffington Post. "It is very important because many trans people do not want to be public figures, they just want to live the lives they have fought for. This visibility is important because it shows just how many of us there are, and that we don't all fit into one stereotype. Trans lives matter."
"@_michaelhughes1: #transawareness #occupotty #translivesmatter #wejustneedtopee pic.twitter.com/sgvZfRQlvI" Unisex bathrooms. I solved it!!

— The Bad Attention (@thebadattention) March 12, 2015
Because obviously someone who looks like this belongs in the men's restroom. #wejustneedtopee #TransLivesMatter pic.twitter.com/c286tmQ71l

— embarrassing (@trans__princess) March 12, 2015
Search the #WeJustNeedToPee hashtag on Twitter to see more.
BEFORE YOU GO
PHOTO GALLERY
Homophobic Tweets By Celebs