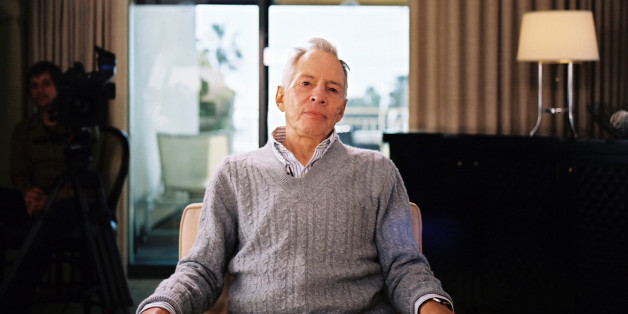 The HBO miniseries "The Jinx: The Life and Deaths of Robert Durst" came to a stunning conclusion on Sunday night, less than 24 hours after its title subject was arrested in New Orleans on an out-of-state warrant in connection with the reopened 2000 murder case of his friend and unofficial spokeswoman, Susan Berman. If you weren't spoiled by The New York Times' push notification that popped up on smartphones shortly after the episode aired, you learned at the end of the "The Jinx" that Durst appeared to admit, while in the bathroom with a hot mic still attached to his lapel, that he'd "killed them all," possibly referring to Berman, his first wife and his neighbor.
Andrew Jarecki, who directed "The Jinx" and interviewed Durst, appeared on Monday's "Good Morning America" and "CBS This Morning," where he called the discovery of the bathroom audio "chilling." Jarecki said authorities have had the audio "for months," but there was no official deal with law enforcement. Jarecki told "GMA" anchor George Stephanopoulos that he had no knowledge that Durst would be arrested on Saturday, nor any "power" over when or why Durst would be arrested.
Jarecki, whose 2010 film "All Good Things" offered a fictionalized take on the wealthy real-estate heir's life, had been in communication with law enforcement for two years while working on "The Jinx." The second interview for the miniseries, a part of Sunday's finale, took place three years ago. It took Jarecki and his small crew "many months" to find the bathroom audio. It wasn't discovered until additional editors were brought on to review audio without accompanying film footage. An anonymous source reportedly told the Los Angeles Times that the documentary did play a role in Durst's most recent arrest. Durst is due in court today for a hearing that will address his extradition to Los Angeles.
"We were very nervous about it," Jarecki said on "GMA" with regard to the incriminating audio. "I was on the phone with our main contact in law enforcement at 4:00 in the morning two nights before, and I was saying, 'I'm uncomfortable, I have security, my family's uncomfortable, and I feel that this arrest should be made, but I understand that you need to do what you need to do. But tell me where we are.' I didn't get any color on it."
After sustaining ample comparisons to last year's popular podcast "Serial," we now know "The Jinx" ends quite differently -- not with lingering questions, but with what seems to be an admission.
Watch the shocking final moments of "The Jinx," which came to a close Sunday after six episodes. You'll also hear Durst say, "There it is, you're caught," right after stepping into the bathroom:
BEFORE YOU GO
PHOTO GALLERY
Images From 'Serial' That Bring The Case To Life