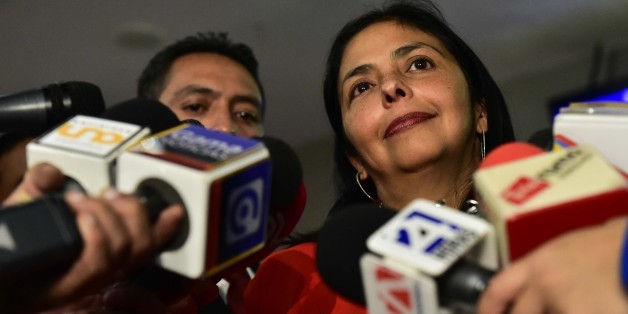 South America's governments aren't pleased with the Obama administration's recent characterization of Venezuela as a "national security threat."
President Barack Obama issued an executive order on March 9 sanctioning seven Venezuelan government and military officials accused of committing human rights abuses and participating in the detention of such opposition leaders as Caracas Mayor Antonio Ledezma Diaz. Venezuelan authorities jailed Ledezma last month after accusing him of participating in a coup plot. Ledezma has denied the charges, and critics of President Nicolás Maduro's government view his arrest as politically motivated.
The U.S. property of the seven individuals under sanction is being frozen, Americans are barred from doing business with them, and the seven cannot travel to the U.S.
But the main object of South American ire may be the language leading off Obama's order. It describes the situation in Venezuela as constituting an "unusual and extraordinary threat to the national security and foreign policy of the United States."
The Union of South American Nations, which speaks for the continent's 12 independent countries, demanded the U.S. drop the sanctions in a statement issued Saturday, calling them "a threat to sovereignty and the principle of non-intervention in the internal affairs of other states." The foreign ministers of all UNASUR's member nations signed the declaration at a special meeting in Quito, Ecuador, according to Argentine news site Infobae.
Several Latin American leaders had already condemned the sanctions and the portrayal of Venezuela as a security threat in public statements ahead of the meeting.
"Whoever looks at the map and says that Venezuela could be a threat to the United States has to be out of his mind," former Uruguayan President José Mujica said last week. "Venezuela has problems and they should be solved by Venezuelans."
The Argentine foreign ministry echoed the criticism, saying that "it's absolutely unbelievable that any marginally informed person would think that Venezuela, or any other South American or Latin American country, could constitute a threat to the national security of the United States."
The U.S. government hasn't typically described Venezuela as a major security threat. The 2015 Worldwide Threat Assessment of the U.S. Intelligence Community, released last month by the director of national intelligence, devotes two paragraphs to Venezuela, neither of which describe the country as a threat to the United States.
But a senior U.S. administration official told reporters last week that the use of "national security" language is standard when issuing an executive order to impose sanctions. "Most of the sanctions programs that we have, from Iran to Syria, Burma, across the board, rely on these same types of national emergency declarations," the official said.
Adam Isacson, senior associate for regional security policy at the human rights nonprofit Washington Office on Latin America, explained that under U.S. law, the executive has to declare a national emergency that threatens national security in order to freeze a foreigner's assets by executive order.
"It has to look like a big, special thing, if you're going to do it," Isacson told The Huffington Post. "That's why it has that stupid language at the beginning. I think the sanctions themselves are pretty legitimate. The United States has the right to decide who gets to do business and own property here in our country, and we should be limiting the number of human rights abusers who get to do that."
Isacson also suggested that more people were worthy of sanctions. "Just look at New York and all the condos that are owned by Russian oligarchs," he said. He noted as well the prevalence of human rights abuses in Mexico and Colombia, countries with which the United States enjoys good diplomatic relations.
Venezuela's national legislature responded to the sanctions by giving Maduro wide latitude to rule largely by decree for a nine-month period. Venezuelan state media said that such power would allow Maduro to govern "with rank, bravery and strength in reference to Venezuela's foreign policy, defense of sovereignty and diplomacy."
The Venezuelan military also began carrying out a week and a half of military maneuvers this past Saturday, with the stated aim of showing that the country is prepared to repel foreign aggression.
Last month Maduro had accused U.S. Vice President Joe Biden of conspiring with foreign governments to overthrow him -- a claim that U.S. officials have called "ludicrous."
BEFORE YOU GO
PHOTO GALLERY
Why Latin Americans Really Come To The U.S.