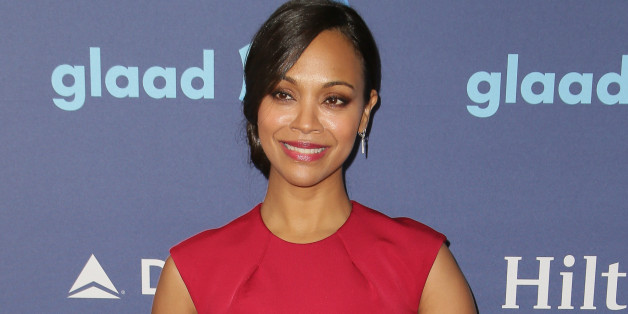 Zoe Saldana has no intention of joining the boycott against Dolce & Gabbana over the designers' comments about same-sex families adopting children or having them via in vitro fertilization.
"No! Not at all, that would be the stupidest thing if it affected my fashion choice," Saldana told E! News at the 2015 GLAAD Media Awards. "People are allowed to their own opinion, however, I wouldn't have chosen to be so public about something that's such a personal thing. Obviously it caused some sensitivity, but then again if you continue to follow the news, you see they all kinda hugged it out, so why are we making a big deal about it?"
Domenico Dolce and Stefano Gabbana made the controversial comments during an interview with Italian magazine Panorama, saying children born through IVF are "children of chemistry, synthetic children. Uteruses for rent, semen chosen from a catalog." They later defended their views as having stemmed from their traditional Italian upbringings.
The actress, whose husband, Marco Perego, is from Italy, also told E! News that sometimes things get lost in translation.
Celebrities like Elton John, Ricky Martin, Courtney Love and Andy Cohen have been vocal in their support for the #BoycottDolceGabbana campaign. Others in the industry aren't so sure.
"I am a gay man. I've adopted two children. I'm so busy with my kids, I can't stop to think of what (the designers) may or may not have said," Joseph Cassell, Taylor Swift's stylist, told the Associated Press last week at the Hollywood Reporter's luncheon for Hollywood's biggest stylists. "The only thing I wish I could talk to them and say right now is, talking to the press is dangerous."
BEFORE YOU GO
PHOTO GALLERY
25 LGBT-Friendly Products & Companies Targeted By Boycotters