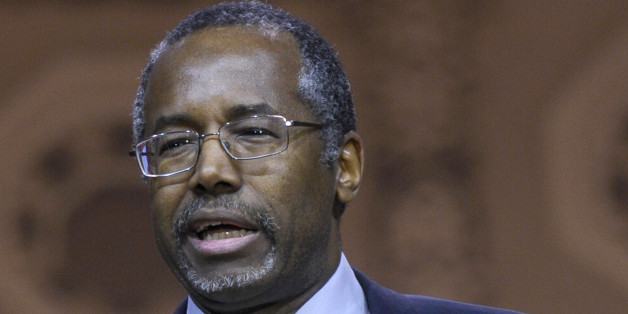 It doesn't matter what country he's in, Ben Carson just can't help sticking his foot in his mouth.
For GQ's April issue, the magazine spoke with the former pediatric neurosurgeon and conservative presidential hopeful for an in-depth feature, aptly titled "What If Sarah Palin Were a Brain Surgeon?"
Much of the profile followed Carson during a recent trip to Israel, where -- in addition to reaffirming his belief that the U.S. under the leadership of President Barack Obama is like Nazi Germany under the rule of Adolf Hitler -- he found the time to equate those protesting the killing of Michael Brown in Ferguson, Missouri, to Islamist fighters in war-torn Syria.
The analogy was made during a "geopolitical strategic briefing" given by three low-ranking members of the Israeli Defense Forces at Mount Bental, "a popular tourist destination with a gift shop and coin-operated binoculars":
"Perhaps we can move over here," the lieutenant colonel suggested, steering Carson's group to a quieter spot to discuss the nearby Syrian civil war. He claimed that most of the Islamist fighters weren't Syrian but came from Morocco and Europe. "It's just like the troublemakers in Ferguson," Carson said, betraying a habit of wedging the unfamiliar into a context he understands.
During his trip, Carson also received a tutorial on Israel's legislature ("It sounds complex," he said in response. "Why don't they just adopt the system we have?") and became startled by the sound of nearby construction work.
"Carson was standing on a pleasant hillside outside Jerusalem that overlooked a grove of olive trees; a shepherd tended his flock of sheep in the distance," the piece reads. "Carson heard some noise from a construction site, and he flinched. 'Was that machine-gun fire?' he asked."
Carson also called Obama a "psychopath" in the profile, but at this point that's almost par for the course.