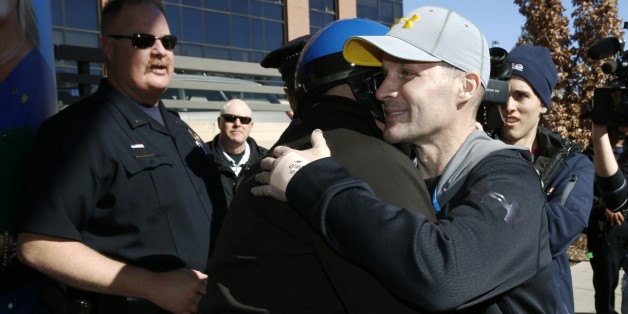 By Keith Coffman
DENVER, March 25 (Reuters) - A motorist who was having a seizure when he critically injured a Denver policeman during a demonstration late last year over the killing of an unarmed black teenager in Missouri was arrested on Wednesday on assault charges, authorities said.
Christopher Booker, 42, is being held on suspicion of first-degree assault, vehicular assault, forgery and attempting to influence a public servant, Denver District Attorney Mitch Morrissey told reporters.
Morrissey said Booker allegedly concealed his medical history of seizures when he applied for a driver's license, leading to the forgery and influence accusations.
"The allegation is that he (Booker) drove knowing that he suffered a medical condition that made it unsafe for him to drive," Morrissey said.
Booker was behind the wheel of a sport utility vehicle on Dec. 3 when he plowed into four Denver bicycle officers as they performed traffic and crowd control during a protest march by students from East High School.
Denver police said in a statement that Booker lost control of the vehicle after accelerating from a stopped position. They said there was no evidence he intended to hit the officers.
The marchers were protesting a decision by a grand jury not to indict a white police officer in the shooting death last August of 18-year-old Michael Brown in Ferguson, Missouri.
Three of the Denver officers who were struck sustained minor injuries, but a nine-year veteran of the force, John Adsit, suffered a severed artery and numerous broken bones, and had his spleen removed.
Adsit, 43, was released from a hospital last month after undergoing several surgeries and treatment for infections and pneumonia.
Officers who responded to the scene said it appeared that Booker was in "a full seizure" as they approached him when the vehicle came to rest a block away from where the officers were hit, the district attorney said.
Booker will be formally charged within 72 hours, Morrissey added.
The first-degree assault charge is the most serious offense Booker faces, and carries with it a sentencing range of between 10 and 32 years in prison if he is convicted. (Reporting by Keith Coffman; Editing by Daniel Wallis and Eric Beech)