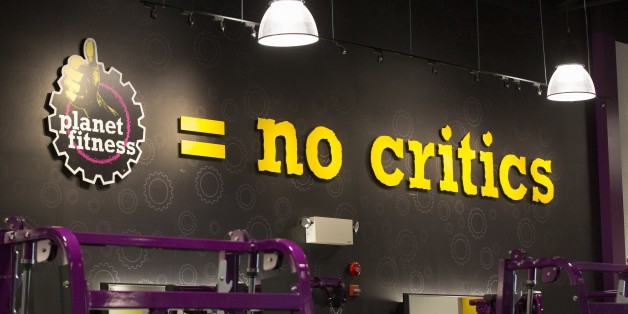 Planet Fitness is facing a lawsuit for not being discriminatory. Really.
Yvette Cormier, whose membership at a Planet Fitness in Midland, Michigan was canceled earlier this month when she made a stink about a transgender woman's use of the women's locker room, is suing the gym chain for more than $25,000 on counts of invasion of privacy, sexual harassment and breach of contract, to name a few.
Cormier's displeasure with Planet Fitness made headlines after she complained to staff about the trans woman's use of the locker room. The gym defended the woman's right to use whichever locker room she identifies with, but Cormier didn't let it rest: she proceeded to tell other gym-goers about the woman because she reportedly felt "unsafe."
"If you have male parts you don't need to be in the women's locker room," she told CNN. "I don't care what you are; I don't care if you're gay lesbian, transgender or transvestite. I am uncomfortable with you as a male in my locker room, in my restroom."
The gym, which touts itself as a "judgement free zone," ultimately canceled Cormier's membership citing "inappropriate and disruptive" behavior.
"Planet Fitness is committed to creating a non-intimidating, welcoming environment for our members," the company said in a statement to The Huffington Post at the time. "Our gender identity non-discrimination policy states that members and guests may use all gym facilities based on their sincere self-reported gender identity."
Cormier filed her lawsuit against Planet Fitness Monday in Midland County Circuit Court.
A press release from her attorneys with the Kallman Legal Group in Lansing claims that Planet Fitness creates a "hostile and offensive environment for women and children."
"Ms. Cormier was wrongfully denied the benefits of her contract with Planet Fitness and wrongfully denied the use of the public accommodations at Defendant's gym because she objected to Defendant's unknown policy," the press release states. "The policy allows men who self-identify as women to use the women's facilities, including the women's locker room and showers."
After the initial incident, the anti-LGBT American Family Association spoke out in defense of Cormier's reaction, saying, "Planet Fitness is making the needs of its female members subservient to the sexual identification of transgender individuals."
BEFORE YOU GO
PHOTO GALLERY
Transgender Acceptance