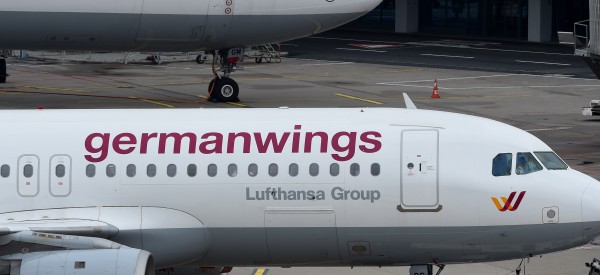 TOP STORIES
To get The Morning Email, HuffPost's daily roundup of the news, in your inbox, sign up here.
PILOT LOCKED OUT OF COCKPIT BEFORE FRENCH ALPS CRASH Voice recordings recovered from the Germanwings plane that crashed into the French Alps indicate that one pilot left the cockpit before the descent and was unable to reenter. According to the New York Times, "The guy outside is knocking lightly on the door, and there is no answer," the investigator said. "And then he hits the door stronger, and no answer. There is never an answer … You can hear he is trying to smash the door down." As a senior French official said, "We have to consider the possibility of deliberate human responsibility." Here's why eight minutes of radio silence is so alarming. Family members of the 150 victims are being flown, and bused for those that refuse to fly, to the crash site. And the grief is unfathomable for the German town that lost 16 students and two teachers on their return from an exchange program. [AP]

SAUDI ARABIA LAUNCHES YEMEN FRONT "Saudi Arabia and Gulf region allies launched military operations including air strikes in Yemen on Thursday, officials said, to counter Iran-allied forces besieging the southern city of Aden where the U.S.-backed Yemeni president had taken refuge." [Reuters]
U.S. BEGINS AIRSTRIKES IN BATTLE FOR TIKRIT The airstrikes are part of an "ongoing" effort to take back the key Iraqi city from ISIS. [AP]
BOWE BERGDAHL CHARGED WITH DESERTION The U.S. soldier who left his Afghanistan patrol base in 2009 and was subsequently held captive by the Taliban for five years before a prisoner swap could face life in prison for the desertion charge. [WaPo]
COP CAMS COULD CHANGE POLICING, JUST NOT HOW YOU WOULD THINK "There is significant evidence that cop cams cut down on most civilian complaints. But a close examination of violent encounters with the police caught on tape suggests that even with seemingly incontrovertible video evidence, questions will often linger. The kind of sea change that police reform activists desire will still likely escape them." [Matt Sledge and Hunter Stuart, HuffPost]
THE RISE OF THE INTELLIGENCE ANALYST "The gun-toting F.B.I. agent and the swashbuckling C.I.A. undercover officer are being increasingly called upon to share their clout, their budgets and even their Hollywood glamour with the humble, desk-bound intelligence analyst." [NYT]
NFL LIKELY TO CHANGE EXTRA POINT PLAY Alternatives to the traditional extra point play include moving the line of scrimmage back, putting the ball on the 1 ½-yard line for a 2-point conversion or allowing the defense to score, similar to college football, if the ball is turned over in a 2-point conversion attempt. [AP]
WHAT'S BREWING
SORRY, ONE DIRECTION FANS Zayn Malik has quit the band for good. And here's a no-shame explainer in case you don't know who in the world Zayn Malik is. [HuffPost]
PACK YOUR BAGS These countries are small enough you can see them in a day. [Conde Nast Traveler]
WE HAVE A LOLLAPALOOZA LINE-UP Headlined by Paul McCartney. [HuffPost]
HOW TO CUT YOUR RICE CALORIES IN HALF All you need is some coconut oil. [WaPo]
HBO HAS CANCELED 'LOOKING' But promises it'll air a special to close out the series. [HuffPost]
WHAT HAPPENS WHEN YOU CAN HAVE EVERYTHING DELIVERED Welcome to the "shut-in economy." [Medium]
HOW TO HELP A FRIEND STRUGGLING WITH DEPRESSION "And while my ideas weren't innately bad -- I realized I was trying to make myself feel better about her depression. I spoke with my friend. I asked outright: What should someone do for a loved one who is suffering? What helps? Together we discussed her feelings. Her perspective. Her pain. And then we worked on some bearings that really helped me be a better friend." [HuffPost]
WHAT'S WORKING
CHELSEA CLINTON, JIMMY KIMMEL TEAM UP TO PROMOTE 'SERVE A YEAR' "Jimmy Kimmel doesn't quite understand Chelsea Clinton's new project, but he's helping get the word out, nonetheless. He sat down with the former first daughter on his late night talk show to help launch Serve a Year -- an initiative that encourages young people to dedicate one year to service, benefiting a variety of causes in the process." [HuffPost]
ON THE BLOG
HUNTSMAN, LIEBERMAN: STOP THE QUICK 'DOC FIX' "Since 2003, Congress has voted 17 times to temporarily defer automatic cuts to our Medicare payment system with what's known as the 'doc fix.' This stopgap measure fails to address long-term costs, keeps doctors uncertain about funding and provides an extraneous yearly distraction for Congress. Instead of permanently dismantling this inefficient process, Congress has continued to keep the insanity going year after year." [HuffPost]
BEFORE YOU GO
~ Jesse Eisenberg looks pretty darn believable as Lex Luthor.
~ Guess which "Game of Thrones" star turned down the role of Anastasia Steele in "Fifty Shades of Grey?"
~ How to fake it as a wine expert.
~ Behind the fake Sarah Jessica Parker and Tom Hanks "feud."
~ Rihanna's going to drop a single today.
~ All is right in the world, Upper East Siders: Blair and Dorota from "Gossip Girl" are still friends IRL.
~ Also shot on iPhone 6.
~ A bunch of corgis raced to determine the name of Prince George's unborn sibling, and it couldn't be more fun.
~ "Smash" fans rejoice: the short-lived tv show is bringing its "Bombshell" songs to the stage in the most successful Kickstarter-funded theatrical production to date.
~ Meet the real-life "Gone Girl."
~ Congressional leaders staged their own "Mean Tweets" segment.
~ The Yankees recreated a famous scene from "The Sandlot."
~ Jessica Biel (and her baby bump) looked adorable during her day at the beach.
Send tips/quips/quotes/stories/photos/events/scoops to Lauren Weber at lauren.weber@huffingtonpost.com. Follow us on Twitter @LaurenWeberHP. And like what you're reading? Sign up here to get The Morning Email delivered to you.