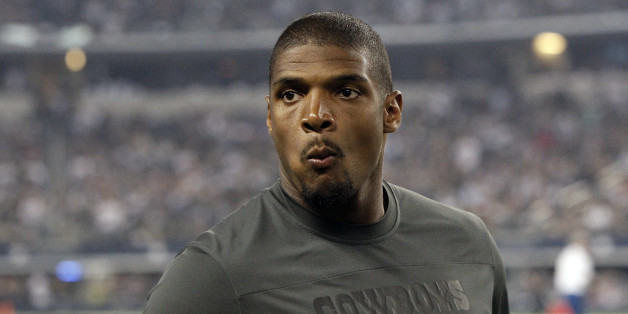 Michael Sam has previously disclosed that a small number of gay athletes reached out to express their gratitude following his coming out as gay before the 2014 NFL draft. Now he says that some of them are quite well known as well.
"I will never say anything about who [the gay players] are, what teams they are [on]," Sam said Thursday in Dallas, according to the Star-Telegram. "I'm just saying there's some famous people, and I'm not the only one."
"There [are] a lot of us," Sam said. "I respect the players that did reach out to me and had the courage to tell me that they were also gay, but they do not have the same courage as I do to come out before I even played a down in the NFL."
"I am not the only gay person in the NFL," he said.
Sam made the comments during an appearance at the 2015 Dallas Holocaust Museum Upstander Speaker series. Sam, 25, has struggled to earn a spot on an NFL roster since getting drafted in the seventh round of the 2014 draft. He has already been dropped by the team that drafted him, the St. Louis Rams, and the Dallas Cowboys.
Sam's hope for making a team took a hit recently when he registered a slower 40-yard dash at the veterans combine than he had prior to the 2014 draft. Nevertheless, questions remain about whether discrimination has played a role in the former SEC co-defensive player of the year's inability to land a secure job on a team.
On Thursday, Sam, a current contestant on "Dancing with the Stars," said he was surprised that his decision to come out provoked so much national attention, saying "maybe I was naive." But he says he believes, or at least hopes, that he's not being discriminated against because of his sexual orientation.
"Hopefully I'm not being discriminated [against] because I'm gay," Sam said. "I don't believe that I'm being discriminated [against] because I'm gay. I just want to know if I'm truly not in the NFL, it's because of talent."
Sam is a recipient of the Arthur Ashe Courage Award, handed out annually to those "possessing strength in the face of adversity, courage in the face of peril and the willingness to stand up for their beliefs no matter what the cost." At least 5 percent of men in the U.S. are primarily attracted to other men, according to a recent analysis.