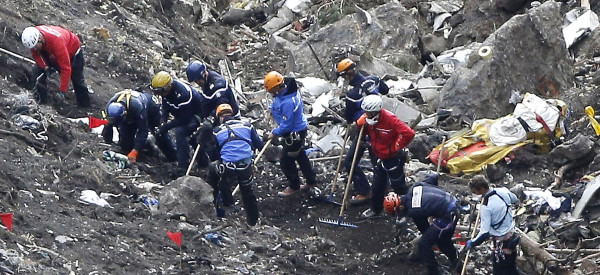 TOP STORIES
To get The Morning Email, HuffPost's daily roundup of the news, in your inbox, sign up here.
CO-PILOT BELIEVED TO HAVE DELIBERATELY CRASHED GERMANWINGS PLANE Prosecutors have yet to determine what caused 27-year-old co-pilot Andreas Lubitz to deliberately crash the Germanwings flight he was charged with guiding, killing all 150 people on board. A Washington Post graphic depicts the emerging timeline of events, including Lubitz locking the pilot out of the cockpit. Post-9/11 cockpits are designed to protect against external, not internal, threats. Details are emerging about the Lubitz's personal life, along with the news that he had a medical condition noted on his pilot's medical certificate. Police are said to have made a "significant discovery" at Lubitz's home. France has released footage of the crash site. And airlines around the world are changing the rules to require two people present in the cockpit at all times. [Reuters]

HOW FERGUSON'S POLICE FORCE COLLECTED MILLIONS IN TICKETS "In dozens of interviews with The Huffington Post over the past several months, residents have called the [municipal court] system 'out of control,' 'inhumane,' 'crazy,' 'racist,' 'unprofessional' and 'sickening.' Some have told stories of being slapped with large fines for minor violations and threatened with jail if they couldn't pay. 'Everyone's got a horror story about the police,' former St. Louis County Police Chief Tim Fitch told HuffPost in a recent interview. 'And most of that horror story relates back to being ticketed for some minor violation.'" [Ryan Reilly and Mariah Stewart, HuffPost]
SENATE PASSES GOP BUDGET The proposal "would cut spending by $5.1 trillion over 10 years, raise military funding and repeal Obamacare." [Laura Barron-Lopez, HuffPost]
HOW THE WAR IN YEMEN IS A PROXY WAR "The conflict in Yemen is quickly devolving into a wider regional conflagration, pitting Shiite Iran and an allied militant group against Saudi Arabia and other Sunni Arab states that came together to launch airstrikes on those militants." [WSJ]
IRAN NUCLEAR DETAILS EMERGE "The United States is considering letting Tehran run hundreds of centrifuges at a once-secret, fortified underground bunker in exchange for limits on centrifuge work and research and development at other sites, officials have told The Associated Press." [AP]
UN: 440,000 BESIEGED IN SYRIA The UN has doubled its estimate of Syrians that live in "besieged" areas. [AP]
GAS EXPLOSION ROCKS BUILDING IN EAST VILLAGE At least 19 people were injured in the ensuing 7-alarm fire. Over 250 firefighters were called in to combat the blaze. [Christopher Mathias, Andy Campbell, and Sebastian Murdock, HuffPost]
WHAT'S BREWING
CHELSEA HANDLER SAYS BILL COSBY TRIED TO 'COSBY' HER "In an interview with Esquire, Chelsea Handler said Bill Cosby once invited her back to his room while the two were simultaneously performing at an Atlantic City hotel. Cosby 'tried to Cosby me,' Handler said." [HuffPost]
THESE ASTRONAUTS ARE SPENDING ALMOST A YEAR IN SPACE Meet the two guys about to shoot off into the stratosphere today for the next year. [HuffPost]
TIM COOK SET TO GIVE AWAY ALL HIS WEALTH He plans to give away his $785 million to charity after he pays for his nephew's college. [Reuters]
THERE MIGHT BE A 'DOWNTON ABBEY' MOVIE Which is the only way to make the show's upcoming series finale acceptable. [HuffPost]
THE LOST ART OF AUTOGRAPH COLLECTORS "Brian Flam has spent a good part of the last 30 years sending letters to relative nobodies and toting cartons of baseball cards from his Maryland home to cities up and down the Eastern Seaboard in pursuit of scrawls legible only to a select few. By all relevant accounts, Flam is a master of the craft of autograph seeking, known within the field as graphing. The roughly 150,000 signed cards, filed into 5,000-count boxes that line the walls of his home office, testify to this distinction." [Vice]
ALL IS RIGHT IN THE WORLD Kim Kardashian is a brunette again. [HuffPost]
WHAT'S WORKING
THE DROP IN CIGARETTE SMOKING "Cigarettes used to be everywhere in American society. Fifty years ago, 42.4 percent of U.S. adults smoked. Since then, that figure has declined by more than half, reaching a record low 17.8 percent in 2014. What's more, the rate is still dropping." [HuffPost]
ON THE BLOG
NEUROSCIENCE KEY TO UNLOCKING SLEEP'S POTENTIAL "We showed that we could rapidly trigger deep sleep in mice by "remotely" activating a certain type of neuron in this brain region, as well as prevent entry into deep sleep by inhibiting these same cells. Our findings, therefore, have potential implications for treating sleep disorders, such as insomnia, by providing a new (potential) structural/cellular target for rational drug design or the development of other therapeutic modalities." [HuffPost]
BEFORE YOU GO
~ The Oscars will have new producers next year.
~ Legendary UNC coach Dean Smith left all of his varsity players $200 in his will for a "nice dinner."
~ The hidden costs of miscarriages.
~ We have the first photo of Mrs. Cumberbatch's wedding dress.
~ Kendall Jenner is the new face of Calvin Klein.
~ All you need to know about Periscope, Twitter's video-streaming app.
~ If God had an iPhone...
~ Amanda Seyfried really, really, really wants to be Glinda in the "Wicked" movie.
~ The history of the ATM.
~ When college basketball players get caught with live mics saying something adorable.
~ This guy quit his finance job to walk dogs in the woods in Norway.
~ Watch Disneyland get built in a minute.
~ You don't want to know how often you're supposed to be cleaning your sponges.
~ And celebrities' favorite Instagram filters.
Send tips/quips/quotes/stories/photos/events/scoops to Lauren Weber at lauren.weber@huffingtonpost.com. Follow us on Twitter @LaurenWeberHP. And like what you're reading? Sign up here to get The Morning Email delivered to you.