A police officer shot two men who attempted to ram a gate at the headquarters of the National Security Agency at Fort Meade, Maryland, on Monday.
One suspect is dead in the incident, and the other was seriously injured, federal law enforcement sources told WYFF.
NBC Washington reports that the men, who were disguised as women, got into an altercation with an NSA police officer at the agency gate around 9 a.m. Monday morning.
Gunfire was exchanged, and it is believed that the guard shot one, or both, of the men... At least one gun and drugs were found in the stolen Ford Escape the men were riding in.
The gate is far away from the main NSA buildings. NSA police are leading the investigation.
#UPDATE: Pox involved shooting after vehicle rammed gate at NATIONAL SECURITY AGENCY. @NSA_PAO http://t.co/Coiqm12pDn pic.twitter.com/CQwmY7FMXn

— FOX 5 DC (@fox5newsdc) March 30, 2015
Aerial footage shows NSA police and emergency responders on the scene, and at least one injured uniformed man was loaded into an ambulance. Police presence on the scene remains heavy.
The ramp from Interstate 295 South to the NSA has been closed off by state police.
State Police have ramp blocked from 295 South to NSA pic.twitter.com/42KO5tlE5f

— Tim Pratt (@TPratt_Capital) March 30, 2015
Fort Meade is home to around 11,000 military personnel and 29,000 civilian employees.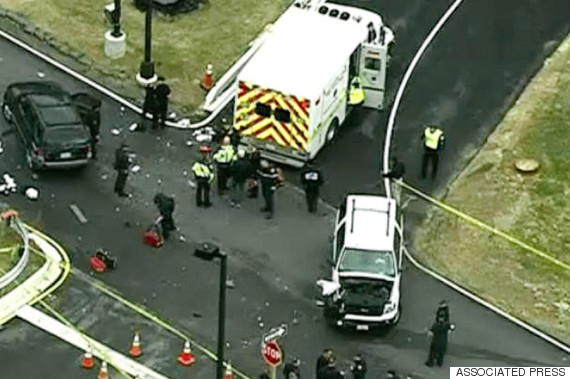 In this image made from video and released by WJLA-TV, authorities investigate the scene of a accident near a gate to Fort Meade, Md., on Monday, March 30, 2015. A spokesman at Fort Meade says two people are being treated for injuries at one of the gates of the sprawling Army installation near Baltimore.
This is a developing story.
Like Us On Facebook |

Follow Us On Twitter |

Contact The Author