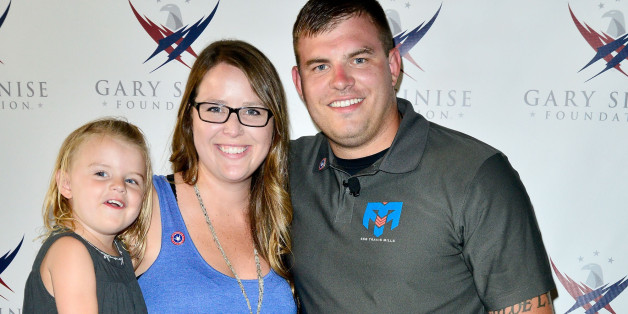 Travis Mills is at it again.
The retired staff sergeant and quadruple amputee announced last week that his organization -- the Travis Mills Foundation -- purchased the Maine Chance Lodge in Rome, Maine, and plans to convert it into a retreat for veterans with disabilities and their families, WCSH 6 News reported.
The Travis Mills Foundation Retreat (TMF), which will be able to accommodate up to 10 families at a time, allows for veterans with disabilities to "recover, relax and enjoy a wide range of adaptive sports and activities" -- like kayaking, fishing and swimming -- Mills told the outlet, helping them heal physically and emotionally.
"We just really want to give back to the veterans," Mills said. "I was given such good fortune from everybody around the nation giving back. Kelsey and I, my wife, wanted to start a foundation, and what better way to give back to ours that served ... this is how we're going to do it."
A GoFundMe page has been set up to help fund renovations for TMF, which will be a fully accessible "smart-home" space for wounded veterans and their families in the U.S., according to WCSH 6.
So far, more than $157,000 of the group's $1.7 million goal has been raised.
Mills -- who is one of just five quadruple amputee veterans -- has made a name for himself helping others who've been injured while serving. A documentary, "Travis: A Soldier's Story," premiered in 2013 and continues to screen across the country, telling the story of how he, Kelsey and their daughter moved on after he was critically injured from an IED in Afghanistan in 2012.
"If I'm giving up," Mills said in the film. "I'm giving up on my family."
Mills has been a positive force for wounded veterans for years. Dubbed the "mayor" of Walter Reed Medical Center while recovering from his injuries there, Mills could be spotted visiting other patients, spreading encouragement to those who needed it most.
In 2013, a physical therapist at the hospital told Fox News that Mills "walks in [to patients' rooms] with his four prosthetics on, a smile on his face and says, 'You're going to be OK.'"
Support the foundation's retreat here.
BEFORE YOU GO
PHOTO GALLERY
Travis Mills, Quadruple Amputee Survivor