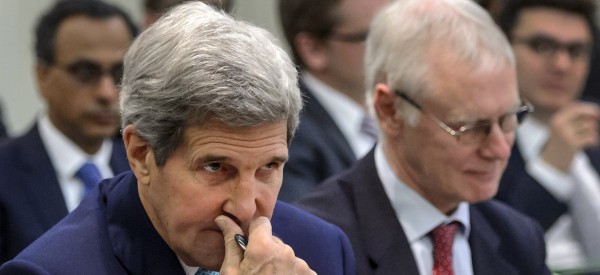 TOP STORIES
To get The Morning Email, HuffPost's daily roundup of the news, in your inbox, sign up here.
DEAL OR NO DEAL? "Iranian and American negotiators give themselves a 50-50 chance of reaching a nuclear agreement before Tuesday's deadline, with several notable disagreements remaining in the political framework." Here are five things to watch for as the Iran nuclear deal unfolds today. Chances are the decisions on the toughest issues under debate will be deferred. [Jessica Schulberg, HuffPost]

INDIANA CEOs PROTEST RELIGIOUS FREEDOM RESTORATION ACT "In a letter to Gov. Mike Pence (R) and state Republican leaders on Monday, the CEOs of nine different large companies headquartered in Indiana expressed concern that the state's controversial Religious Freedom Restoration Act would lead to discrimination against employees." Here are six major companies taking a stand. And take a look at The Indianapolis Star's front page, which blasts the law. [Sam Levine, HuffPost]
IRAQI MILITIAMEN PLAN TO BATTLE U.S.-BACKED COALITION IN YEMEN "Iran-backed Shiite militiamen in Iraq say they're ready to take up arms in a country most of them have never been to: Yemen. 'We defeated ISIS in Syria, we're defeating ISIS in Iraq, and we'll defeat them in Yemen,' Abu Kumael, a volunteer fighter with the powerful Iran-supported Shiite militia known as the Peace Brigades, told The WorldPost Monday. 'We're not just talking. We're physically ready to go and fight.'" Take a look at a primer on the ever-shifting alliances in the Middle East. [Sophia Jones, HuffPost]
POSSIBLE ANSWERS IN MYSTERIOUS WAVE OF CHILD PARALYSIS A recent study points to the long-suspected Enterovirus 68 as the culprit behind a rash of mysterious child paralysis across the country. [NYT]
U.S. CONFIRMS PROMISE TO CUT 28% OF EMISSIONS BY 2025 The White House plans to make the final announcement about the U.S.'s role in the global climate treaty today. [AP]
ONE DEAD, ONE INJURED AFTER TRYING TO RAM GATES OF NSA A police officer shot one man dead and injured another as the two rammed their car into the gates of NSA headquarters in Fort Meade, Maryland, yesterday. The two men were dressed as women, and authorities believe they may have made a wrong turn and kept driving when they saw a police presence as they had drug paraphanalia in the car. [Andres Jauregi, HuffPost]
THIS MAN WRONGLY SERVED ON DEATH ROW FOR 30 YEARS And a judge ruled he should not receive any restitution. [Kim Bellware, HuffPost]
MCDONALD'S IS TESTING ALL DAY BREAKFAST The post-10:30 struggle could end, people -- Egg McMuffins all.day.long. [AP]
WHAT'S BREWING
MEET YOUR NEW 'DAILY SHOW' HOST Everything you need to know about upstart Trevor Noah. And if Bill Simmons is to be believed, Noah got the offer after Comedy Central pursued Amy Schumer, Amy Poehler and Louis C.K. for the anchor spot. [HuffPost]
JAY Z JUST INTRODUCED THE ARTISTS' VERSION OF SPOTIFY, TIDAL The new streaming service, sponsored by Jay Z, Kanye West, Nicki Minaj and Madonna to name a few, is "being billed as the first artist-owned platform for music and video." It'll cost $10 monthly for standard sound quality and $20 monthly for premiere access. [AP]
NBC'S NEXT LIVE MUSICAL WILL BE 'THE WIZ' Please don't let it be a trainwreck. [AP]
BEHIND VICE'S NEW DAILY NEWS SHOW They promise not to be "slaves to the news cycle." [HuffPost]
LET'S GET DOWN TO BUSINESS Disney is finally making a live-action movie version of "Mulan." [Vanity Fair]
TAKE A LOOK AT YOUR CHILD'S HOCKEY HELMET "Virginia Tech researchers on Monday released the findings of a three-year look into the ability of 32 popular hockey helmets to protect against concussions -- the school's first investigation of hockey helmets. To put it mildly, the results are worrisome. The researchers, who used a five-star system to grade the helmets, found none safe enough to receive four or five stars, and only one worthy of three stars." [HuffPost]
WHAT'S WORKING
INTRODUCING HUFFPOST WHAT'S WORKING HONOR ROLL "From scientific breakthroughs to successful crime-reduction initiatives, the What's Working Honor Roll highlights some of the best reporting and analysis, from a range of media outlets, on all the ways people are working toward solutions to some of our greatest challenges." [HuffPost]
ON THE BLOG
BARBRA STREISAND TALKS EMPLOYMENT RATES "In the wake of the financial crisis, President Obama took the helm of a sinking economic ship and help to right it. The unemployment rate is now once again at pre-recession levels -- the lowest in seven years (5.5%)." [HuffPost]
BEFORE YOU GO
~ The trick to shuffling cards.
~ How to keep drunk people from falling on Subway tracks.
~ J. J. Reddick, one of the most hated college basketball players, has decided to keep trolling us all.
~ Stephen Hawking wants to trademark his name.
~ The best main streets in America.
~ What the failure of Meerkat means for tech journalism.
~ Harvey Weinstein is facing sexual assault allegations.
~ Meet the lawyer defending Dzhokhar Tsarnaev, the Boston Bomber.
~ Watch these constellations change over the past hundred-thousand years.
~ And you have to love this newborn jaguar cub.
Send tips/quips/quotes/stories/photos/events/scoops to Lauren Weber at lauren.weber@huffingtonpost.com. Follow us on Twitter @LaurenWeberHP. And like what you're reading? Sign up here to get The Morning Email delivered to you.