R.I.P., Chris Paul's ego.
The Los Angeles Clippers point guard's confidence was killed Tuesday by Stephen Curry of the Golden State Warriors, who dropped Paul to the floor with a crossover so deadly it should be deemed illegal in the state of California.
Oh. My. Lord. (Source: Streamable)
Seriously, look how much space Curry created between the two of them: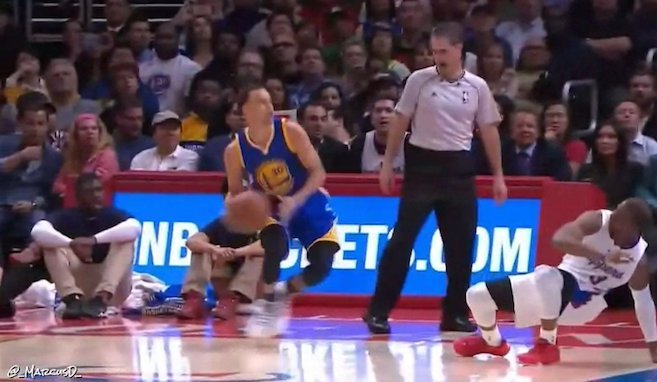 They should place this photo in the dictionary next to the word "embarrassment." (Source: Streamable)
And it looks ten times worse in slow motion:
Curry's ability to drop one of the league's best point guards to the floor like a child playing amongst men in your local gym is all the more impressive considering a new set of advanced metrics recently deemed Paul the best perimeter defender in the NBA.
Of course, none of that matters now. I mean, did you see the bench reaction?
Not to mention the reaction from the rest of Paul's professional colleagues:
Oh God.

— John Henson (@_John_Henson_) April 1, 2015
my god.

— Kendall Marshall (@KButter5) April 1, 2015
Oh no Steph!!!!!

— Chandler Parsons (@ChandlerParsons) April 1, 2015
👀👀👀👀👀

— Tony Allen (@aa000G9) April 1, 2015
Come here CP

— Trevor Booker (@35_Fitz) April 1, 2015
Damn double behind the back 👀

— CJ McCollum (@CJMcCollum) April 1, 2015
Ha Stephen 😳

— Gerald Henderson (@GhJr09) April 1, 2015
Steph wit the bop bop

— Dorell Wright (@DWRIGHTWAY1) April 1, 2015
Wow steph curry 👀

— Nikola Vucevic (@NikolaVucevic) April 1, 2015
WOW !!!!!!!

— Evan Fournier (@EvanFourmizz) April 1, 2015
The Internet being the Internet, Paul's fall to the floor was soon chopped up and thrown into a number of, uh, similar hypothetical situations.
Like Chris Paul on a skateboard:
Winner @CP3 pic.twitter.com/lABAaUJjFZ

— Monster&Da2C'sDad (@LivingLegend10) April 1, 2015
Or Chris Paul in roller skates:
#Skates pic.twitter.com/KHP4tPoigu

— Mr. Hempstead (@UncleHemp) April 1, 2015
Or Chris Paul in a cypher:
CHRIS PAUL IN A CYPHER??!! pic.twitter.com/xOYaztRGPb

— diddy (@papicastllo) April 1, 2015
Or this:
Chris Paul be like, "Yup, just practicing my capoeira" @SportsNation @SportsCenter pic.twitter.com/uECl6TnFnj

— Ron (@djefechto) April 1, 2015
Or these:
The Pros of the Internet .... Poor Chris Paul. HAHAHAHA pic.twitter.com/DK7f1IQF6E

— Lorena (@CordovaLow) April 1, 2015
Seriously, you know it's bad when one of the best players in the NBA feels the need to admit defeat against one of his fiercest rivals.
Like, even to the other team:
Chris Paul told the Warriors' bench, "He got me." Had no other choice, really.

— J.A. Adande (@jadande) April 1, 2015
The Warriors won the game too, but who cares about that at a time like this.