As journalists, we dutifully report on what's going wrong, from scandals and corruption to natural disasters and social problems. But far too often the media fails to show the whole picture, neglecting to tell the stories of what is working. From scientific breakthroughs to successful crime-reduction initiatives, the What's Working Honor Roll highlights some of the best reporting and analysis, from a range of media outlets, on all the ways people are working toward solutions to some of our greatest challenges.
Welcome to the Bright Side: Introducing Bright, Medium's pop-up publication about innovation in education.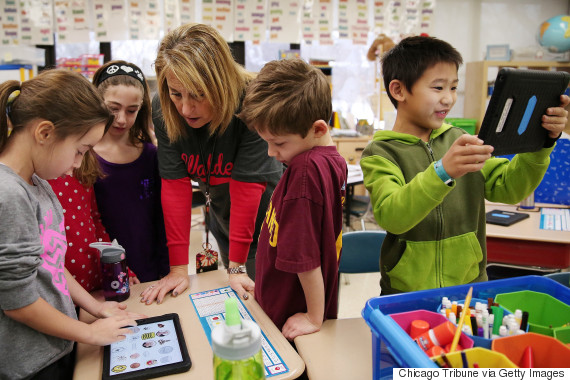 First grade teacher Jan Sabin helps her students learn on iPads at Walden Elementary School in Deerfield, Ill.
Medium launched a pop-up publication on Tuesday that hopes to change the conversation around education in the United States. "Bright" wants to go beyond the familiar education stories that focus only on low-income school districts, poor facilities and low test scores, and tell "the whole story." That means bringing "a rigorous solutions-oriented outlook to the most contentious topics in education today." Bright will highlight what's working in education, with a lens on education entrepreneurs, technological advances, teacher accomplishments and other notable achievements in the field. Rather than just focusing on what's wrong with the education system, Bright will focus on what we can improve, how we can improve it, and what's already succeeding.
At its core, Bright wants to inspire copycat solutions. "Above all, we will challenge our contributors to uncover what's working in education — and what others can learn from it," Medium's Sarika Bansal wrote.
More:
Time: Mental Health Therapy Through Social Networking Could Soon Be a Reality
The Telegraph: Costa Rica has only used renewable energy this year
Denver Sun Times: Denver coffee shop helps homeless young people get jobs
The Guardian: Large fall in UK greenhouse gas emissions of over 8% last year
New York Times: Tono Studios Helps Marketers Reach Hispanics With Culturally Authentic Ads
Good News Network: How One #Hashtag Created a Movement to Stamp Out Hunger
If you know a story you think should be on our Honor Roll, please send an email to our editor Catherine Taibi via catherine.taibi@huffingtonpost.com with the subject line "WHAT'S WORKING."