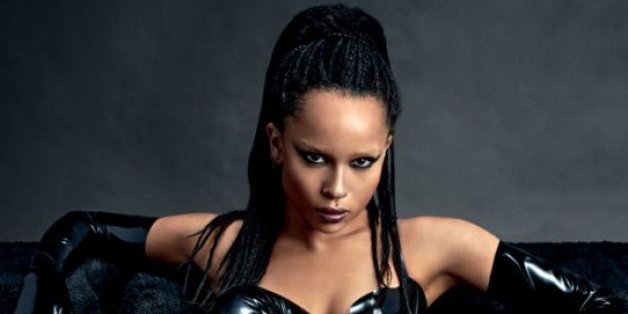 Growing up around the glitz and glamour fame brings can often take its toll on some people. For Zoe Kravitz, the pressures of being a woman engulfed in the world of celebrity unfortunately resulted in the actress-singer-model battling an eating disorder at the age of 16.
In the April/May 2015 issue of Complex magazine, Kravitz revealed having a "hard time loving" herself while dealing with her past struggles being anorexic and bulimic. These issues resurfaced during the 2013 filming of her role as Marie –- a character who also suffered from the eating disorder in the dramedy, "The Road Within."
"My parents got really scared for me to go back down that road," the 26-year-old recalled during the interview before adding her reaction to viewing her then-90 pound body on the set. "It was fucked up, man. You could see my rib cage. I was just trying to lose more weight for the film but I couldn't see: You're there. Stop. It was scary."
Recovering from shooting the role also came at an expense to Kravitz's health where she later fell ill after her immune system failed. The "Divergent" star also went on to detail her role in the upcoming movie and how it has helped her address any insecurities.
"It made me not only confront my demons, but also realize and accept an insecurity that's still there, and [that it's] easy to fall back into that pattern. I feel like something has left my body, like some part of me is gone now, something that was making me so insecure. And it feels amazing."
In addition to confronting her demons with anorexia, Kravitz previously revealed to US Weeklyhow she prepared for the role by actively drinking a clay-based cleanse, "because it cleans out your body and fills you up," and "eating a Mason jar of pureed vegetables a day and running."
Read more of Zoe Kravitz's Complex interview here.
BEFORE YOU GO
PHOTO GALLERY
Lenny Kravitz Photos