Muslim Life In America is a series dedicated to exploring the many ways in which Muslim Americans navigate their religious, cultural and ethnic identities in the United States. The series highlights Muslim American voices from a broad spectrum of communities, at once investigating the challenges Muslims face in this country while celebrating the different voices of Islam in America.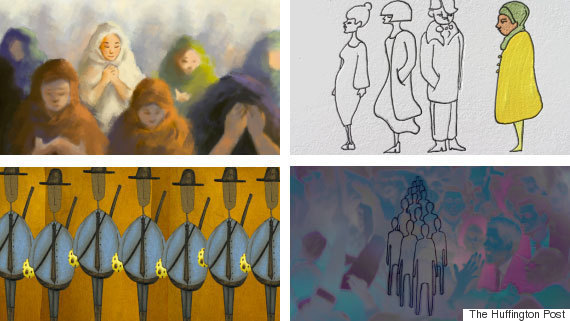 You will hear stories from Muslims who are activists, students, artists, comedians, farmers, parents, journalists, lawyers and more. They come from communities across the country and reflect the diversity among Muslim Americans.
The series' feature, "What It Means To Be Muslim In America," takes viewers through a visually-stunning journey with nine animated stories from nine Muslim Americans with a wide range of personal backgrounds. Each poignant story is animated by a different graphic artist, capturing the subjects' experiences as Muslims in the U.S.
Next, the series dives into the lives of Muslim college students, exploring the challenges they face on campus, in their classes and socializing with non-Muslim peers. Students answer the important question: "What do you want non-Muslims to know about your Muslim student life?"
From there, we explore a wide range of topics from the legacy of Malcolm X in American Islam and anti-racism activism, to Muslim American wellness and mental health, and what it's like being a Muslim actor in Hollywood.
These stories offer a snapshot of Muslim life in America, and we hope many more will come to public awareness through mainstream media in the months and years to come.
We encourage Muslims across the country to share their stories on HuffPost Religion and keep the conversation alive on social media and in communities everywhere.