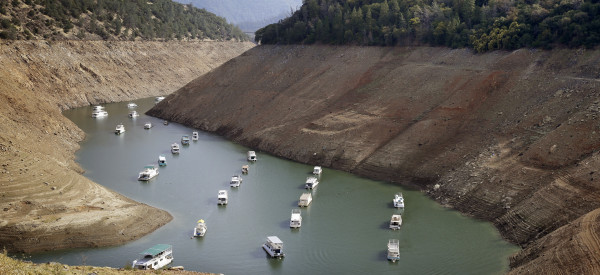 TOP STORIES
To get The Morning Email, HuffPost's daily roundup of the news, in your inbox, sign up here.
CALIFORNIA GOVERNOR ORDERS WATER CUTBACKS Governor Jerry Brown mandated strict water restrictions, which will cut the state's water usage by 25% . Scientists warn the drought has been worsened by global warming. Check out this graphic of how much water Californians use, and here's how much water the state will need to save to get back on track. [Lydia O'Connor, HuffPost]

DOUBLE OVERTIME IN IRAN NUCLEAR TALKS "Major powers and Iran stretched marathon talks on Tehran's nuclear program into a second day past their deadline, with diplomats saying prospects for a preliminary agreement were finely balanced between success and collapse in the coming hours." The White House continues to evaluate its limited options if this negotiation process fails. [Reuters]
ARKANSAS LEGISLATURE AMENDS RELIGIOUS FREEDOM RESTORATION ACT "Arkansas legislators offered amendments to the state's Religious Freedom Restoration Act on Wednesday, revising the controversial legislation to resemble the federal RFRA. The state senate passed an amended version of the bill hours after Arkansas Gov. Asa Hutchinson (R) refused to sign the existing legislation over concerns that the bill could be used as legal justification for discrimination against LGBT individuals." [Mollie Reilly, HuffPost]
NJ SENATOR ROBERT MENENDEZ INDICTED The New Jersey Democrat was indicted on "public corruption charges for allegedly accepting donations and pricey gifts." Read the full indictment. [Laura Barron-Lopez, Paul Blumenthal and Ryan Reilly, HuffPost]
90,000 MCDONALDS WORKERS ARE GETTING A RAISE "The increase will lift the average hourly wage at McDonald's to $9.90, and to more than $10 by the end of next year. The rate currently sits at $9.01, according to the Wall Street Journal." [Alexander Kaufman, HuffPost]
GUNMEN ATTACK COLLEGE IN KENYA, KILLING AT LEAST 15 "Gunmen attacked a college campus in northeast Kenya early Thursday, opening fire in dormitories and killing at least 15 people and wounding 29 others, witnesses said. The attack bore the hallmarks of a Somali Islamic extremist group." [AP]
EU TO PURSUE ANTITRUST SUIT AGAINST GOOGLE IN NEXT FEW WEEKS While a settlement is possible, Margrethe Vestager, the EU's competition commissioner, has indicated she plans to bring formal charges. [WSJ]
U.S. ISN'T A FAN OF CHINA'S 'GREAT WALL OF SAND' "China is building a 'Great Wall of sand' through an unparalleled program of land reclamation in the South China Sea, raising concerns about the possibility of military confrontation in the disputed waters, according to the commander of the U.S. Pacific Fleet." [WaPo]
WHAT'S BREWING
HUFFPOST'S FIRST PRIMETIME SERIES PREMIERES TOMORROW Watch "The HuffPost Show," our irreverent look at the week's top stories, featuring conversation, commentary, and comedy with guests Elizabeth Warren, Kareem Abdul-Jabbar and Tig Notaro. "The HuffPost Show" premieres Friday at 9PM ET. [HuffPost]
MICHELLE PFEIFFER TO STAR IN A MORNING SHOW TV SERIES Produced by Katie Couric, of course. [Variety]
THE BEST APRIL FOOLS' DAY JOKES YESTERDAY Post-its for the win. [HuffPost]
THE TWO CHEAPEST DAYS TO FLY Sorry, Friday doesn't make the cut. [HuffPost]
IT'S ALMOST TIME For Hootie and the Blowfish to get back together, according to former lead singer Darius Rucker. [Today]
BAD NEWS FOR US NIGHT OWLS We apparently have a higher risk of diabetes. [HuffPost]
THE BASEBALL CAP: 'THE COMMON MAN'S CROWN' "Watch people fiddling with their baseball caps as they sit at a stoplight or on a bar stool, primping and preening in what must be the most socially acceptable form of self-grooming. No one begrudges their fussiness, because everyone appreciates the attempt to express a point of view. The cap presents studies of plasticity in action and of the individual effort to stake out a singular place on the roster, and the meaning of the logo is as mutable as any other aspect." [NYT]
WHAT'S WORKING
THE EXERCISE CRAZE FOR LOW-INCOME LA WOMEN "Nearly 40 Zumba studios have cropped up in the 50-square-mile region of South L.A. over the past few years, offering homegrown exercise facilities in an area that had long lacked affordable options. In an area of Los Angeles where the population faces a surfeit of obesity, the classes are one way Angelenos in South L.A. can work toward shrinking their waistlines." [HuffPost]
ON THE BLOG
THE SIMPLE FIX FOR THE IMMIGRATION SYSTEM THAT'LL IMPROVE THE ECONOMY "Tucked away in the Senate's bipartisan, immigration reform legislation of 2013 was an obscure provision referred to as 'recapture.' The measure, which directs the State Department to allocate unused visas that failed to be issued due to bureaucratic shortcomings from 1992-2013, would help clear the green card backlog and result in roughly 200,000 -- 250,000 immigrant workers and spouses receiving permanent residency. Recapturing would quickly provide economic stimulus as talented immigrant entrepreneurs and innovators receive the flexibility associated with green cards, reunite thousands of families who are separated as a result of backlog, and represent real reform to the legal immigration system." [HuffPost]
BEFORE YOU GO
~ Richard Branson talks what it'll be like to fly Virgin Galactic for $250,000 a pop.
~ Seeing Johnny Depp's daughter all grown-up makes us feel very, very old.
~ Now THESE are some cool ice cubes.
~ This start-up CEO stole over $750,000 from his friends.
~ Blue Ivy will always be cooler than you, even while flossing.
~ Likely names for Prince George's brother or sister.
~ And Rihanna's April Fools' Day prank on Jimmy Kimmel is one for the ages.
Send tips/quips/quotes/stories/photos/events/scoops to Lauren Weber at lauren.weber@huffingtonpost.com. Follow us on Twitter @LaurenWeberHP. And like what you're reading? Sign up here to get The Morning Email delivered to you.