As journalists, we dutifully report on what's going wrong, from scandals and corruption to natural disasters and social problems. But far too often the media fails to show the whole picture, neglecting to tell the stories of what is working. From scientific breakthroughs to successful crime-reduction initiatives, the What's Working Honor Roll highlights some of the best reporting and analysis, from a range of media outlets, on all the ways people are working toward solutions to some of our greatest challenges.
RESPONDING TO VIOLENCE: A NEW SOLUTIONS JOURNALISM NETWORK INITIATIVE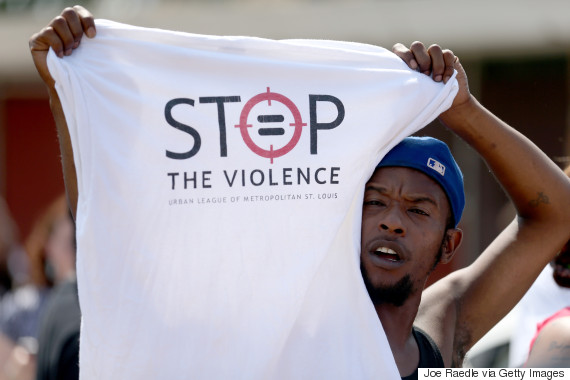 A bystander holds up a shirt that reads 'Stop The Violence' in St Louis, Missouri.
The Solutions Journalism Network, a non-profit that spreads the practice of solutions-oriented reporting, is launching a year-long initiative, "Violence Prevention and Reduction," to create a solutions-based approach to reporting about crime and violence. The majority of reporting on violence, from guns and domestic violence to terrorism and gangs, focuses solely on the problem and "fails to inform society about what can be done – and what is working," the SJN wrote on its website. The group plans to bring together at least 10 news organizations along with journalists nationwide to help build a platform for this solutions-oriented research and reporting project. Among the many aspects of U.S. violence, SJN will look at strategies that are working to prevent family abuse, gang violence, gun violence, bullying and childhood trauma. The initiative will also look specifically at prisons and school systems that are taking effective steps to keep members safe.
"The Solutions Journalism Network believes that, in order to combat violence, people need to hear about effective responses, so they can see possibilities and build upon them," SJN's Keith Hammonds wrote. "Ideally, this should be done through engaging stories that have the potential for widespread influence. That's really what solutions journalism is all about: Rigorous coverage of promising ideas, we expect, will unleash creativity from citizens and make it more likely that effective models will realize their potential."
More:
NationSwell: Suspending Students Isn't Effective. Here's What Schools Should Do Instead
The New York Times Magazine: The Radical Humaneness of Norway's Halden Prison
Medium/Bright: Ahoy! Meet Nancy Davis, the Pirate Teacher
BBC News: Syria's next generation
If you know a story you think should be on our Honor Roll, please send an email to our editor Catherine Taibi via catherine.taibi@huffingtonpost.com with the subject line "WHAT'S WORKING."