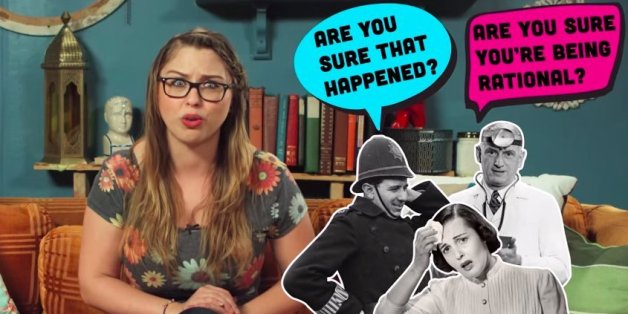 If a woman says she was sexually assaulted -- believe her.
In a new video for her series "MTV Braless," Laci Green discusses why many people don't believe sexual assault survivors and their stories, despite the fact that research has shown just 2 to 5 percent of all rape reports turn out to be false.
Green cites instances of sexual assault on college campuses and the sexual assault allegations against comedian Bill Cosby as examples of times when people repeatedly don't trust survivors.
"If 35 women can come forward and still be doubted, what chance does one woman have?" Green says, referring to the 35 women who have accused Cosby of sexual assault, many of whose stories are still being questioned.
Green connects the issue of people not trusting sexual assault survivors to the notion that people don't trust women in general. "The society-wide belief that women are liars stems, in part, from the belief that women are overly-emotional, irrational, crazy or hysterical," she says.
"Very Smart Brothas" editor-in-chief Damon Young wrote about how men are often unwilling to trust women, sometimes without even realizing it, in December. "This distrust can be pervasive, spreading to a general skepticism about the truthfulness of their [women's] accounts of their own experiences," Young wrote. "If women's feelings aren't really to be trusted, then naturally their recollections of certain things that have happened to them aren't really to be trusted either."
Green leaves us with the scary statistic that 97 percent of rapists never face punishment.
So, to sum it up:
Sounds about right to us.

BEFORE YOU GO
PHOTO GALLERY
40 Powerful Images Of Surviving Sexual Assault