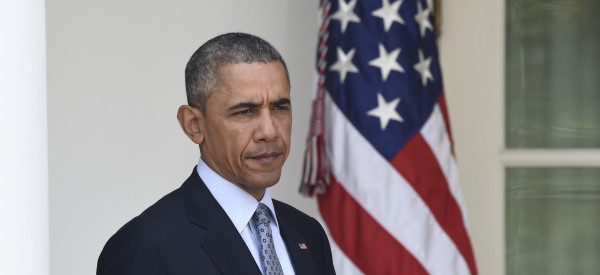 TOP STORIES
To get The Morning Email, HuffPost's daily roundup of the news, in your inbox, sign up here.
IRAN NUCLEAR FRAMEWORK REACHED "Iran and six world powers agreed to a framework for a final deal on Iran's controversial nuclear program, officials announced Thursday. The understanding paves the way for the start of a final phase of talks that aims to reach a comprehensive agreement by the end of June." Check out this step-by-step breakdown of the agreement, as well as an explainer on how President Obama's audacious "foreign policy gamble" may pay off. Here's how the framework will affect oil markets, and why some experts are calling it a "dream deal." Take a look at how the it all ultimately got done. Israel is still vehemently opposed to the framework, and Congress is calling for a closer look at it. And here's a timeline for the next few months of negotiations. [Charlotte Alfred and Eline Gordts, HuffPost]

GUNMEN KILL 147 AT KENYAN UNIVERSITY "Al-Shabab gunmen rampaged through a university in northeastern Kenya at dawn Thursday, killing 147 people in the group's deadliest attack in the East African country. Four militants were slain by security forces to end the siege just after dusk." Students described the grisly scene, as aid workers worked to recover the bodies from the dormitories. Al-Shabab is the same group that masterminded the deadly Nairobi mall attack. [AP]
GERMANWINGS CO-PILOT DELIBERATELY ACCELERATED DESCENT "Initial tests on the flight data recorder recovered from downed Germanwings Flight 9525 show that co-pilot Andreas Lubitz purposely used the controls to speed up the plane's descent, according to the French air accident investigation agency, the BEA." The news comes on the heels of reports that Lubitz had researched suicide methods and cockpit security in the days leading up to the crash. [CNN]
INDIANA GOVERNOR SIGNS REVISED 'RELIGIOUS FREEDOM' BILL "Indiana Gov. Mike Pence (R) signed a revised version of a 'religious freedom' law Thursday, hoping to quiet national criticism that the original law would have allowed businesses to discriminate against lesbian, gay, bisexual and transgender individuals." [Amanda Terkel, HuffPost]
BY 2070, ISLAM EXPECTED TO OVERTAKE CHRISTIANITY AS WORLD'S LARGEST RELIGION According to a recent Pew report. [Religious News Service]
FAMILY OF FOUR-YEAR-OLD KILLED IN JEEP FIRE AWARDED $150 MILLION "A U.S. jury in Georgia awarded on Thursday $150 million to a family that sued Chrysler Group LLC for the 2012 death of their 4-year-old in a crash involving a 1999 Jeep Grand Cherokee with a rear fuel tank." [Reuters]
THE RETURN OF THE CIVIL SERVICE EXAM After 34 years, the federal government is bringing back the civil service exam to help discern top talent. [WaPo]
WHAT'S BREWING
'THE HUFFPOST SHOW' PREMIERES TONIGHT! Check out our irreverent look at the week's top stories, featuring conversation, commentary, and comedy with guests Elizabeth Warren, Kareem Abdul-Jabbar and Tig Notaro. Tonight at 9 p.m. EST. [The HuffPost Show]
'FULL HOUSE' REUNION SHOW REPORTEDLY HEADING TO NETFLIX Everywhere you look, people are really, really, really excited about the return of "Full House" in the new reunion show, "Fuller House." [HuffPost]
DISNEY PLANNING LIVE-ACTION 'WINNIE THE POOH' Not really sure how that's going to work out, but they'll work that Disney magic. [Hollywood Reporter]
THE HISTORY OF THE 'iPHONE KILLER' Behind the making of the Apple Watch. [Wired]
IS E.T. PHONING HOME? "For the past eight years, astronomers have been scratching their heads over a series of strange radio signals emanating from somewhere in the cosmos. And now, the mystery has deepened. A new study shows that the so-called 'fast radio bursts' follow a weirdly specific pattern -- a finding that the researchers behind the study say 'is very hard to explain.'" Sounds like excellent fodder for the "X-Files" remake. [HuffPost]
WHEN YOU HAVE A MULTI-MILLION DOLLAR SHOPPING SPREE And are a member of a royal family, things can get a bit awkward when you try to skip out on your bill. [Vanity Fair]
ALREADY MISS 'HOUSE OF CARDS?' Don't worry: season four will premiere next year. [HuffPost]
WHAT'S WORKING
13 COMPANIES ALREADY RAISING THE MINIMUM WAGE They aren't waiting for Congress to mandate raises. [HuffPost]
ON THE BLOG
HOWARD FINEMAN: OBAMA'S FOREIGN POLICY LEGACY "The Iran deal, if and when finalized, will be to Obama's second term what the Affordable Care Act was to his first: an unforced, high-risk, presidency-defining choice. Once again he is diving into a complex, seemingly insoluble problem. Once again, he risks not only failure but also further division in an already dysfunctional American political system." [HuffPost]
BEFORE YOU GO
~ This guy was found alive after going missing for 66 days off the North Carolina coast on his 35-foot boat.
~ Check out the first photo of Kourtney Kardashian's baby, Reign.
~ This hacker could have deleted everything on YouTube.
~ Behind the "global music factory" that is Sweden.
~ Everything you need to remember about "Mad Men" before it returns for its final season.
~ This guy really didn't want to go on vacation without his wife.
~ Here's how the British election debate went off last night.
~ This could be the end of all those phone chargers.
~ All we know about Morgellons disease, the mysterious illness afflicting Joni Mitchell.
~ Will Ferrell and Kristen Wiig filmed a top-secret Lifetime TV-movie, but are scrapping it after news leaked of it yesterday.
~ How "Furious 7" honored Paul Walker after his death.
~ "All right, all right, all right" -- that'll be $135,000 for Matthew McConaughey's commencement speech.
~ Behind the FBI's new tracking report system.
~ The EPA is evaluating the correlation between pesticides and the decline of bees.
~ When identical triplets get married in the same dress on the same day.
~ How Facebook creepily produces all the people you know in the "People You May Know" feature.
Send tips/quips/quotes/stories/photos/events/scoops to Lauren Weber at lauren.weber@huffingtonpost.com. Follow us on Twitter @LaurenWeberHP. And like what you're reading? Sign up here to get The Morning Email delivered to you.