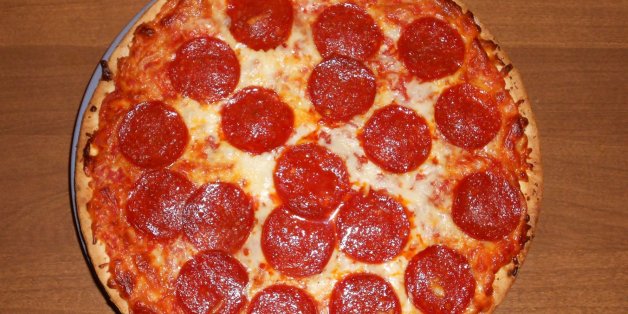 Donating money to support a good cause is much more satisfying than donating money to support bigotry.
After an Indiana pizzeria closed shop and raised more than $840,000 when its owners faced backlash for saying they would not serve a gay wedding, Kansas-based Equality House decided to set up its own fundraiser to help raise money for the LGBT community. The program's "Virtual Pizza" fundraiser on CrowdRise is collecting money for homeless LGBT youth who have been displaced from their homes because of bigotry.
One hundred hotel rooms will be made available for one year to homeless LGBT people if Equality House reaches their goal of $100,000. The group has raised more than $20,000 so far.
It all began when a GoFundMe campaign was started for Memories Pizza in Walkerton, Indiana after owner Kevin O'Connor and his daughter Crystal O'Connor spoke in support of the state's Religious Freedom Restoration Act. The law, which many have condemned for promoting discrimination against LGBT people, allows individuals and businesses to cite religious beliefs as a defense when sued by a private party.
"God has blessed us for standing up for what we believe, and not denying him," Crystal O'Connor told Fox News.
After seeing almost $1 million go to those supporting an anti-LGBT cause, Equality House -- a rainbow-colored home located directly across the street from Westboro Baptist Church in Topeka -- launched the "Virtual Pizza" campaign.
"Their fundraiser is a clear example of celebrating hate, and a clear example that we still have a long way to go in the LGBTQ movement," Aaron Jackson, president of Planting Peace, the non-profit that established Equality House, told The Huffington Post in an email. "The world has so much hurt in it, and it's a shame that with so many serious issues facing humanity, people are putting their resources toward a campaign that sends such a negative message to society."
"In response, I wanted to try to raise money for something that will actually make the world better and send a message of support to the LGBTQ community," he added. "The best thing we can do in the face of something so negative is to do what we can to turn it into something positive."
Equality House is not the only organization trying to raise money to support the LGBT community in response to Memories Pizza's windfall. Cyndi Lauper's True Colors Fund has raised almost $40,000 on GoFundMe for homeless LGBT youth, too.
Fundraising Websites - Crowdrise
BEFORE YOU GO
PHOTO GALLERY
25 LGBT-Friendly Products & Companies Targeted By Boycotters