Rand Paul announced his presidential campaign and his website features a graphic that says, "Jewish for Rand Paul," which sounds like you've converted because Rand's parents wouldn't let you marry him otherwise. Someone has to pay for the Iran nuclear plan, so maybe a little arms deal is in order (throwback, y'all!). And the government is working with Pepco to resolve issues surrounding its energy production, but Pepco's refusal to recognize Israel is proving to be a significant roadblock. This is HUFFPOST HILL for Tuesday, April 7th, 2015:
POWER OUTAGES HIT OUR OFFICE, ALSO WHITE HOUSE AND STATE DEPARTMENT - We're okay. Thanks for asking. Some kale salads had to be tossed from the fridge, but with God's grace, we'll see this through. The Hill: "Government buildings throughout Washington, including the White House, Capitol complex and State Department, briefly lost power on Tuesday. Electricity provider Pepco said the outages was caused by an issue with a transformer that began around 1 p.m. 'There was never a loss of permanent supply of electricity to customers. The dip in voltage caused equipment at some customer facilities to transfer to their backup systems,' said Pepco spokesman Marcus Beal. 'The momentary outage, occurred because of customer equipment responding to a dip in voltage. Customers should be able to operate their own equipment at this time. There are no current supply problems. We have crews on site investigating the cause,' he said. Beal said Pepco did not have confirmation that the dip had been caused by an explosion at a facility, as had been reported by some news outlets. The Department of Homeland Security does not suspect the outages to have anything to do with criminal activity or terrorism." [The Hill]
"There was never a loss of permanent supply of electricity to customers." Well played.
SENATORS STRIKE 'NCLB' DEAL - Fawn Johnson: "The top Democrat and Republican on the Senate Health, Education, Labor, and Pensions Committee on Tuesday announced that they had reached agreement on a bipartisan bill that would do away with the much-hated federal benchmarks under President George W. Bush's signature law and require states to create their own accountability systems. The draft bill is the product of months of careful negotiations between HELP Committee Chairman Lamar Alexander and ranking Democrat Patty Murray. The legislation could be one of the few major bills this year that could pass a Republican Congress and still be signed by President Obama. The committee will meet to vote on it next week. If it survives the committee more or less intact with a respectable bipartisan vote, Alexander expects the measure to be on the Senate floor in the weeks after the committee reports it. He is close with Senate Majority Leader Mitch McConnell and has kept the leader informed of his progress on the bill. Passage of a major education bill in the Senate would put considerable pressure on House lawmakers to pass their own bill. The House Education and the Workforce Committee has approved a more conservative education measure than the Senate's draft, but it was unceremoniously yanked from the floor in February during a particularly rough patch for House Speaker John Boehner." [National Journal]
UGH, SOMEONE HAS TO PAY FOR THE IRAN DEAL? Ali Watkins: "As Washington and its negotiating partners celebrate a historic step toward dismantling Iran's nuclear program, a lesser-known and cash-strapped UN agency will serve as the world's eyes on how that nation fulfills its obligations, taking responsibility for a whole new set of verification and inspection requirements announced last week. And someone -- most likely Washington -- is ultimately going to have to pay. The International Atomic Energy Agency, or IAEA, doesn't capture as many headlines as other players in the negotiations. But IAEA's operations are on the proverbial front lines, as its on-the-ground inspection teams will be the primary check on Tehran's nuclear ambitions. It's likely that only by its say-so the world would start tentatively lifting sanctions." [HuffPost]
DAILY DELANEY DOWNER - Illinois Gov. Bruce Rauner (R) has decided that to help close a $1.6 billion budget shortfall the state will stop helping pay for poor people's funerals. The burial assistance program cost $9.5 million in fiscal 2014 but won't help pay for any funerals after January 15th of this year. The funeral industry figures some folks will just have to pony up more for funerals, which cost $7,045 on average in 2012, according to the National Funeral Directors Association. "We as funeral directors are really going to have to put it back on the client's family," Jay Markwell, president of the Illinois chapter of funeral directors, said in an interview. But not everybody will be able to pay. When Rauner's Democratic predecessor as governor, Pat Quinn, temporarily halted the indigent funeral benefits program in 2011, Markwell said, "Morgues that held deceased human remains, they just filled up."
Does somebody keep forwarding you this newsletter? Get your own copy. It's free! Sign up here. Send tips/stories/photos/events/fundraisers/job movement/juicy miscellanea to huffposthill@huffingtonpost.com. Follow us on Twitter - @HuffPostHill
RAND PAUL ANNOUNCES PRESIDENTIAL CAMPAIGN - Bowtie-wearing libertarian undergraduates to redouble efforts at being heinously irritating, both in class and at Thanksgiving tables. WaPo: "Sen. Rand Paul..on Tuesday formally announced a bid for the 2016 Republican presidential nomination. 'I have a message, a message that is loud and clear and does not mince words. We have come to take our country back!' Paul told a crowd at his official campaign launch in Louisville, echoing language he used during his 2010 Senate run. 'We have come to take our country back from the special interests that use Washington as their personal piggy bank, the special interests that are more concerned with their personal welfare than the general welfare.' Standing on a stage flanked by American flags, Paul emphasized a message of inclusion and diversity in step with his strategic aim to expand the traditional GOP base." [WaPo]
Peter Beinart in The Atlantic: "Rand Paul Is the 2016 Republican Frontrunner: Don't laugh. He has built-in advantages in Iowa and New Hampshire, a party moving in his direction, and formidable fundraising potential." [Atlantic]
Man o' the people: "To whom does the libertarian-leaning senator and presidential candidate owe his stylish hair? Himself, naturally -- Paul said in 2011 that he cuts his own hair. Because what screams liberty more than doing the job yourself? Asked by a television host in 2013 whether he was sporting a new look, due to some particularly lively action on his head, Paul responded, 'Just hot out of the shower, that's all.'" [HuffPost's Igor Bobic]
HuffPost Haircuts: Rand Paul.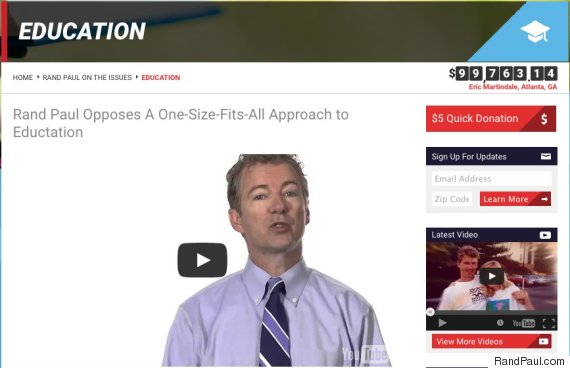 Apparently Paul's campaign retained the consulting services of Is Our Children Learning Partners
Paul's campaign website briefly featured a "Jew for Rand" graphic, suggesting there's only one. Smashcut to Hans Moleman recoiling on the ground after being hit in the groin with a football...while wearing a "Jew for Rand" button. [Weekly Standard]
The graphic now says "Jewish for Rand," meaning you shouldn't get your hopes up for a similarly tone-deaf "Papist for Rand".
REMINDER THAT CARLY FIORINA EXISTS - She wants to be president. Igor Bobic: " Former Hewlett Packard CEO Carly Fiorina on Monday blamed environmentalists for what she called a "man-made" drought in California, which has led to the state's first water restrictions. 'With different policies over the last 20 years, all of this could be avoided,' Fiorina, a likely 2016 Republican presidential contender, said in an interview with radio host Glenn Beck. 'Despite the fact that California has suffered from droughts for millennia, liberal environmentalists have prevented the building of a single new reservoir or a single new water conveyance system over decades during a period in which California's population has doubled.' Fiorina, California's 2010 GOP nominee for U.S. Senate, said it was a 'classic case of liberals being willing to sacrifice other people's lives and livelihoods at the altar of their ideology. It is a tragedy.' The drought, now officially in its fourth year, prompted Gov. Jerry Brown (D) last week to order a 25 percent reduction in water consumption. The order does not apply to the agriculture industry, which consumes nearly 80 percent of the state's water." [HuffPost]
REID, LEFTIES PUSH FOR PROGRESSIVE 2016 NOMINEE - The Hill: "Senate Minority Leader Harry Reid (D-Nev.) has joined a progressive group's call for Hillary Clinton or any other Democratic White House candidate to run from the left in 2016. The 'Ready for Boldness' campaign launched by the Progressive Change Campaign Committee is a play off the 'Ready for Hillary' super PAC backing a Clinton White House run. The former New York senator is widely expected to launch her bid this month. The PCCC has regularly encouraged Democrats to tout liberal policies, using Sen. Elizabeth Warren (D-Mass.) as a model. Warren herself has dismissed a number of calls to run for president...Reid is one of 5,000 political leaders who are a part of the effort....The PCCC has highlighted issues such as expanding Social Security, holding Wall Street accountable, enacting campaign finance reform, raising wages, and making college more affordable." [The Hill]
Jeb Bush and Scott Walker are tied for second in this week's "Hail to the Chief" "The GOP's pacesetting pair is quite a study in contrasts. In Bush, we have the consummate insider, charging after party elites, focused on politesse. Meanwhile, an insurgent Walker seems to want nothing less than to restage the Reagan Revolution." [HuffPost's Howard Fineman, Jason Linkins and Lauren Weber]
EVERYONE PISSED OFF BY INDIANA RELIGIOUS LAW - The Pepco of civil liberties legislation. Samantha Lachman: "Reproductive rights advocates and opponents are both sounding a cautionary note about how religious freedom laws likes the ones signed by Indiana Gov. Mike Pence (R) and Arkansas Gov. Asa Hutchinson (R) could affect reproductive health care access...The Indiana amendment, which was meant to alleviate concerns the law could justify discrimination against LGBT individuals, didn't satisfy either side of the reproductive rights spectrum, which both feel their interests have now been endangered. 'Indiana Right to Life opposes the proposed changes to Indiana's new RFRA law since they dismantle much of the protections in the law designed to protect pro-life persons, businesses and ministries from being forced to support abortion under government order,' Mike Fichter, the president and CEO of Indiana Right to Life,wrote in a statement. The group had supported the law before the changes were made...Reproductive rights advocates say that even with the amendment Pence signed, they must pay close attention to how the new state laws are interpreted in the courts." [HuffPost]
WHAT A GLORIOUS CASE OF SELLING OUT - It's like if Yoda abandoned the good side of the Force for a six-figure job at Akin, Gump, Strauss, Hauer & Feld. Times: "Laurence H. Tribe, the highly regarded liberal scholar of constitutional law, still speaks of President Obama as a proud teacher would of a star student. 'He was one of the most amazing research assistants I've ever had,' Mr. Tribe said in a recent interview. Mr. Obama worked for him at Harvard Law School, where Mr. Tribe has taught for four decades. Mr. Tribe went on to serve in the Justice Department during Mr. Obama's first term and has argued in favor of the legal standing of Mr. Obama's signature health care law and executive orders on immigration. Which is why so many in the Obama administration and at Harvard are bewildered and angry that Mr. Tribe, who argued on behalf of Al Gore in the 2000 Bush v. Gore Supreme Court case, has emerged as the leading legal opponent of Mr. Obama's ambitious efforts to fight global warming. Mr. Tribe, 73, has been retained to represent Peabody Energy, the nation's largest coal company, in its legal quest to block an Environmental Protection Agency regulation that would cut carbon dioxide emissions from the nation's coal-fired power plants — the heart of Mr. Obama's climate change agenda." [NYT]
BECAUSE YOU'VE READ THIS FAR - Here's as slo-mo squirrel.
COMFORT FOOD
- History's most real-talking wedding invite.
- Email would be even more awful if applied to real life.
- The science behind the monsters who don't clean up their dogs' crap.
TWITTERAMA
@emmaroller: how is prasdent formed
@aterkel: Pretty remarkable when the metro is the best-functioning thing in DC.
@samsteinhp: Thank god I purchased 25 cans of tuna, 40 cans beans, 30 gallons of water and a crossbow just yesterday
Got something to add? Send tips/quotes/stories/photos/events/fundraisers/job movement/juicy miscellanea to Eliot Nelson (eliot@huffingtonpost.com) or Arthur Delaney (arthur@huffingtonpost.com). Follow us on Twitter @HuffPostHill (twitter.com/HuffPostHill). Sign up here: http://huff.to/an2k2e