New Jerseyans wants Sen. Menendez to stay in office unless he is proven guilty. Republicans have doubts about Ted Cruz' electability. And they split evenly if forced to choose between Scott Walker and Jeb Bush. This is HuffPollster for Tuesday, April 7, 2015.
NEW JERSEY WANTS MENENDEZ TO STAY UNLESS CONVICTED - Rutgers Eagleton Institute of Politics: "Despite last week's multi-count federal indictment of U.S. Sen. Robert Menendez (D-NJ) on alleged corrupt dealings with a wealthy ophthalmologist friend and campaign donor, New Jerseyans are not yet ready to throw the Senator out of office. Fifty-eight percent of Garden State residents say Menendez should stay unless he is proven guilty, while 34 percent want him to leave immediately...Half of the poll sample was asked specifically about Menendez, while the other half was asked a generic question from an earlier poll. As with Menendez, New Jerseyans generally believe a politician should not leave office until found guilty, with two-thirds taking this position. Just 29 percent prefer that an accused official quit immediately. This is a sharp departure from October 2009, when a Rutgers-Eagleton poll found that half of New Jersey residents demanded that accused officials quit when charged, while 42 percent thought they should wait it out." [Rutgers]
Little change in favorable rating, so far - More from Rutgers Eagleton: "In the wake of initial rumors, and then the indictment itself, 34 percent of residents have a favorable impression of Menendez - down a mere three points compared to February 2015. Twenty-seven percent are unfavorable towards the Senator (up four points), while 38 percent have no opinion. But the quarter of Garden Staters who have heard a lot about the charges are decidedly more negative: 47 percent are unfavorable, compared to 35 percent favorable; just 18 percent have no opinion. Similarly, residents asked after Menendez's actual indictment are more negative than those asked in the days when the charges were only rumors."
TESTING HYPOTHETICAL ONE-ON-ONE GOP MATCHUPS - Monmouth University: "The 2016 Republican field continues to be crowded, with no single contender breaking from the pack according to the latest Monmouth University Poll of Republican voters nationwide. In hypothetical head-to-head contests for the GOP presidential nomination, the surging Scott Walker draws about even with both Jeb Bush to his left and Ted Cruz to his right, while Bush bests Cruz in a two-man match-up. Chris Christie, on the other hand, would end up on the losing end of a one-on-one with Walker, Bush, or Cruz. When asked to name who they would like to see as the party's nominee for president from a field of 17 potential candidates, Republican and Republican-leaning voters spread the wealth. The nominal leader is former Florida Governor Jeb Bush at 13%, but he is closely followed by Texas Senator Ted Cruz (11%), Wisconsin Governor Scott Walker (11%), and former Arkansas Governor Mike Huckabee (9%)....Since Monmouth's last national poll of GOP voters in December, Walker's ratings have surged, while Christie's have fallen. Bush, Cruz, Huckabee, and Santorum have also seen their standing improve among Republicans in the past few months." [Monmouth University]
MANY REPUBLICANS DOUBT CRUZ CAN WIN - Kathy Frankovic: "Last May, Texas Senator Ted Cruz was among the most popular of Republicans and a Tea Party darling. Today, although nearly two in three Republicans approve of his decision to run for President, many in the latest Economist/YouGov Poll aren't sure he can win. Less than half of Republicans are even somewhat sure he can win the Presidency or even the nomination....Cruz performs less well among registered voters in a matchup with Hillary Clinton...than a generic Republican does against a generic Democrat. Republicans are also less likely to commit to Cruz against Clinton than they are to support a Republican in principle." [YouGov]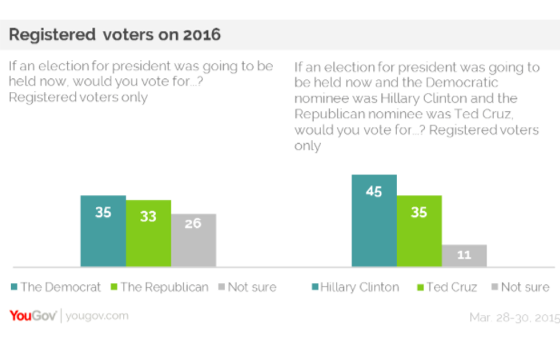 2016 GOP FIELD 'LACKS STAR POWER' OF PAST - Jeffrey M. Jones: " Mike Huckabee (+40) and Marco Rubio (+39) edge out several other Republicans in their net favorable ratings -- the percentage of Republicans who view each favorably minus the percentage who view each unfavorably. But their scores pale in comparison with those for George W. Bush (+85) and Elizabeth Dole (+84) early in the 2000 campaign, and for Rudy Giuliani (+63) at the outset of the 2008 campaign. Bob Dole (+55) also had a higher net favorable rating at the beginning of the 1996 campaign.….A major factor in potential 2016 candidates' historically weaker net favorable ratings is that none among this group of candidates is as well-known as the early front-runners in the past. Jeb Bush is the best known of the potential 2016 GOP candidates, with 76% of Republicans and Republican-leaning independents familiar enough with Bush to have an opinion of him. In past primaries, several candidates have enjoyed a familiarity rating of higher than four of every five Republicans….But at the outset of the 2016 campaign, the GOP lacks the star power of prior campaigns in having a very well-known and highly popular candidate as the nomination front-runner. That may mean that the Republicans could be in for a protracted nomination battle as a number of similarly rated candidates vie for votes." [Gallup]
HUFFPOLLSTER VIA EMAIL! - You can receive this daily update every weekday morning via email! Just click here, enter your email address, and click "sign up." That's all there is to it (and you can unsubscribe anytime).
TUESDAY'S 'OUTLIERS' - Links to the best of news at the intersection of polling, politics and political data:
-Edison Research is conducting an exit poll in Chicago on Tuesday's runoff election for WLS-TV, WBBM-TV and the New York Times. [@JoeLenski]
-Jason Zengerle draws on political science to examine how much Hillary Clinton's campaign skills will matter in 2016. [New York]
-Jonathan Bernstein summarizes Zengerle. [Bloomberg]
-Lynn Vavreck reviews the evidence about how much (or how little) candidates mattered in campaign 2012. [NYT]
-Ron Brownstein asks if politics of churchgoers helped blindside GOP legislators in Indiana and Arkansas. [National Journal]
-David Nir wonders how a poll can show Ted Strickland (D) leading by 9 percentage points in Ohio when even the Democrats internal polls have the race even. [DailyKos]
-Seven maps show what Americans think about climate change. [Bloomberg]
-Pew Research finds the Ferguson hashtag tells a different story on Twitter than on Instagram. [Pew]
-Hawaii's native population makes a comeback. [Pew]

BEFORE YOU GO
PHOTO GALLERY
Great Political Names