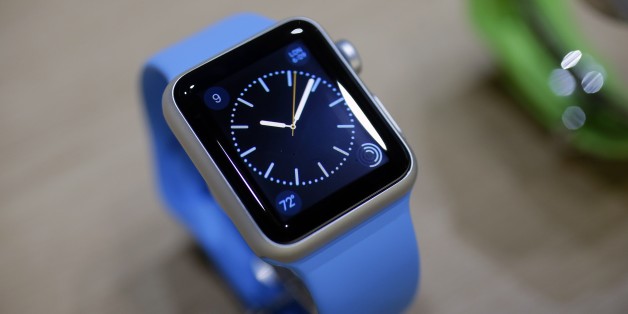 Tech critics are now intimately familiar with the Apple Watch. Freed from the controlled setting of an Apple media event -- where the device confounded some -- writers were given a full seven days to try it out, starting last week. On Wednesday, they posted their reviews.
By and large, they're positive but reserved. The Apple Watch is characterized as a neat device, but hardly a necessary one: a wearable gizmo that may delight the phone-obsessed despite its flaws. (Of course, some were more positive ones. The New York Times dubbed the gadget "bliss" in its review.)
This could be you! (Source)
If you want some angles to think about before you drop between $349 and $17,000 on the Apple Watch, we've picked out some compelling thoughts from the reviews (all emphasis ours):
It's not easy to use for the first time.
"Prepare for a learning curve." -- Edward Baig, USA Today
"To a degree unusual for a new Apple device, the Watch is not suited for tech novices. It is designed for people who are inundated with notifications coming in through their phones, and for those who care to think about, and want to try to manage, the way the digital world intrudes on their lives." -- Farhad Manjoo, The New York Times
"Eventually, I figured out that getting the watch to really work for you requires work. I pruned a list of VIP contacts in my mail app to make e-mail notifications more tolerable, I killed several app notifications that I found to be consistently interruptive, and I streamlined my list of applications to those that seemed truly vital to my day." -- Joshua Topolsky, Bloomberg
Looks fun. (Source)
Your friends might think it's weird.
"It turns out that checking your watch over and over again is a gesture that carries a lot of cultural weight. Eventually, [my companion] asks me if I need to be somewhere else. We're both embarrassed, and I've mostly just ignored everyone. This is a little too much future all at once." -- Nilay Patel, The Verge
"Apple's own set of animated emoji are weird and cute: massive smiley faces that melt into hearts, tears, tongues or any in-between combination. (My wife called them 'fun but creepy!')" -- Scott Stein, CNET
"A text feels like a gentle massage from a friendly bumblebee" -- Manjoo, The New York Times
It is convenient, though.
"It has made me more present. I'm less likely to absent-mindedly reach for my phone, or feel compelled to leave it on the table during supper." -- Geoffrey A. Fowler, The Wall Street Journal
"Apple Watch also turned out to be an excellent messaging device. Messages popped up on screen, and I had the option of sending one of a half dozen or so boilerplate responses by scrolling and tapping. Using voice recognition, I could also speak a response into the watch. Voice recognition did an admirable job of interpreting my words, though I wish it worked more quickly." -- Lance Ulanoff, Mashable
"Both my mother and my boss, Walt Mossberg, told me that call quality was very good, and that they couldn't even tell I was calling from a smartwatch." -- Lauren Goode, Recode
"Baller!" (Source)
Plus, it could make you feel healthier.
"The Watch racks up Exercise minutes if you do anything above a brisk walk. The goal is 30 daily minutes, and I'd get halfway to it just rushing to get ready for work in the morning. But that seems to be the point, seeing just how many of your daily activities actually count as exercise… and that includes sex. Debate settled: the Watch says it's exercise, and what a great way to hit your 30-minute quota." -- Marissa Stephenson, Men's Journal
"The Apple Watch succeeds where the fitness trackers have failed. Not only does it provide more accurate data and a platform with big promise, but it's an accessory I love to wear all day long." -- Joanna Stern, The Wall Street Journal
"I wanted to walk more, was excited when I got a brisk jog through a train station, and yes, I felt better because I was standing up during the day on a regular basis." -- Topolsky, Bloomberg
Conclusion?
The Apple Watch does a lot, but the consensus seems to be that you hardly need it in the way you might "need" a smartphone. You can try one on or preorder at an Apple Store (or online) starting Friday. The devices will be available to purchase April 24.