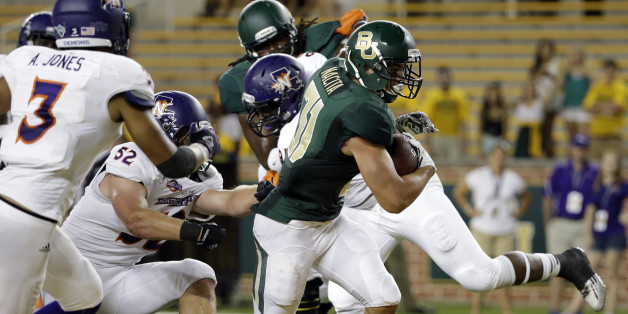 Former Baylor running back Silas Nacita, who pulled himself out of homelessness to earn Academic All-Big 12 honors last year, has told The Bleacher Report that he has been ruled permanently ineligible for NCAA football after receiving improper benefits, including housing, in violation of NCAA rules.
"I worked so hard for 12 years for this game, and I have lost it," he told The Bleacher Report. The school confirmed news of his permanent ineligibility to the site.
The 21-year-old was at the center of a media firestorm in February when he tweeted that he had been kicked off the team for receiving housing and food. The school had reportedly offered Nacita NCAA-approved housing but he decided to live elsewhere.
All I wanted to do was go to school and play the game I loved. pic.twitter.com/zYQ0HTaz05

— Silas Nacita (@Salsa_Nacho) February 25, 2015
One day later, Nacita issued a second statement on Twitter in which he said he "made a mistake by disregarding guidance from Baylor compliance on what benefits" were considered acceptable by NCAA standards:
The bottom line is that I broke the rules. I should've never accepted the help and I am deeply sorry for my actions pic.twitter.com/Ekw0e4uSbQ

— Silas Nacita (@Salsa_Nacho) February 26, 2015
Nacita had been the basis of a Sports Illustrated profile that drew national attention to his story of triumph -- a homeless boy who had beaten the odds to make the Baylor football team:
Nacita walked on at Baylor in June, homeless and hungry, with a few dollars saved from waiting tables. After workouts, he slept on the apartment floors of friends. In August, Nacita began classes with a financial-aid package that included money for tuition but none for books. Occasionally, Nacita borrowed a text from a classmate. Sometimes, he snapped pictures of book pages in the student bookstore and studied the images on his phone. Often, he relied on his smarts. "I had to take a lot of my classes on memory," he says.
News of Nacita's ineligibility have led to calls for the NCAA to reconsider its compliance rules. The NCAA has already made a number of alterations to its athletic scholarships program in the last year, allowing for additional incidental costs that athletes face during the school year, as well as for unlimited meals.