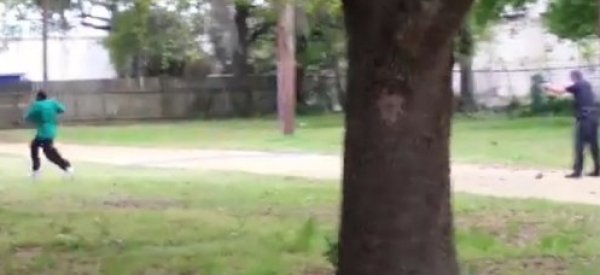 TOP STORIES
To get The Morning Email, HuffPost's daily roundup of the news, in your inbox, sign up here.
OFFICER CHARGED WITH MURDER OF UNARMED VICTIM "A white South Carolina police officer was arrested and charged with murder Tuesday after video showed him fatally shooting a fleeing, unarmed black man in the back. North Charleston Police Officer Michael T. Slager, 33, can be seen shooting 50-year-old Walter Scott after a confrontation on Saturday." You can watch the video (warning: graphic content). And here's everything the police said about the incident before the video surfaced. [Andy Campbell, HuffPost]

ROYAL DUTCH SHELL TO BUY BG GROUP FOR ALMOST $70 BILLION The move is a brilliant one for Shell. [AP]
FERGUSON ELECTION CHANGES FACE OF CITY COUNCIL "Voters showed up at polling places in record numbers for a municipal election in this St. Louis suburb on Tuesday, tripling the number of black representatives on Ferguson City Council by electing two black candidates." [Ryan Reilly and Mariah Stewart, HuffPost]
WHO'S PAYING FOR THE IRAN NUCLEAR DEAL? "As Washington and its negotiating partners celebrate a historic step toward dismantling Iran's nuclear program, a lesser-known and cash-strapped UN agency will serve as the world's eyes on how that nation fulfills its obligations, taking responsibility for a whole new set of verification and inspection requirements announced last week. And someone -- most likely Washington -- is ultimately going to have to pay." [Ali Watkins, HuffPost]
RAHM EMANUEL WINS REELECTION IN CHICAGO The incumbent mayor survived a runoff with 56% of the vote. [Kim Bellware and Joseph Erbentraut, HuffPost]
GOOD LUCK GETTING THROUGH TO CUSTOMER SERVICE AT THE IRS Due to budget cuts, only four out of ten callers ever get to speak to a person. [WaPo]
TURNS OUT WE LEAVE A LOT OF SPARE CHANGE AT TSA CHECKPOINTS Over $675,000 last year alone. [Ryan Grenoble, HuffPost]
WHAT'S BREWING

NBC'S 'NIGHTLY NEWS' LOSES TO ABC For the first time since 2009. [AP]
THE 22 CITIES WHERE WOMEN EARN MORE THAN MEN Looks like we're moving to West Palm Beach. [HuffPost]
SILICON VALLEY, A TOXIC ENVIRONMENT FOR PARENTS? "Tech companies shower their employees with perks like dry cleaning, massages and haircuts. But there is one group for whom working at a tech company can be much more difficult than working elsewhere: parents. Facebook hosts all-night hackathons. Google has weekend laser tag retreats. Many start-ups have no parental leave policy at all, so the first employee to have a baby has to ask the company to create one." [NYT]
THERE'S MORE MONEY IN THE BANANA STAND "Arrested Development" will be back for 17 new episodes on Netflix. [HuffPost]
UP YOUR INSTA GAME With their new fade feature. [HuffPost]
WHAT'S YOUR TV PERSONALITY TYPE? Take Vulture's Myers-Briggs-inspired test to find out. [Vulture]
UBER: THE KING OF EXPENSE ACCOUNTS "Last month, Uber accounted for 47 percent of all rides expensed by employees whose companies use Certify, the second-largest provider of travel and expense management software in North America. In March 2014, Uber accounted for only 15 percent, according to a study by Certify released on April 7. Over that period, the amount spent on traditional taxis, limousines, and airport shuttles fell from 85 percent to 52 percent of expensed rides." [Bloomberg]
TACO BELL TO TEST OUT DELIVERY SERVICE Hello, 2 a.m. quesadillas. [HuffPost]
THE STROKE WARNING SIGNS YOU NEED TO KNOW "Sudden numbness or weakness of the face, arm, or leg, especially on one side of the body, sudden confusion, or trouble speaking or understanding, sudden trouble seeing in one or both eyes, sudden trouble walking, dizziness, loss of balance, or coordination, and sudden, severe headache with no known cause" are only the primary signs. [HuffPost]
WHAT'S WORKING
THE TECH BOOM TAKING PLACE BEHIND BARS "When San Francisco-based venture capitalists Chris Redlitz and Beverly Parenti walked into San Quentin State Prison in 2010 to speak with a group of inmates that a friend was mentoring, they didn't know what exactly to expect. But the men behind bars, whom Redlitz described as 'the most engaged audience I've ever spoken to,' blew him away with their enthusiasm -- and business plans." [HuffPost]
ON THE BLOG
HOWARD FINEMAN: 'CAN RAND PAUL SELL THE '60s?' "One [issue] is whether he can temper and channel his anti-establishment vibe in a time more of sullenness than boiling anger, a time when people fear a rising generation of terrorists and the Republican Party is still more traditional than Rand claims to be." [HuffPost]
BEFORE YOU GO
~ Don't bring Jon Snow to a dinner party.
~ Say goodbye to those Rob Lowe ads.
~ The end of the errand.
~ Your weather app is the worst.
~ Congrats to Jill (Duggar) Dillard and Derick on the birth of their baby boy.
~ The most liberal and conservative towns per state.
~ These kids' wedding styles put the rest of us to shame.
~ Mindy Kaling's brother speaks to HuffPost Live about their "estrangement."
~ You know that model at the beginning of the "Mad Men" season? She's Andie MacDowell's daughter.
~ Julianne Hough dyed her hair pink.
~ This scientist sells coupons to fund his global warming research.
~ Say it ain't so: Emma Stone and Andrew Garfield are taking a break.
~ The president can trash talk like the best of them.
~ The demise of the syndication market.
~ James Taylor's first album since 2002 is coming out in June.
Send tips/quips/quotes/stories/photos/events/scoops to Lauren Weber at lauren.weber@huffingtonpost.com. Follow us on Twitter @LaurenWeberHP. And like what you're reading? Sign up here to get The Morning Email delivered to you.