It's Bring Your Own Cup Day at 7-Eleven this Saturday and we have a feeling people are about to get really creative. They're also about to have the worst brain freezes of their lives.
According to a company press release, the event will take place at 7-Eleven locations around the nation on Saturday, April 11 from 11 a.m to 7 p.m. That's just enough hours in the day to see how many items people can get away with calling a "cup."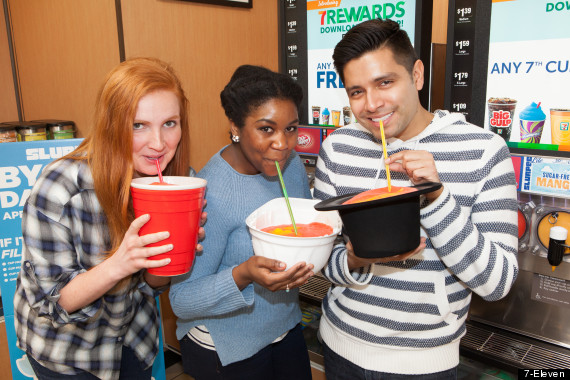 For something to count as a "cup," 7-Eleven said patrons can pretty much bring in whatever they want, as long as it's sanitary, leak-proof, of a definite shape and fits within a 10-inch cutout provided in the store. 7-Eleven suggests bringing "sand buckets, tea kettles and trophies," which you are free to fill up for $1.49 per cup.
In light of this special day, we would also like to remind 7-Eleven to invite Beyoncé to perform her "7/11" tribute to Slurpees:
Here's how Canada did it. Let's one-up our neighbors to the north:
They said bring your own cup! @7ElevenCanada meet my Louis Vuitton Neverfull 💁 Is never full 😉 #BringYourOwnCup pic.twitter.com/dJxF4E6XbJ

— Emilie Clarke (@EmilieClarke) March 20, 2015
#BringYourOwnCupDay @SlurpeeCanada @7ElevenCanada boot-full o'slurpee and great weather for one pic.twitter.com/4h2CxCsj2O

— Jason McKenzie (@TigerStripe72) March 20, 2015
Slurpee rush in the capitol for 'bring your own cup' event at 7-Eleven: http://t.co/Cr22hXCBpU #ctvwpg pic.twitter.com/4blm37bplH

— CTV Winnipeg (@ctvwinnipeg) March 20, 2015
Happy to empty this 3yr old cake vodka bottle just in time for #7-11 #bringyourowncupday #… http://t.co/Fiy7FpyrI4 pic.twitter.com/EXgdnnKHVl

— Charlotte Mathison (@auragundas) March 20, 2015
Enjoy responsibly!
Want to read more from HuffPost Taste? Follow us on Twitter, Facebook, Pinterest and Tumblr.
BEFORE YOU GO
PHOTO GALLERY
Ice Cream Porn