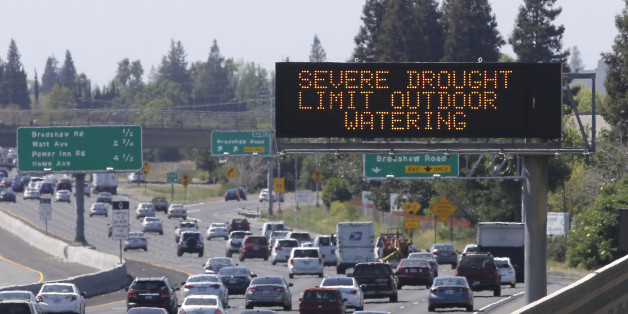 California's drought is serious. The U.S. Drought Monitor currently lists more than 40 percent of the state in the highest category, "exceptional drought" -- up from 23 percent a year ago.
The state's drought is the most severe in at least 1,200 years, according to a study that examined the drought between 2012 and 2014.
Officials have implored Californians to cut down on water usage, but recent data show residents saved less water in February than in any other month since the state started tracking water conservation. Southern California residents actually used more water than average that month.
Solving the state's drought isn't going to be simple, or quick, and it will require technology, improved efficiency and conservation. But everyone can do something. Here are seven examples of people who are doing their part:
California's Craft Breweries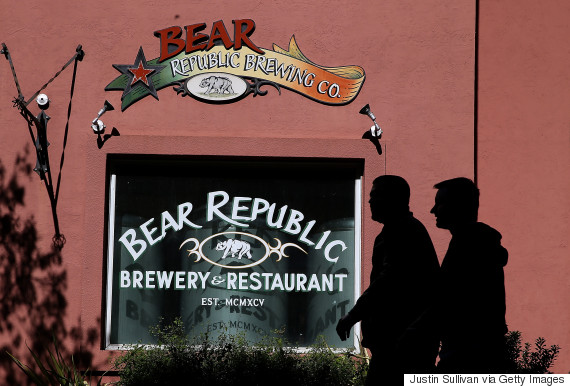 Brewing beer takes a lot of water -- beer is mostly water, after all -- and California has 381 craft breweries, more than any other state.
Last year, Bear Republic Brewing Company installed a water-recycling, energy-generating system at its facility in Cloverdale, which is one of the communities most vulnerable to running out of water. The system is designed to help supply more than 10 percent of the brewery's water needs and help lower its water-to-beer-produced ratio. The brewery also paid for two new wells to supply more water to the city of Cloverdale.
Other breweries, like Lagunitas, Sierra Nevada, Stone and Green Flash, have opened or are building new brewing facilities on the East Coast or in the Midwest. The companies aim to increase supply and cut down on transportation costs, among other things, but expanding their businesses without using more California water is an added bonus.
People Removing Their Lawns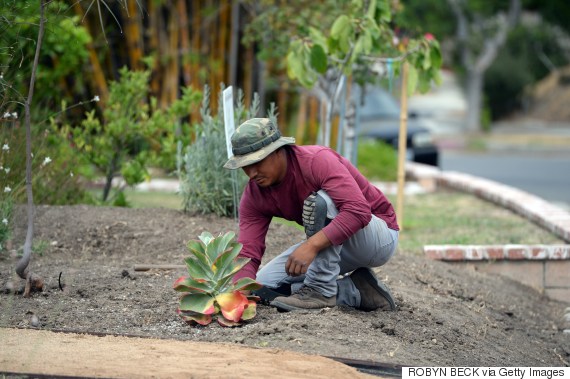 The Los Angeles County Department of Public Works is currently offering a "Cash for Grass" rebate to residents who replace their lawns with water-efficient landscaping like rocks, mulch or drought-tolerant plants.
One Los Angeles company is taking advantage of the program by removing lawns at no cost and sharing some of the rebate with the homeowners. Many residents have applauded the approach, but some other landscapers are concerned that the company is installing non-native plants.
Gov. Jerry Brown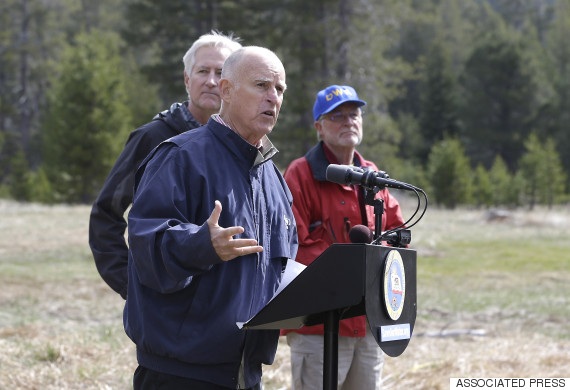 Last week California's governor announced mandatory water cutbacks for the first time in the state's history. The state's Water Resources Control Board plans to enforce a 25 percent water use reduction in every city, which is projected to conserve about 488 billion gallons of water over the next nine months.
Since requiring these cutbacks, Brown has received criticism for not extending the water restrictions to the state's agriculture sector -- which accounts for about 80 percent of the state's total water consumption -- or the oil and gas industry.
Brown defended the plan in an interview with "PBS NewsHour," saying agriculture is "fundamental" to the state and farmers are suffering in the drought as well. "We're asking them too to give us information, to file agriculture water plans, to manage their underground water, to share with other farmers," he said.
He said it wouldn't be fair to impose restrictions on one industry and not another. "I mean, that is a Big Brother that, outside a war or some absolute unprecedented catastrophe, shouldn't even be considered," he said.
The Drop-A-Brick Campaign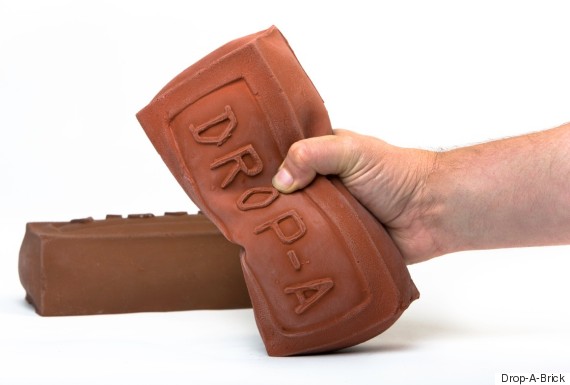 Toilets are the biggest user of household water. Dropping a brick in an older toilet tank is a good way to displace water and save with every flush. Unfortunately, traditional bricks may start to dissolve over time. Enter the Drop-A-Brick. The rubber and hydrogel brick is soft, can fit in tanks of various shapes, and stays submerged by absorbing water. Adding the special brick saves about half a gallon of water per flush, according to its makers -- or about 3,000 gallons per year for the average household.
The volunteer-run Drop-A-Brick Project has delivered the initial production run to its backers and plans to deliver a few thousand bricks to sponsors soon, a spokesman told The Huffington Post. The company plans to continue selling the product online at its Indiegogo campaign price of $15.
Cody Creighton and Other No-Shower Heroes
Ojai, California, native Cody Creighton became concerned about the drought last year and started skipping showers. After 50 days without showering, he started a social media campaign last fall and committed himself to 128 shower-free days. Creighton's mission is more to raise awareness than to get Californians to stop showering.
In that spirit, here are some tips to cut down on water use in the bathroom. If you're not quite ready for a change as drastic as giving up showers, there are other tweaks you can make to your daily routine that can help -- quitting eating hamburgers is a good start.
California's Fracking Protesters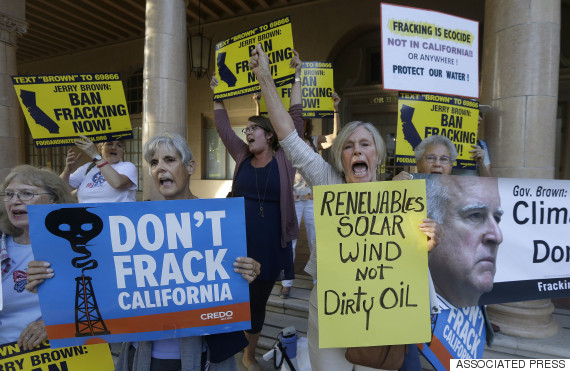 Oil and gas producers used about 70 million gallons of water for fracking in 2014, state officials recently told Reuters. This is only equivalent to the annual water use of a little a more than 500 households, according to the state's oil and gas supervisor, but it's still something. All of the state's oil and gas operations created about 42 billion gallons of wastewater in 2014, according to Mother Jones.
Fracking operations also produce significant quantities of chemical-laden wastewater, which must be disposed of or processed.
Last year it was revealed that billions of gallons of fracking wastewater were being injected into clean aquifers in California that would otherwise supply households or agriculture.
California's Dry Farmers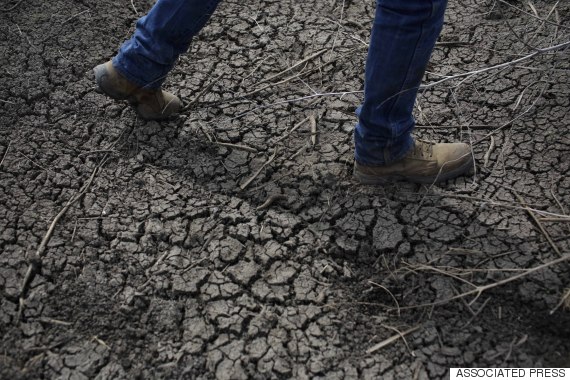 During the drought, some California farmers have turned to the traditional techniques of dry farming. Farmers avoid water or irrigating crops, and rely on moisture stored up in the soil from the rainy season. Yields are understandably lower when fields are dry-farmed, but the crops often have a more concentrated, potent flavor.
Do you live in California or another state affected by drought? What are you doing about it? Share your story with us at green@huffingtonpost.com.
CORRECTION: An earlier version of this story indicated that California's oil and gas operations used about 42 billion gallons of water in 2014. In fact, the operations created about 42 billion gallons of wastewater that year.
BEFORE YOU GO
PHOTO GALLERY
California Drought