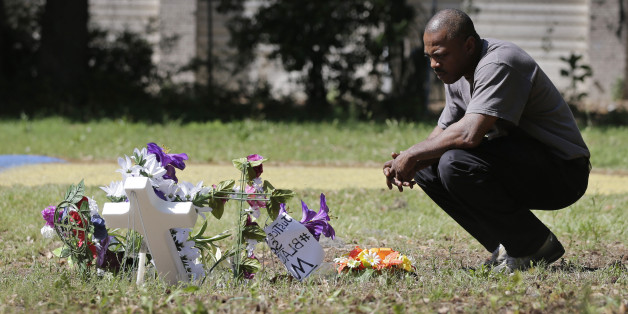 After Walter Scott's tragic death on Saturday, Easter Sunday brought the promise of new hope to some in North Charleston, South Carolina.
Rev. Nelson B. Rivers III, a pastor at Charity Missionary Baptist Church, said it was on Sunday that he learned there was cell phone video of the moment when North Charleston police officer Michael Slager fired eight times as Scott was running away.
Initially, Slager's then-lawyer had claimed that the white officer "felt threatened" by the unarmed black man. But the video told a different story.
"The killing of Walter Scott was a public execution," Rivers told HuffPost. "There was nothing he did that deserved it."
As co-president of the Charleston Area Justice Ministry, a 27-congregation interfaith group, Rivers said he's never seen an officer charged so quickly with the murder of a black man. Just last week, the group had met with the North Charleston police to try to strengthen the relationship between the community and the force, and to encourage transparency.
Rivers said there needs to be a "paradigm shift" in how police relate to communities, without losing their effectiveness as instruments of justice.
"A major distinction that is often lost is that police have the right to kill," Rivers said. "But unless they do it justly, it is oppression."
Although nearly half of North Charleston's residents are black, the majority of its police force is white. In the past five years, 79 people across South Carolina were fatally shot by police, and 43 percent of those killed were African-American, according to FiveThirtyEight. Only 29 percent of the state's population is African-American.
Rev. Joseph Darby, presiding elder of South Carolina's Beaufort District of the African Methodist Episcopal Church, said he was surprised that Slager was arrested at all.
"Down here, black men getting killed is all too common," Darby told HuffPost. "The reaction from most churches is the usual -- anger and outrage."
The shooting hasn't sparked the mass street protests that followed the deaths of Michael Brown in Ferguson, Missouri, or Eric Garner in New York City -- two black men killed by police officers last year. That may be, in part, because authorities in North Charleston moved quickly to turn the investigation over to an independent agency, eject Slager from the police force and charge him with murder.
Religious leaders in the area have been meeting regularly with the Scott family as the community takes stock of what has happened. Clergy from local congregations plan to gather on Friday to organize a response to the incident.
A vigil is planned for this coming Sunday at 3 p.m. at the spot where Scott was killed, Rivers said.
Elder James Johnson, a pastor and president of the local chapter of the civil rights group National Action Network, told HuffPost that clergy members are urging residents to keep the peace.
"The leaders are calling for calm in the community until the investigation is completed," Johnson said. "We're asking the community to please don't engage in activity that will destroy their city."
In the meantime, grieving family members are turning to their faith to find strength.
Walter Scott's mother, Judy Scott, told CNN that her belief in God is helping her to forgive.
"I'm supposed to be really angry and upset and raging and all that, but I can't," she said. "Because of the love of God in me. I can't be like that. ... I feel forgiveness in my heart, even for the guy that shot and killed my son."
BEFORE YOU GO
PHOTO GALLERY
Walter Scott