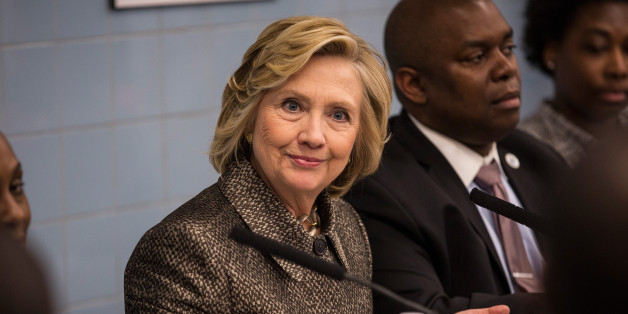 General election horse race questions may rise and fall, but they have little predictive value 18 months before an election. The Conservatives pull slightly ahead of Labour in the UK elections. And Americans are less likely to complain that the government isn't doing enough for the environment under the Obama presidency. This is HuffPollster for Friday, April 10, 2015.
REVISITING SWING STATE 'WILT' - Thursday's newsletter featured results from a set of new Quinnipiac polls showing Hillary Clinton's general election margins slipping a few points in three key battleground states, Colorado, Iowa and Virginia. The Quinnipiac release characterized the change as a "wilting" of Clinton's lead. How significant is the change? The Washington Post's Philip Bump created a series of charts that helps put these findings into perspective.
First, as Bump illustrates, while the shifts were consistent across the eight general election match-ups that Quinnipiac tested, Clinton's lead dropped in two of the states -- Colorado and Iowa -- but (contrary to the Quinnipiac headline) increased slightly in Virginia. Nevertheless, "the trends are all about the same," Bump writes. "The movement here is on Clinton, not the challengers....The change here is in opinions of Clinton, not the rest of the field."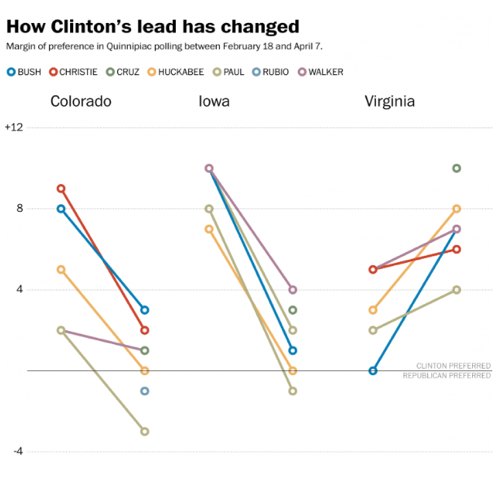 Second, Bump shows that the favorability ratings of Clinton showed similar shifts in the three states, with voters "increasingly likely to view her unfavorably and decreasingly likely to view her favorably" in Colorado and Iowa, but essentially unchanged in Virginia. "So far, this race is all about Hillary Clinton," Bump concludes. "Which, really, is not much of a surprise."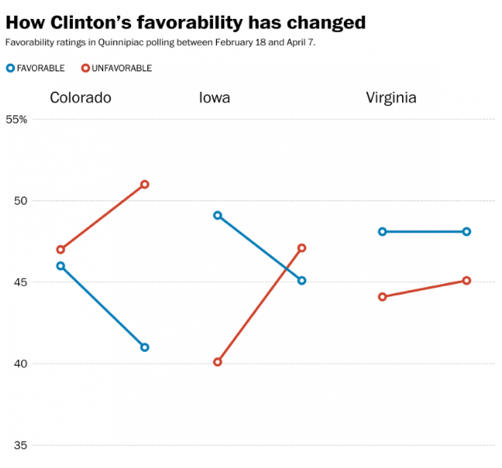 While these shifts in perceptions of Clinton were just large enough to be statistically significant in two of the three states, it is worth amplifying the advice of political scientist and Washington Post Monkey Cage blogger John Sides: "All 2015 articles interpreting 2016 trial-heat polls should clearly say: 'These polls have no value in predicting the 2016 election.'"
In other words, polls numbers can rise and fall throughout the campaign, and whether "statistically significant" or not, they have little bearing on who ultimately wins or loses. When it comes to predicting the eventual outcome, the results of "2016 polls conducted in 2015 are noise, not signal," as Sides puts it."
Put another way, while favorable ratings help illustrate how perceptions of the candidates can shift in response to campaign events, they are also subject to change many times before ballots are cast. Consider President Barack Obama's favorable rating as measured by the Quinnipiac University polls in 2011 and 2012. Obama's ratings improved from net negative to net positive in early 2012, then moved back and forth in seemingly dramatic fashion over the summer before ending at the most positive levels of the campaign.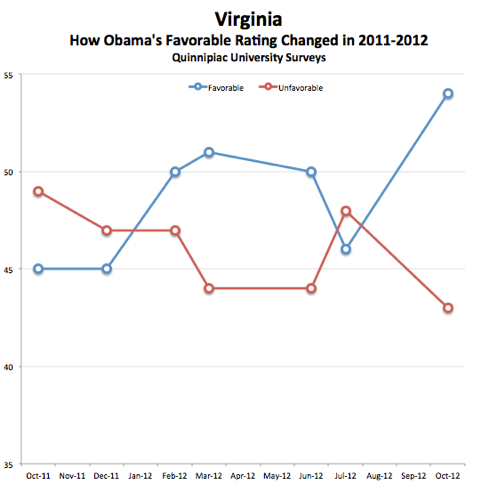 So a shift in Hilary Clinton's ratings, in March or April 2015, is just the beginning.
UK: CONSERVATIVES SLIGHTLY AHEAD IN THE TIGHT RACE - Polling Observatory: "Last month we introduced the Polling Observatory seat forecasting model. At the time, Labour was marginally ahead in the polls - but there was little to separate them and the Conservatives. Since then, the Conservatives have gained slightly in the polls - and now at 32.7% (as of March 31st), are exactly even with Labour, which also is at 32.7%, in the popular vote. Based on these current estimates of support for the parties, our vote forecast suggests a narrow Conservative vote lead in an election which remains too close to call. We forecast the Conservatives to win 34.0% of the vote, up 0.3 points on last month, and enough to give them a slim lead over Labour. Labour...we now estimate they will win 33.0% on May 7th. The stabilisation in Liberal Democrat...our forecast suggests they will win 9.9%, up over a percentage point on last month."
[HuffPost]
A guide to the UK elections - Zac McCrary: "One of the most important elections of the decade will take place next month -- and most Americans don't know it. In fact, even many American political junkies who could pontificate as to which U.S. Senate seats will be toss-ups in 2016 or which members of Congress are the most vulnerable probably haven't yet focused on the fascinating dynamic shaping up on the other side of the Atlantic. In case you're starting from scratch…British Prime Minister David Cameron, of the Conservative Party, is engaged, in what polls suggest is, a true toss-up as he seeks a second term and attempts to hold off hard-charging Labour leader Ed Miliband. As the May 7th U.K. parliamentary elections approach, below are 10 things that any self-respecting U.S. political junkie should know about the campaign to determine who will lead Britain for the next several years. 1) The Two Contenders...2) It's pretty damn close!... 3) The party that gets the most votes or wins the most seats on Election Day might NOT elect the Prime Minister…" [HuffPost]
AMERICANS' WORRIES ABOUT THEIR FINANCES REMAIN UNCHANGED FROM A YEAR AGO- HuffPollster: "Views of the nation's economy, long underwater, have generally shown signs of recovering in 2015. A CNBC poll released Tuesday found views of the economy at an eight-year high. Gallup, which regularly tracks economic confidence, found Americans starting the year with positive opinions for the first time since the recession hit, though that number dipped again over the last month. Americans' views of their own financial well-being, however, remain almost identical to where they stood at the end of last year, a new HuffPost/YouGov poll finds. Similarly to polls conducted last December and this January, half of Americans currently say their finances are about the same as they were a year ago, while 30 percent say they're worse off, and 15 percent that they're doing better Forty-eight percent also predict that not much will have changed a year from now, while 22 percent believe they'll be doing better, and 18 percent that they'll be doing worse.." [HuffPost]
FEWER AMERICANS SAY THE GOVERNMENT ISN'T DOING ENOUGH TO PROTECT THE ENVIRONMENT UNDER OBAMA PRESIDENCY - Justin McCarthy: "Nearly half of Americans (48%) say the U.S. government is doing "too little" to protect the environment, while 16% say it is doing "too much." Roughly a third (34%) say it is doing "about the right amount" in terms of environmental protection. These figures are consistent with the past two years. Since President Barack Obama took office, the percentage of Americans saying the government is doing too little to protect the environment has been lower than it was in the 1990s and early 2000s. Meanwhile, the percentage of those who say the government is doing too much has increased since Obama took office. Gallup first posed the question in 1992, and since then, Americans have always been most likely to say the U.S. government is doing too little to protect the environment. Majorities ranging from 51% to 68% held this belief until 2006. In polls since Obama took office, however, Americans have been less likely to say the government is falling short on environmental protection, though this has remained the dominant view." [Gallup]
HUFFPOLLSTER VIA EMAIL! - You can receive this update every Friday morning via email! Just click here, enter your email address, and click "sign up." That's all there is to it (and you can unsubscribe anytime).
Starting next week, this newsletter will shift to a once-per-week format published on Fridays. Your next HuffPollster will arrive in your email inbox on Friday, April 17.
FRIDAY'S 'OUTLIERS' - Links to the best of news at the intersection of polling, politics and political data:
-Americans think business owners should have the right to refuse service to anyone and for any reason, but not to gays and lesbians specifically, even if those owners have "sincerely held religious beliefs." [YouGov]
-A Reuters/Ipsos poll shows similar findings. [Reuters]
-There might not be many libertarians, but Nate Silver finds that 22 percent of Americans hold libertarian views. [FiveThirtyEight]
-Jonathan Bernstein questions Silver's estimate. [Bloomberg]
-Amy Walter sees a 2016 Electoral College opening for the Republicans in the Midwest. [Cook Political]
-Jewish approval of President Obama dips. [Gallup]
-Hart Research (D) finds that a large majority of Americans react favorably to arguments in favor of the nuclear deal with Iran. [Hart Research]
-Nick Gourevitch (D) highlights five key findings from Pew's deep dive into party affiliation. [GSG]
-Micah Roberts (R) highlights "pre-recession type" findings in the latest CNBC All-America Economic Survey. [POS]
-Blue Lab's Erin Hartman (D) explains her work for progressive politicians. [Pacific Standard via @OpinionToday]
-Fernand Amandi tells the story of how he secretly conducted a door-to-door poll in authoritarian Cuba. [Miami Herald]
-John Curtice explains why the Scottish National Party (SNP) is poised to win a landslide in Scotland in the U.K. elections. [538]
-Amazon launches a machine learning analytics service. [Amazon]
-A vast majority of Americans still prefer AM/FM radio in their cars over CD players or streaming music. [IPSOS]
-Americans divide by age on whether it's acceptable for a foreigner to host a television program like the Daily Show. [YouGov]

BEFORE YOU GO
PHOTO GALLERY
Hillary Clinton