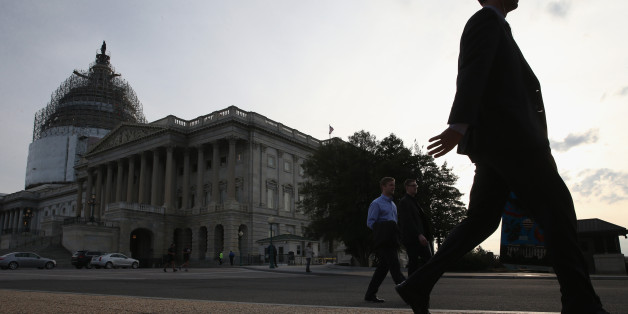 The U.S. Capitol was placed on lockdown Saturday afternoon after reports of a shooting near the building's west facade. A Capitol Hill source told The Huffington Post that a "demonstrator" had killed himself on the lower west terrace.
According to NBC4, the man carried a sign that said "something about taxing the 1 percent," an apparent reference to the Occupy movement.
BREAKING: Someone just shot themself on the steps of the US Capitol during the height of Cherry Blossom festival. Capitol is on lockdown.

— Tom Risen (@TomRisen) April 11, 2015
Right now at Capitol Hill shooting site pic.twitter.com/VlvFW0qycY

— Amberjade Mwekali (@AMwekali) April 11, 2015
More from the Associated Press:
WASHINGTON (AP) — Police report shots fired on the west front of the Capitol in Washington and say the building has been locked down as a precaution.

Spokeswoman Kimberly Schneider of the Capitol Police says in a statement that the suspected shooter has been "neutralized," but there is no immediate explanation what that means.

She also says the Capitol Police are investigating a suspicious package on the lower west terrace of the building.

No one is being allowed to enter or exit the Capitol and the visitors center.

Congress has been on spring break for two weeks and lawmakers are set to return to work Monday.
BEFORE YOU GO
PHOTO GALLERY
U.S. Capitol Photos