On the night of April 14, 2014, hundreds of schoolgirls at the Chibok boarding school in northeastern Nigeria awoke to the sound of gunfire. They saw men in camouflage approaching and thought soldiers were coming to save them from a militant attack, according to survivors' accounts.
Instead, more than 270 of the schoolgirls found themselves in the clutches of the Islamist militant group Boko Haram. Their abduction sparked global outrage and a huge campaign calling for their rescue, partly propelled by the hashtag #BringBackOurGirls.
On Tuesday, the first anniversary of the kidnapping, President-elect Buhari said in a statement: "We do not know if the Chibok girls can be rescued. Their whereabouts remain unknown."
Tuesday marks one year since the girls were kidnapped. Here's what has happened since.
Not one student has been rescued ...
In the first days after the abduction, 57 of the girls managed to escape from their captors. But not one has been rescued since then. An estimated 219 remain missing.
... Even though they were reportedly located in the months after the attack
In May, a Nigerian military official claimed he knew where the girls were being held. In July, U.S. surveillance planes spotted groups that officials believed to be the girls.
Nigeria's government has defended its approach to the crisis and warned that a rescue effort might risk the girls' lives. There are also reports that the girls have been dispersed and split up from their original group, while Boko Haram has claimed in a statement released in the fall that they were made to marry fighters from the group.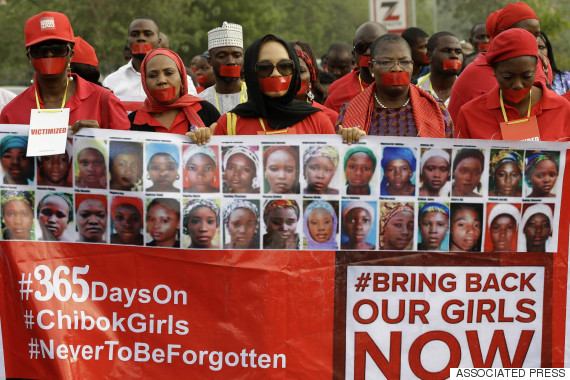 People march on a street during a silent protest on April 13, 2015 in Abuja, Nigeria. (AP Photo/Sunday Alamba)
Nigeria's military initially buckled under pressure ...
Complaining of a lack of weapons, at least 40 Nigerian soldiers reportedly refused orders to fight Boko Haram in August. Hundreds of Nigerian troops were reported to have fled across the border into Cameroon during operations last fall, although the Nigerian government claimed that some of them were performing a tactical maneuver.
Nigeria's military has cracked down on desertion and severely punished soldiers for disobeying orders. In one such incident, more than 50 soldiers were sentenced to death by firing squad for mutiny in December.
... And was accused of grave human rights abuses ...
Nigeria's security forces and state-sponsored militias have long been accused of horrific abuses, including kidnappings, torture and extrajudicial killings. Following a government crackdown on Boko Haram in September, evidence emerged that authorities had tortured and killed countless civilians accused of being connected to the militant group.
... While the country worried about its image problem
Nigeria's government paid a Washington public relations firm more than $1.2 million to change the media narrative surrounding the schoolgirls' abduction, according to a June report by The Hill.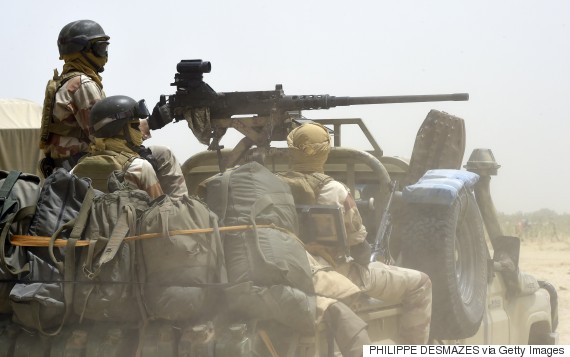 Nigerian army forces patrol in pickup trucks near Malam Fatori on April 3, 2015. (PHILIPPE DESMAZES/AFP/Getty Images)
Ultimately, others in the region stepped in to launch a military operation ...
According to the Associated Press, it took more than two weeks for Nigeria to accept offers of international assistance to find the schoolgirls.
When other countries did send assistance, they initially didn't get very far. The U.S. sent 80 troops in late May to coordinate an aerial search from neighboring Chad. Canada, France, Israel and the U.K. also sent special forces to Nigeria. But at the beginning of July, the Pentagon press secretary announced that the U.S. mission would be scaled back, saying: "We don't have any better idea today than we did before about where these girls are."
In 2015, regional countries agreed to set up a multinational military effort to stop Boko Haram's campaign of terror. Niger, Cameroon, Benin and Chad all committed troops to the African Union initiative for a 10,000-strong force that would take on the group.
In March, Chad and Niger launched their own separate military offensives to drive back Boko Haram.
Despite gains, experts have voiced concern over the long-term effectiveness of the campaigns, with Comfort Ero of the International Crisis Group telling NPR that "a short-term immediate military action doesn't lead to a more sustained outcome, especially if it doesn't deal with the root causes of that conflict."
... And the Nigerian military even stepped up its response
Nigeria's military also launched an invigorated offensive against the group in March. In what Nigeria's national security spokesperson called a "final onslaught" against Boko Haram, the nation's military finally pushed into areas under the group's control.
The escalated efforts came weeks before the national elections, which were previously postponed due to security concerns and a plan to ramp up the assault against the insurgency before the vote.
As troops took over militant-held towns, they found tragedy left behind by the violence
After retaking the city of Gwoza from Boko Haram in late March, the Nigerian military found burned-out homes and a war-torn landscape, The Washington Post reported. Killings, rape and other violence were widespread in Gwoza under Boko Haram. In one chilling case, a man forced to work for the militants reported that they cut off his arm as a form of punishment under its interpretation of Sharia. In addition to these horrific crimes against the civilian population, the group was also reported to have been forcibly recruiting children to fight on its behalf.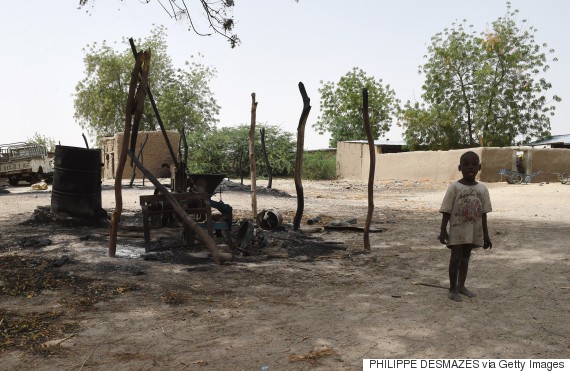 A boy stands next to a destroyed shop on April 3, 2015, in Malam Fatori, in northeastern Nigeria. (PHILIPPE DESMAZES/AFP/Getty Images)
In the meantime, Boko Haram pledged allegiance to ISIS
In early March 2015, Boko Haram leader Abubakar Shekau purportedly issued an audio message that pledged allegiance to the Islamic State group, also known as ISIS. The pledge was accepted by the Islamic State group in what analysts saw as a move that benefitted the two groups' propaganda purposes while not necessarily offering any tangible gains in the short term.
And Nigeria elected a new president
In a historic election that marked the first democratic change in power in modern Nigerian history, the nation voted 72-year-old former military general Muhammadu Buhari in as president. Buhari defeated incumbent Jonathan, whose failure to immediately respond to the kidnappings has been cited by analysts as one reason contributing to his loss. Jonathan also faced criticism after a group campaigning for his re-election started using the hashtag #BringBackGoodluck2015, sparking outrage among groups still campaigning for the girls' return.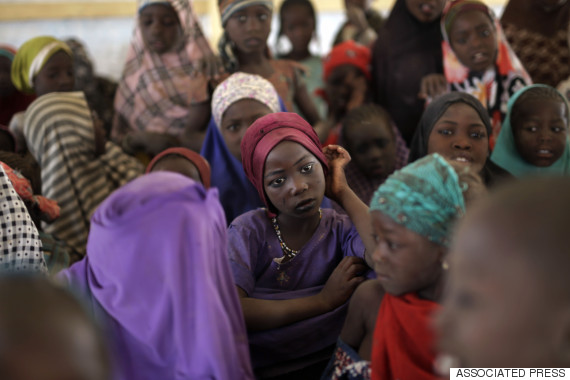 Nigerian girls who fled Boko Haram to Chad gather in a school set up by UNICEF at the Baga Solo refugee camp in Chad, March 4, 2015. (AP Photo/Jerome Delay)
Meanwhile, Boko Haram violence rages on ...
In 2014, a total of 6,347 civilians were killed by Boko Haram-related fighting, reports The Guardian. During a span of just 10 days in August, some 10,000 people also fled fighting in northeastern Nigeria.
Boko Haram has kidnapped at least 2,000 girls and women since the start of 2014, Amnesty International said. In one particular incident in March 2015, militants of the group allegedly kidnapped around 500 women and children from a town in northeast Nigeria, killing some as the group fled, according to Reuters. The Nigerian government played down reports of the attack. Death tolls have decreased in 2015, but still average in the thousands each month.
... Displacing 800,000 children from their homes
Boko Haram violence has forced an estimated 800,000 children to flee their homes, according to a report published by UNICEF. In addition to the massive refugee increase, the report shows that children have been used as human bombs by Boko Haram and been subjected to horrific abuses.
In the year after the nearly 300 girls were kidnapped from Chibok, the number of children out of primary school has risen to 10.5 million, UNICEF reported. This is the largest of any country in the world.
This post is an updated version of an article that ran on Sept. 14, 2014.
More from The WorldPost on the security crisis in Nigeria:

- Nigeria Is Holding Elections But Millions May Not Be Able To Vote
- How Boko Haram Has Left Northeast Nigeria In Ruins
- Why We Know So Little About The Horror In Northeast Nigeria
- Why 17 French Murders Get More Attention Than As Many As 2,000 Nigerian Murders
BEFORE YOU GO
PHOTO GALLERY
Troops Take Nigerian Town From Boko Haram