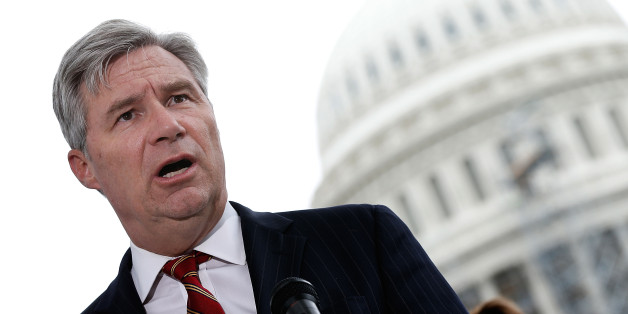 WASHINGTON -- A handful of Senate Democrats are pushing back against a letter Senate Majority Leader Mitch McConnell (R-Ky.) sent to all 50 governors urging them to not comply with the administration's signature climate rule.
Last month, McConnell pressed states to ignore the Environmental Protection Agency's proposed regulation on pollution from existing power plants, which seeks to decrease carbon dioxide emissions by 30 percent from 2005 levels by 2030.
McConnell criticized the proposal as "illegal" and told governors to "think twice before submitting a state plan -- which could lock you in to federal enforcement and expose you to lawsuits -- when the administration is standing on shaky legal ground."
Now, some members of the Democratic Conference are sending all 50 governors their own message, according to a letter provided first to The Huffington Post.
That message: Don't listen to McConnell but pay attention to other Kentuckians.
"Before you take advice about climate change from Senator McConnell please consider first what so many knowledgeable voices from the Bluegrass State are saying about climate change, and second how failing to act gives up your state's right to set its own course of action toward a clean energy future," states the letter spearheaded by Sen. Sheldon Whitehouse (D-R.I.) and signed by four other senators in the Democratic Conference.
"His is not the voice from ahead saying the trail is not safe; his is the voice obstinately staying behind saying, 'Let's not even try,'" the letter continues.

The senators argue that Kentucky is "already crafting its plan for complying" with President Barack Obama's carbon pollution rule.
"The Commonwealth of Kentucky's decision to work with the EPA and prepare a plan was based, according to the Kentucky Energy and Environment Cabinet, on what 'the overwhelming majority of our stakeholders are telling us,'" says the letter, which is also signed by Sens. Barbara Boxer (D-Calif.), Elizabeth Warren (D-Mass.), Al Franken (D-Minn.) and Bernie Sanders (I-Vt.).
The five senators list a variety of government departments in Kentucky that have praised the controversial regulation, including Columbia Gas of Kentucky, which serves over 130,000 customers in the state.
According to the letter, Columbia Gas has agreed to "meet the climate challenge" and is working to comply with new environmental policies.
Additionally, the senators cite universities across Kentucky that are hosting conversations on climate change. For example, Kentucky State University is participating in a climate change fellowship to engage students.
"Senator McConnell's own alma mater, the University of Louisville, has sponsored talks about 'how climate change is a measurable reality and how people have contributed to the trends,'" the letter says.
The EPA is working to finalize the rule by this summer, but court challenges have already popped up. A dozen states filed a lawsuit against the carbon rule last August, shortly after coal company Murray Energy also sued the administration over it. Since then, nine states have joined the Murray lawsuit.
Republicans argue the proposal would kill energy jobs, shutter coal plants across the country and hurt the economy. A main point of contention is the way in which the EPA is allowing states to meet emission reduction targets.
The rule lets states "go beyond the fence" of a given power plant to craft energy efficiency programs, or build up renewable energy sources like wind and solar power in their state to meet the requirements.
EPA chief Gina McCarthy contends the rule is legally sound and will withstand any challenge in court.
Read the letter below:
BEFORE YOU GO
PHOTO GALLERY
Landmarks That Climate Change Could Ruin