Depending on whom you ask, an all-black wardrobe can be sophisticated, sober, comforting or some combination of the three. For Adam Glassman, the Creative Director at O, The Oprah Magazine, an all-black outfit runs the risk of reading "a little Sicilian widow," as he calls it when he meets 45-year-old Erica, who's dressed in head-to-toe black.
This mom admits that she always wears black, but she now wants Glassman's help in how to introduce color -- specifically floral -- into her wardrobe. That particular pattern, however, can be tricky.
"Sometimes floral goes a little too 'granny,'" Glassman warns. "You don't want to look like Aunt Esther or Aunt Esther's couch."
From inside the O Magazine fashion closet, Glassman browses racks of clothes to find a look that will work for the tall and slim Erica. Floral dresses catch his eye, but it may be too much for someone not used to wearing any color.
"Maybe we should really focus on the skirt, because we should ease you into prints," he tells Erica. "Maybe something that has some black already in it, so it's just a little bit of color."
That's when Glassman has an epiphany. "I know! We should do 'Mad Men' on you," he says. "We could do sort of like a 'Mad Men' 1950s-glamorous-housewife kind of look."
He pulls a few outfits and sends Erica to go try them on. When she returns, she's wearing a full skirt with a floral print and a yellow cardigan cinched at the waist with a belt -- and a huge smile.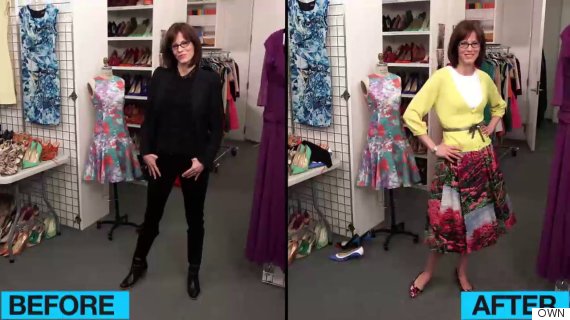 "You're not in mourning anymore, that's for sure!" Glassman says.
"I feel like a blooming flower," Erica says happily.
Related: Glassman reveals the most flattering skirt length for anyone, any age.
What's your fashion question for Adam Glassman? Tweet him using the hashtag #AdamSays.
BEFORE YOU GO
PHOTO GALLERY
The Right (And Wrong) Times To Wear Floral Prints