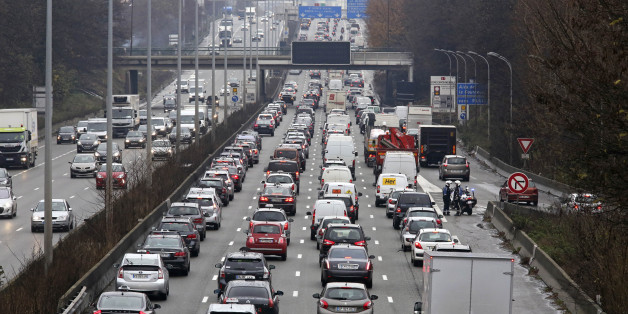 You may not like traffic, but you probably don't hate it as much as the Taiwanese art collector whose handbag containing $5.4 million worth of jewels was stolen Wednesday afternoon while she sat in a traffic jam in Paris.
Robbers smashed the window of the woman's taxi, snagged the bag, then disappeared.
The smash-and-grab took place in the Landy Tunnel, the BBC reported. The nearly mile-long tunnel, located on a major traffic artery north of Paris, has seen this type of thievery before.
Thieves who work the tunnel "aren't afraid of anything," a police source told Agence France-Presse. "[They] know the area and escape through emergency exits."
Paris police are on the hunt for the three robbers, the source said. It is uncertain if the thieves targeted the collector's car deliberately, or if they made off with the multi-million-dollar haul by pure chance, the source added.
The one-of-a-kind jewelry, which includes a ring valued at $1.8 million, would be difficult to resell without attracting attention.
Some news reports initially said the woman was intending to donate the jewels to the Paris Museum of Modern Art, but museum officials denied the claim.
In a strikingly similar incident in 2010, Paris thieves stole $5.5 million in jewels from Kristina Chernovetska, the daughter of Kiev's mayor at the time. Chernovetska's car was also stuck in traffic between Paris and Charles de Gaulle Airport when a man broke into her car and stole her purse.
BEFORE YOU GO
PHOTO GALLERY
Stolen From The History Books: Spectacular Jewel Heists From Recent Memory (Captions By Associated Press