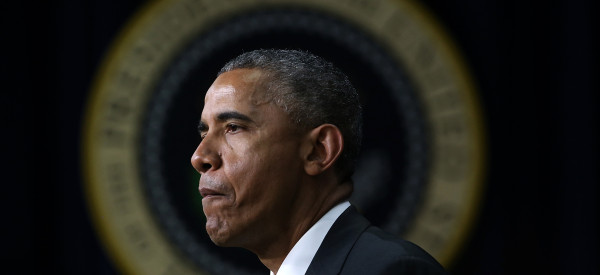 TOP STORIES
To get The Morning Email, HuffPost's daily roundup of the news, in your inbox, sign up here.
TRADE WARS: OBAMA VS. DEMS "Congress' tax committees announced an agreement Thursday to speed through a bill to give President Barack Obama the fast-track authority that he will need to push mammoth new trade deals through Congress … The 'trade promotion authority' bill, or TPA, would allow the White House to cut new trade deals with Asian and European nations, and then pass them through Congress using expedited procedures. Under these rules, the deals cannot be amended or obstructed, and they get a simple up-or-down vote." The GOP has thrown its support behind the deal, while Democrats scramble to build opposition before the president closes"what could be the biggest free-trade deal in history." [Michael McAuliff, HuffPost]

BLOOMBERG TERMINALS GO OUT WORLDWIDE "Bloomberg's financial terminals went down globally on Friday, causing disruption for traders who rely on the data machine to analyze and trade securities and leading the U.K. to postpone a Treasury bill tender." [WSJ]
HARRY REID: I'LL PUSH LORETTA LYNCH VOTE The attorney general nominee has been idling for over five months. [Jennifer Bendery, HuffPost]
WHEN CHILDREN OF VETS FACE THE SCARS OF WAR "In households nationwide, hundreds of thousands of wounded parents have come home from the wars in Iraq and Afghanistan, and their children are struggling to navigate the invisible wounds — traumatic brain injuries and post-traumatic stress disorder, which together afflict an estimated 30 percent of the 2.7 million former troops. The everyday toll on children is unprecedented, advocates for veterans' families say, because their parents have complex injuries that would have ended their lives in wars past, before recent medical advances, and suffer from the psychic scars of multiple deployments." [WaPo]
COAST GUARD SEIZES 14 TONS OF COCAINE That's a lot of cocaine. [AP]
ESPN REPORTER SUSPENDED AFTER VIDEO OF TOW TRUCK ALTERCATION SURFACES ESPN suspended Britt McHenry for the clip, in which she berates a woman towing her car. [HuffPost]
BIG BUSINESS'S BIG WIN FOR CORPORATE WELLNESS PLANS "Businesses that want to penalize workers and their families hundreds, even thousands of dollars for not participating in workplace wellness programs may finally get clear legal authority to do so. If so, they will have the Obama administration to thank for it." [Jonathan Cohn, HuffPost]
WHAT'S BREWING
THE NFL REINSTATED ADRIAN PETERSON "Peterson was indicted by a Texas grand jury Sept. 12 on charges of reckless or negligent injury to a child. He was placed on the commissioner's exempt list with pay Sept. 17, after a sharp public reaction to the Vikings' initial plan to let Peterson play while his legal case was ongoing. Peterson pleaded no contest Nov. 4 to misdemeanor reckless injury charges after injuring his son while disciplining him last May." [ESPN]
IN CASE YOU HAVEN'T GOTTEN ON THE INTERNET IN 24 HOURS Check out the epic new "Star Wars" trailer, and this shot-by-shot interpretation of the whole shebang. [HuffPost]
E-CIGARETTE USE JUMPS AMONG TEENS "Use of the devices among middle- and high school students tripled from 2013 to 2014, according to federal data released on Thursday, bringing the share of high school students who use them to 13 percent -- more than smoke traditional cigarettes." [NYT]
LOOKS LIKE NICKI MINAJ IS ENGAGED And the ring is flyyyyy. [HuffPost]
THE FULL CANNES LINE-UP In all its star-studded glory. [HuffPost]
AMY SCHUMER'S BREAKOUT YEAR "In Hollywood, where superficial considerations are highly-valued, Schumer is a celebrity whose fame rests on the merits of her intellect. She consistently asserts her worth as a comedian and as a woman. She embraces her sexuality. She is proud of her body." [HuffPost]
AND IF YOU THOUGHT THE BEN & JERRY'S BEER WAS COOL Meet the Ben & Jerry's burrito. [Entertainment Online]
WHAT'S WORKING
HOW THE FDA TRACKS CONTAMINATED FOODS "In recent years, the Food and Drug Administration has discovered a new, more precise method for identifying the source of contamination: whole genome sequencing." [HuffPost]
ON THE BLOG
KRISTEN BELL: VACCINATE YOUR KIDS "As to the benefits of vaccinations, it has been proven; they work. That's enough for me to climb up on a soap box, make some ugly cardboard sign in my garage, and let other mothers know that it's safe, important, and bigger than emotion: it's the truth." [HuffPost]
BEFORE YOU GO
~ Take a spin through the most beautiful neighborhood in America.
~ You can now find your phone even faster.
~ "Alice in Wonderland" told via emoji.
~ It's official: HBO picked up Sarah Jessica Parker's "Divorce."
~ Prepare yourself for more stylized violence: the official trailer for Quentin Tarantino's "The Hateful Eight" has leaked.
~ Debra Messing wishes "Will and Grace" had gone on for a few more years -- us too Debs, us too.
~ A bunch of laid-off Target workers reenacted "Closing Time."
~ Michael Douglas and Catherine Zeta-Jones have officially reconciled.
~ There's a new photo of Jared Leto as Joker that would make Heath Ledger proud.
~ An MRI of you while you crack your knuckles.
~ Ryan Gosling is set to star in the "Blade Runner" sequel alongside Harrison Ford.
Send tips/quips/quotes/stories/photos/events/scoops to Lauren Weber at lauren.weber@huffingtonpost.com. Follow us on Twitter @LaurenWeberHP. And like what you're reading? Sign up here to get The Morning Email delivered to you.