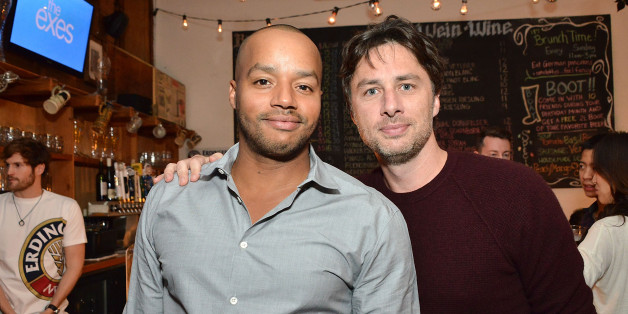 A gay Indiana couple is hoping to take "Scrubs" stars Zach Braff and Donald Faison up on their pizza-making offer.
Earlier this month, Braff responded to the media furor over Memories Pizza, whose owners said they'd refuse to cater a same-sex wedding in the wake of Indiana's "religious freedom" legislation, by offering up his own culinary services on social media:
If you really and truly want pizza for your gay wedding in Indiana... We will make it for you. @donald_faison pic.twitter.com/y91qIkVoyt

— Zach Braff (@zachbraff) April 3, 2015
The offer prompted Change.org user Thad Gerardot to launch an online petition in hopes of persuading the actors to serve pizza from the Pint & Slice pizzeria in Fort Wayne, Indiana at the upcoming nuptials of pals Stephen Bailey and Brian Fletcher.
The petition, which had almost 1,100 signatures at the time this article was first published, reads:
Stephen is one of the hardest working, most dedicated and passionate Hoosiers I know. Almost five years ago, he was made complete when he met the love of his life, Brian. With all the negative controversial news coming out of Indiana, I think it's time we celebrated love.

I am taking former "Scrubs" stars up on their offer, and asking them to cater Stephen and Brian's wedding with pizza from a local business, Pint & Slice, that proudly serves everyone in the Summit City. Let's show the rest of the country what Hoosier Hospitality really is. #FWWelcomesAll
You can check out the petition here.
Last month, Memories Pizza co-owner Kevin O'Connor announced that although he doesn't "have a problem with gay people," catering gay weddings goes against his religious beliefs. He and his daughter, Crystal, were forced to temporarily close the restaurant amidst the backlash that ensued.
Eight days later, Memories Pizza reopened to a packed house, while supporters of the pizzeria had launched a GoFundMe campaign, which ultimately raised $842,442.
BEFORE YOU GO
PHOTO GALLERY
Reactions To Indiana's 'Religious Freedom' Law