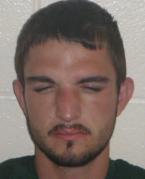 Michael Wilcox
A rookie officer in Ohio was caught on video refusing to shoot the suspect wanted in two murders -- even as the distraught man repeatedly charges him and demands to be shot.
In a scene captured by his body camera on Thursday, New Richmond police officer Jesse Kidder is shown aiming his weapon at 27-year-old Michael Wilcox, who allegedly killed both his girlfriend and best friend in separate locations.
Several times, Wilcox rushes at Kidder. Each time, Kidder runs backward while keeping his handgun aimed at the suspect, urging him to surrender.
"Shoot me!" Wilcox cries out. "Shoot me."
"No man," Kidder replies. "I'm not gonna do it."
At one point, Kidder appears to fall to the ground but remains in control of the situation, ordering the suspect to back up. Eventually, Wilcox surrenders.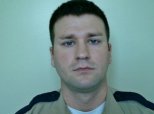 Officer Jesse Kidder
"Law enforcement officers all across the nation deal with split-second decisions that mean life or death," Kidder later told WLWT-TV, the NBC station in Cincinnati. "I wanted to be absolutely sure before I used deadly force."
Kidder said he kept his eyes on the hand the suspect had in his pocket because he had been told by dispatch that the man may have a gun and attempt "suicide by cop." That's when a suspect deliberately attempts to get shot and killed by police.
"Officer Kidder's life was placed in immediate danger and I am proud to say he used great restraint at the risk of his own safety," police chief Randy Harvey said in a statement on the department's Facebook page.
Harvey told WLWT that the video shows Kidder would have been justified in shooting the suspect, but that he used "great restraint and maturity" instead.
Kidder has been with the department for nearly a year, and previously earned a Purple Heart during his two tours of duty in Iraq with the Marines.
Wilcox has been charged with murder for allegedly killing Courtney Fowler, 25, and Zach Gilkison, 27. He claims he was high on "everything" and that his music told him to kill, according to court records cited by WLWT.
Wilcox is being held in Brown County Jail on $2 million bail.
BEFORE YOU GO
PHOTO GALLERY
10 Major Crimes That Shocked America (SLIDESHOW)